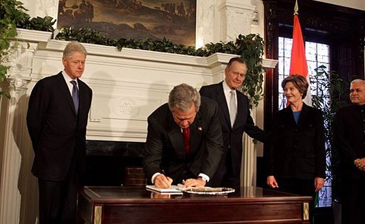 President George W. Bush signs a condolence book for the victims of the recent tsunami during a visit to the Embassy of India in Washington, D.C., Monday, Jan. 3, 2005. Also signing to express their condolences are Laura Bush and former Presidents Bush and Clinton. Courtesy White House
Soon after the tsunami devastated 11 countries in the Indian Ocean, Jan Egeland said western countries were "stingy" in their offers of helping the victims. Some Americans took exception to his statement. Yet, in some ways Egeland could "afford" to make it. Although he was speaking as the United Nation's emergency relief coordinator, Egeland is from Norway, one of the most generous countries in helping the poor around the globe.What about the US? Did we deserve to be called "stingy?" In some ways Egeland was right on the mark, but in others he was not.Because of its size and wealth, the US donates more money than most other single countries. For about a decade the US was the No. 2 top donor in raw dollar terms behind Japan. Lately it's been No. 1. In 2003 the US gave 16 billion dollars for development aid. The European Union gave 37 billion, but that was not one but rather 17 countries.But if you measure contributions using other yardsticks, the picture becomes less flattering for the US.The Organization of Economic Cooperation and Development (OECD) measures overseas development assistance of 22 leading industrialized nations as percentage of gross national income. In 2003, the US was last on the OECD's list. Norway, France, Britain, and many others were ahead.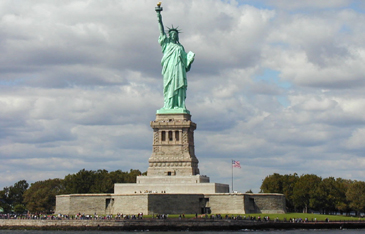 Statue of Liberty in New York
In another ranking by the Center for Global Development and Foreign Policy, which considers giving in terms of aid, trade, investment, technology, security, and environment, the US was seventh behind Canada, Britain, Australia, Sweden, Denmark, and the Netherlands.According to another measurement which calculates the amount given per person per day, the Norwegian government is first with $1.02. It's followed by Denmark, Sweden, France Britain, and Japan. The US is 15th giving 0.13 cents, barely above Italy.According to a 2001 University of Maryland poll, most Americans believe that the US spends 24 percent of its budget on aid to poor countries. The real figure is about a quarter of 1 percent.Americans can take little comfort about their government's contributions to poor countries. Indeed, the US appears to be "stingy." The US Agency for International development (USAID) gave 22 billion in 2000. That is certainly a high figure. However, USAID explains that this generosity is not totally altruistic. There are two goals to America's contributions to poor countries. The first one is to advance America's policy interests and the second one to improve the lives of citizens in developing countries.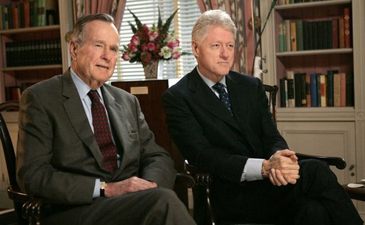 Former Presidents George H. W. Bush and Bill Clinton film a public service announcement encouraging the American people to make cash donations to the tsunami relief effort through www.usafreedomcorps.gov in the White House Library Wednesday, Jan. 5, 2005. Courtesy White House
The Bush administration's initial pledge of $15 million to help the tsunami victims (less than what Republicans planned to spend on Bush's inauguration festivities), became $35 million, then $135 million, and most recently reached 350 million. That compares favorably in actual dollars with every other country except for Japan, Germany, and Australia which pledged 500 million, 690 million, and 765 million, respectively.Bush's initial low figure was explained by saying that as the magnitude of the devastation became clear, more money was needed.In many ways, it might also reflect the serious financial difficulties of the US budget. The 350 million pledged virtually uses up the entire American disaster relief budget. And on top of that, one has to think about the 1 billion or so a week America is spending in the Iraq war.When you add the 500 billion dollar budget deficit, the privatization of Social Security, the huge tax cuts Bush gave and which he wants to make permanent, you may understand America's "stinginess."Fortunately, America's contributions to developing countries are not limited to our government. Contributions to poor countries from American private giving (individuals, corporations, religious, etc.) totaled 33 billion a few years ago.That's a lot of money even if our government may not give much according to some measurements. It's obvious that Americans are indeed generous. If you haven't sent a check to help the victims of the tsunami, do it soon to maintain our reputation of being generous.