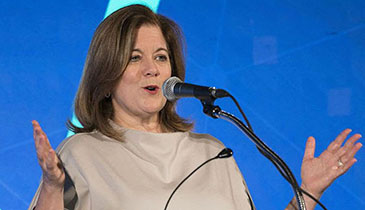 Suzanne Clark, President & CEO of US Chamber of Commerce
WASHINGTON, DC. — The US Chamber of Commerce on June 17, 2021 called on the Biden-Harris Administration to host the Asia Pacific Economic Cooperation (APEC) forum in 2023. The United States last hosted the once-annual meetings in 2011 in Honolulu. "The Administration's interest in re-engaging in regional and multilateral forums is welcomed and encouraging," said Myron Brilliant, Executive Vice President and Head of International of the US Chamber of Commerce. "The United States has a golden opportunity to further demonstrate America is back by re-engaging and enhancing US economic leadership in the Indo-Pacific through a commitment to host APEC in 2023." "If the US is fully engaged, APEC can be a constructive and pragmatic forum for countries to address economic challenges and to forge a consensus on issues of common concern and importance" Brilliant said. "As chair, the United States would be well-positioned to set the bar for the APEC meeting and ensure it's success and could more effectively drive a robust policy agenda including around climate, supply chains and digital trade". APEC meetings involve trade and economic officials from all 21 member economies, including meetings at the head of government level. New Zealand is the APEC host this year, and Thailand will host in 2022.
About the US Chamber of Commerce
The US Chamber of Commerce is the world's largest business organization representing companies of all sizes across every sector of the economy. Our members range from the small businesses and local chambers of commerce that line the Main Streets of America to leading industry associations and large corporations. They all share one thing: They count on the US Chamber to be their voice in Washington, across the country, and around the world. For more than 100 years, we have advocated for pro-business policies that help businesses create jobs and grow our economy.
Suzanne Clark, President & CEO of US Chamber of Commerce
Suzanne Clark serves as the first woman CEO of the US Chamber of Commerce. She succeeded Thomas J. Donohue as its president & CEO in March of 2021.She served on the boards of agricultural equipment maker AGCO and TransUnion, a global risk and credit information provider. Donohue served as CEO of the US Chamber for 24 years. The Chamber of Commerce is the world's largest business federation, representing more than 3 million businesses as well as state and local chambers and industry associations.
US Chamber Press Contact
202.463.5682
press@uschamber.com
Carolyn Posner
cposner@uschamber.com