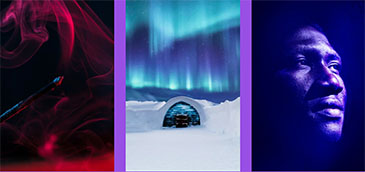 Chicago Opera Theater announces return to in-person performances.
CHICAGO, IL — Fresh on the heels of a high-stakes digital season in which Chicago Opera Theater "turned obstacles to art" (Hyde Park Herald), COT Music Director Lidiya Yankovskaya and Stefan Edlis and Gael Neeson General Director Ashley Magnus announce a return to in-person performances for the 2021/22 season. The company's commitment to showcasing new voices, fresh takes, and different styles of opera will be on full display in a varied season of premieres and high-profile debuts."Coming off a pandemic season where we've really flexed our resilience and creativity, we're keenly aware that the audience is part of our art-making," said Magnus. "We're so eager to return to sharing live performances with our community, and to present the incredible stories and voices of our upcoming season."
COT's mainstage 2021/22 season includes:• Carmen – concert performance of this classic grand opera with a COT twist; starring Jamie Barton in her hotly anticipated title role debut opposite Stephanie Blythe in the tenor role of Don José• Becoming Santa Claus – Chicago premiere of Mark Adamo's critically acclaimed holiday opera, in which a bratty elf Prince learns the true spirit of gift-giving; new Kyle Lang production• Quamino's Map – world premiere by celebrated British composer Errollyn Wallen and librettist Deborah Brevoort, following a formerly enslaved man who finds himself in London society after fighting for the Crown in the American RevolutionSubscriptions are available now, with single tickets on sale August 1. Subscribers will also receive early access to single tickets for COT's next Vanguard Opera, Wang Lu's The Beekeeper."Next season, COT returns stronger than ever," said Yankovskaya. "We'll fulfill our mission to ensure Chicago has a chance to hear the world's most influential living composers and librettists, as well as offer a new perspective on an operatic classic. Jamie Barton is long overdue in her debut as Carmen, and I'm thrilled that Stephanie Blythe will be joining us in a new role that fits her evolving voice like a glove: Don José."CarmenThough Bizet's classic melodies are familiar to many opera-goers, COT audiences will have a truly rare opportunity to hear two world-class dramatic mezzo-sopranos debuting new roles opposite one another this September. Atlanta-based mezzo Jamie Barton, dubbed "opera's nose-studded rock star" by The New York Times, will make her role debut as the titular femme fatale. The legendary Stephanie Blythe, performing as her tenor alter ego Blythely Oratonio, will sing her first Don José, and bass-baritone Michael Sumuel will round out this trio of major company debuts as Escamillo. Music Director Lidiya Yankovskaya conducts this concert performance, to be mounted at the Harris Theater in September 2021 with scalable forces that can be quickly adapted in accordance with shifting public health restrictions.
"In this time of isolation, we've all been craving the visceral power of the human voice and the energy of shared experiences," said Yankovskaya. "This concert performance is an ideal way for us to offer grand opera as it's never been heard before, and an incredible opportunity to hear these inimitable artists exploring brand-new territory."Becoming Santa Claus
Commissioned and premiered by The Dallas Opera in 2015, this charmingly inventive holiday opera by American composer and librettist Mark Adamo will receive its Chicago premiere in a new production by director and choreographer Kyle Lang. The witty and whimsical original story follows tenor Martin Bakari as the bratty Prince Claus, mezzo Nina Yoshida Nelsen as his mother Queen Sophine – both making company debuts – and Chicago-based mezzo Leah Dexter as Ib, the Prince's head elf. Music Director Lidiya Yankovskaya will conduct this family-friendly show at the Studebaker in December 2021. A bombastic orchestra, colorful orchestrations, energetic choreography, and a children's bell choir – comprising students from COT's education initiatives at Chicago Public Schools – will combine to bring audiences this magical story.
"This work is a perfect way for COT to continue introducing Chicago audiences to prominent, industry-leading composers like Mark Adamo," said Magnus. "We hope it will also be a special moment for audiences to gather and experience the warmth and magic of the holidays for the first time in nearly two years."Quamino's MapCommissioned by COT, Quamino's Map marks the Chicago operatic debut of Errollyn Wallen, a major Belize-born British composer who has written more than a dozen operas. The "vital and inventive" Wallen (The New York Times) has partnered with librettist Deborah Brevoort and dramaturg Cori Ellison to explore an often-overlooked chapter of history introduced in the novel Incomparable World by S.I. Martin, who serves as Historical Consultant for the project."For me, the importance of this opera is not only that it sheds a light on a forgotten corner of history," says composer Wallen. "It also challenges the current preconceptions of what life was like in 18th-century London for a person of color."
This new opera follows Juba Freeman, a formerly enslaved man who is thrown headfirst into London society after fighting for the Crown in the American Revolution. Chicago-based tenor Curtis Bannister stars as the violinist Juba opposite two company debutants: soprano Flora Wall as Amelia Alumond, a member of the British Black gentry, and bass Damien Geter as Quamino Dolly, another recently freed man building a new life in London. Supporting cast members include Chicago-based artists Kimberly E. Jones, Joelle Lamarre, Cameo Hughes, and COT Young Artist Keanon Kyles. Conductor Jeri Lynne Johnson and stage director Kimille Howard will make COT debuts leading this world premiere at the Studebaker in April and May 2022.
"Errollyn Wallen is a world-class opera composer whose work must be heard more often on American stages," says Yankovskaya. "I've been looking for an opportunity to commission Errollyn since I first arrived at COT and I am thrilled to finally present this rigorously developed new work, written with the superb playwright and librettist Deborah Breevoort."Vanguard Opera: The Beekeeper
As part of the Vanguard Initiative, COT invests in expanding the American operatic canon by training the next generation of opera composers through a fully comprehensive two-year residency that culminates in the performance of their first opera. Composers are paired with accomplished librettists and dramaturgs, attend all COT activities, and receive mentorship from industry leaders, including Vanguard Artistic Director Lidiya Yankovskaya and Vanguard Composer Mentor Jake Heggie.
COT's 2020/21 digital season included the concert premieres of the first two Vanguard Operas developed through the Vanguard Emerging Opera Composer Residency: Stacy Garrop and Jerre Dye's The Transformation of Jane Doe, an "unusual, alluring piece" which proved "immediately attractive and ripe with potential" (Chicago Tribune), and Matthew Recio and Royce Vavrek's The Puppy Episode, a "ravishingly beautiful opera…of hope, promise, and love" (Hyde Park Herald).
In March 2022, COT will present the concert premiere of The Beekeeper, a story of magical realism brought to life in the colorful sound world of Vanguard Composer Wang Lu in collaboration with librettist Kelley Rourke and dramaturg Kate Pitt.
"The industry-leading Vanguard program is truly one of a kind," said Yankovskaya. "I am so proud that COT can give critical support and experience to the next generation of opera's creative leaders. Our two program graduates Stacy Garrop and Matthew Recio and current Vanguard Composers Wang Lu and Shawn Okpebholo could not be more different in their musical and dramatic approaches. With Wang Lu's The Beekeeper, we bring our audiences yet another perspective on what opera is and what opera could be."
"We are so looking forward to reconnecting with audiences to experience the electric power of opera in works that highlight human connection," said Magnus. "The possibility to come away from a performance somehow changed by it – for both artists and audiences alike – is truly what makes this art form endure. We are so thrilled to be a conduit for these experiences once again, with art that cannot be seen anywhere else."
2021/22 Season
Carmen
• Music by Georges Bizét; libretto by Henri Meilhac & Ludovic Halevy
• Sung in French
• Concert performance
Harris Theater for Music & Dance
Thursday, September 16, 2021 at 7:30 pm
Saturday, September 18, 2021 at 3:00 pm
Conductor: Lidiya Yankovskaya
Director: Joachim Schamberger
Starring: Jamie Barton, Stephanie Blythe, Michael SumuelBecoming Santa Claus
• Music and libretto by Mark Adamo
• Sung in English
• New production
• Chicago premiereStudebaker Theater
Saturday, December 11, 2021 at 7:30 pm
Friday, December 17, 2021 at 7:30 pm
Sunday, December 19, 2021 at 3:00 pm
Conductor: Lidiya Yankovskaya
Director: Kyle Lang
Starring: Martin Bakari, Nina Yoshida Nelsen, Leah DexterQuamino's Map
• Music by Errollyn Wallen; libretto by Deborah Brevoort
• Sung in English
• World premiere
Studebaker Theater
Saturday, April 23, 2022 at 7:30 pm
Friday, April 29, 2022 at 7:30 pm
Sunday, May 1, 2022 at 3:00 pm
Conductor: Jeri Lynne Johnson
Director: Kimille Howard
Dramaturg: Cori Ellison
Starring: Curtis Bannister, Flora Wall, Damien Geter2021/22 Vanguard OperaThe Beekeeper
• Music by Wang Lu; libretto by Kelley Rourke
• Sung in English
• Concert premiere
Studebaker Theater
March 4, 2022 @ 7:30 pmTicket InformationSubscriptions ($135 – $450) to Chicago Opera Theater's 2021/22 season are on sale now, with early bird subscriptions purchased by July 15 receiving a 30% discount. Subscriptions can be purchased by calling 312.704.8414 or via cot.org. Single tickets will go on sale August 1, 2021.COVID-19 ProtocolsChicago Opera Theater is dedicated to the health and well-being of its audiences, artists, crews, and staff. Based on recommendations from the CDC, the State of Illinois and City of Chicago, and venue regulations, Chicago Opera Theater asks that all attendees follow the protocols outlined at cot.org/covid. Note that COT will be following all current state and local COVID recommendations and requirements in place at the time of the engagement; reseating may be required to maintain compliance.
About Errollyn WallenHailed as a "renaissance woman of contemporary British music" by The Observer, Errollyn Wallen places communication at the center of her work: engaging the audience, speaking directly to hearts and minds. Born in Belize, Errollyn gave up her training at the Dance Theater of Harlem to study composition at the universities of London and Cambridge. The motto of her Ensemble X, "We don't break down barriers in music…we don't see any," reflects her genuine, free-spirited approach and eclectic musicianship. Commissions have ranged from the BBC to the Royal Opera House, for BBC's The Last Night of the Proms (2020), the London Symphony Orchestra, Leipzig Ballet, and, most recently, the pop band, Clean Bandit. Her new EP Peace on Earth has just been released by the Choir of King's College, Cambridge. Errollyn has won numerous awards for her music including the Ivor Novello Award for Classical Music. In 2007 she was awarded an MBE and in 2020 awarded a CBE, both for services to music.
About Chicago Opera TheaterChicago Opera Theater is a company laser-focused on living its values: expanding the tradition of opera as a living art form, producing high-quality works new to Chicago audiences, identifying top-tier casts and creative talent at the beginning of grand operatic careers, and following through on commitments to equity and access — behind the scenes, on the stage, and in the audience. Since its founding in 1973, COT has grown from a grassroots, community-based company to a national leader in an increasingly vibrant, diverse, and forward-looking art form. COT has staged over 149 operas, including 77 Chicago premieres and 44 operas by American composers. COT is led by Stefan Edlis and Gael Neeson General Director Ashley Magnus and Music Director Lidiya Yankovskaya, who is one of only two women to hold that title at a multimillion-dollar opera company in the United States. In addition to its mainstage season, COT is devoted to the development and production of new opera in the United States through its three-pronged Vanguard Initiative, launched in 2018. The Vanguard Initiative trains emerging opera composers, invests time and talent in new opera at various stages of the creative process, and opens up opportunities for Chicago audiences to become part of the development of new work, in dialogue with the creators themselves.