America
Letters from America
Miami Building Collapse — Possible Flaw in Construction
24 Confirmed Dead, Still 121 Unaccounted for
By Greg Evans
Special Correspondent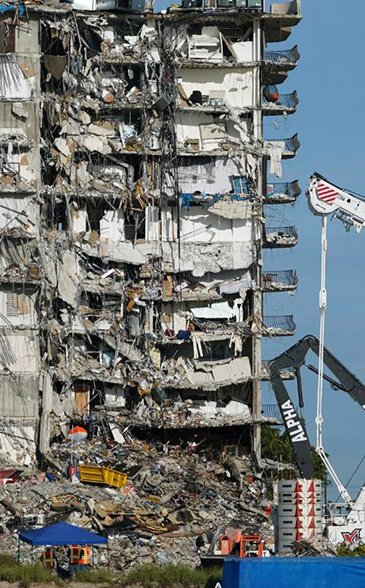 Miami building collapse
Editor's Note — The following is the update on the Miami building collapse. 24 now confirmed dead, still 121 unaccounted for. It is suggested by engineers that flaws in the construction are the cause of last month's tragedy.
Twenty-four people are dead, 121 remain unaccounted for and engineers that visited the Champlain Towers South condominium have speculated that a flaw in the building's construction could have played a significant role in the recent collapse.It appears that less steel reinforcement had been used than originally estimated in the design of the building.A forensic engineer hired by Surfside to investigate the tragedy, Allyn Kilsheimer, confirmed that there is evidence that less steel was used connecting the vertical columns to the horizontal slabs of concrete, securing the foundation, in the parking garage below, than what was originally planned.A complete investigation will take several months. An inspection conducted in 2018 warned of major flaws in the original design. One engineer claimed that there was "failed waterproofing" below the pool deck.Board members of the complex knew there were serious problems, but debates of cost prolonged any action to fix the weakening edifice.

Related Articles
The Dreaded Slump
An Evening in Savannah
A Successful Life Is There for the Taking!
The Millennial's Guide to a Successful ...
The Zen of Blackpink
The Mayan Predictions Were Spot On!
Confessions of a Single Dad -- I Lost the ...
Blurred Highway
How You Too Can Overcome Depression and ...
Ghost Sightings Around Mooresville Predate ...
No Place Better to Spend Autumn Evenings than ...
Poking a Hornets Nest -- A Carolina Beach ...
First-Ever Filipino Restaurant Experience, And ...
Pfizer Vaccine Approved by FDA in America
The Blurred Highway
The Speed Trap -- A Cash Register for Small ...
What Glitters Truly Is Gold -- Through the ...
There Is Buzz with Elon Musk -- Will Dogecoin ...
Inside Africa -- A Missionary's Work in ...
A Night of Celebration -- 4th of July and a ...
Building Collapses in Miami, Florida, Leaving ...
Color Blindness in a Colorful World
Lake Norman, the Great Energy Vortex
The Great Hostage Hoax
A Little Bit of Laos -- A Culinary Adventure
Anti-Asian Attacks an Ongoing Problem
By the Grace of God -- The Cylk Cozart Story
Eli Broad, Billionaire Philanthropist, Dies at ...
Clutch Coffee Bar Expanding to Florida
Ten Years Later: Chris Hondros Honored by ...
Local Charlotte Boutique Is Turning Heads
Sailing on Lake Norman without a Rudder
Zen and the Art of Ziplining at Lake Norman
The Proper Etiquette for Street Fighting in ...
The Silent Voices -- A Look inside the Work ...
A Yankee in Dixie
First Hiking Experience, Lake Norman -- Where ...
Who Is the Bigger Band, the Beatles or BTS?
Misogynism Within the Gaming Community
When Has It Gone Too Far -- the Illicit Affair!
The Camping Experience! Well Eventually ...
Taken from Jurassic Park and Put into ...
10 Most Irritating Bad Driver Behaviors
Throw Me a Bone -- What in the World Is a ...
Charlotte, North Carolina's South End ...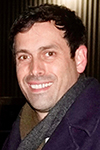 Greg Evans, associate director of communications of King University in Bristol TN, in the US, serves as a special correspondent for The Seoul Times. The seasoned journalist has been writing for such papers as the Mooresville Tribune, Lake Norman Citizen, the Bristol Herald Courier, and the Sentinel-Progress (Easley, SC). He can be reached at gaevans1@king.edu