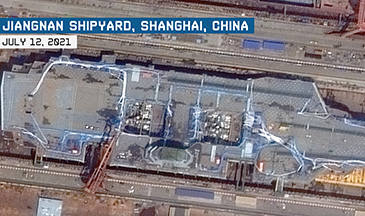 China continues to make steady progress in the construction of its Type 003 aircraft carrier.
Recent satellite imagery reveals that China has made considerable progress in the construction of its third aircraft carrier, known as the Type 003, since CSIS reported on the vessel last month. Imagery of Jiangnan Shipyard captured by Maxar Technologies on July 12 shows that construction of the carrier's flight deck, basic superstructure, and sponsons is nearly complete. The Type 003 now measures approximately 318 meters in length, which is in line with earlier estimates offered by CSIS.Several key elements of the Type 003's design can now be confirmed:- China's newest carrier will feature a flat-top flight deck; three channels for operation of the Type 003's catapult-assisted launch system, each measuring approximately 105 meters, are clearly visible on the vessel's deck.- Although partially obscured in the image, the Type 003's two aircraft elevators appear to be several meters wider than those of its predecessor, the Shandong.- The island of the Type 003 — which houses the command center for flight deck operations along with radar and communication equipment — has been reconfigured to have a smaller footprint compared to China's other carriers.Despite earlier estimates offered by CSIS that the vessel would not enter the water until 2022, recent imagery suggests that the vessel may be ready to launch later this year. Once the Type 003 is put into the water, it will likely be moored to one of Jiangnan Shipyard's nearby "T"- or "H"-shaped piers for fitting out.
The above writer, Matthew P. Funaiole, is a senior fellow for data analysis with the iDeas Lab and senior fellow with the China Power Project at the Center for Strategic and International Studies (CSIS) in Washington, DC. Joseph S. Bermudez Jr. is a senior fellow for imagery analysis (non-resident) with the CSIS iDeas Lab and Korea Chair.
Commentary
is produced by the Center for Strategic and International Studies (CSIS), a private, tax-exempt institution focusing on international public policy issues. Its research is nonpartisan and nonproprietary. CSIS does not take specific policy positions. Accordingly, all views, positions, and conclusions expressed in this publication should be understood to be solely those of the author(s).