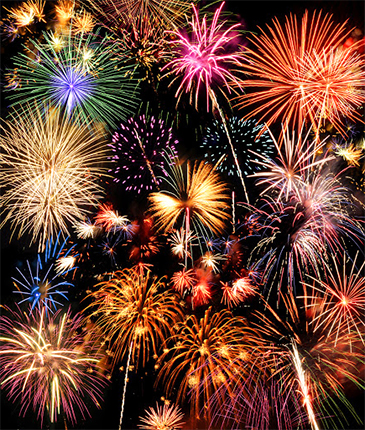 The "4th of July 2021 fireworks" at Romare Bearden Park in downtown Charlotte, North Carolina, the US.
We arrived at Romare Bearden Park in downtown Charlotte for the "4th of July 2021 fireworks" on an exquisitely beautiful evening. There wasn't a cloud in the sky. Nor was there a parking spot within an hour's walk of this park, named after the famed African American artist and fellow NYU alum, born in Charlotte in the early 20th century. Eager to find ourselves a spot on the grass to stretch out, so we could get a satisfactory view of the fireworks display, we entered one of the nearby parking structures. We circled up the ramps until we found ourselves on about the fifth level and numerous empty parking spots available. Empty spots? Lucky us! It should have been a serious red flag, but what did we know? We parked and hit the streets. The veil of fear from the recent pandemic had risen, and humanity was out in numbers. I haven't been brushed up against this much since I commuted to Times Square on the subway as a teenager. We made our way through the chaotic streets and found a nice spot, a stone's throw from West 3rd Street, near the ice cream trucks where I purchased an ice cream popsicle for my girlfriend. It was still early, around 7:45 p.m., the sun was up, and the show didn't start for another two hours. With nothing to do but wait, my girlfriend, her cousin, and I found ourselves sitting on Turkish blankets watching the "real show," the other spectators. To my right was a young gentleman, holding a container of half-eaten pringles and slapping the container against the ground. Thuck! Thuck! Thuck! Shutuck! Shutuck! Thuck! Whutssuck! "No more! The beast must get tranquilized!" My girlfriend was on the verge of clawing her eardrums out with the remaining ice cream popsicle sticks. To make matters worse this guy and his wife allowed their children to run amok terrorizing other blankets like sharks circling an island. And if our senses weren't violated enough, our nostrils began burning from the cigarette smoke wafting from two blankets over, souring the air. We gasped and gagged, plume after plume like it was 1985 on Iberia airways. We lay down as flat to the ground as possible, but the purple haze of smoke seemed to settle casually over the park on a windless evening. It is not that I don't like people, but I need to be outside of exhaling distance from anyone that isn't my girlfriend or daughter. My nerves were already somewhat frayed when two young college-age guys set up shop, sitting, no lie, less than three inches from my blanket. I was so close I could smell the breath of the skinnier of the two. Corndogs. My personal space was sufficiently violated, and I glanced over at them, but they were oblivious to this faux pas. I turned to my girlfriend, who noticed my discontent. "Am I the only one feeling uneasy?" I said. She moved over and I created a little bit of space between myself and the two creepers.And then they began talking, and talking, and talking, both simultaneously without taking a breath for their entire stay in that spot. I was unable to keep from cringing in public. To my right was the pringle guy, and to my left, the yappers. As the hours progressed, the mood became jubilant. I assumed it was due to the excess of sugar consumed at the ice cream trucks or the fact that people could once again congregate in a park, in public, and share germs. But more than likely, it was the bevy of coolers packed with every conceivable liquored beverage known to man. You'd never get away with this in Washington or New York, three-quarters of the park would already be arrested. Mercifully, 9:30 arrived, and the fireworks began with explosions that lifted us off the turf. It was intense, aggressive, loud, crackling and popping, sizzling and screaming with interspersed KABOOMS ricocheting off the buildings, shaking the foundations of the city, the crowds whooping and hollering, and us inconveniently behind imperfectly planted trees completely blocking our view of the fiery display. At one point an errant collection of bottle rockets nearly singed a group of Charlotte policemen and women who dove for cover in front of the circular Ascent luxury apartment complex."Could we have selected a worse seat?" My girlfriend asked.
"Nope," I said as we lay back down on the blanket to listen to the fireworks. After about fifteen minutes, the show was over. The lines at the porta-johns were ten deep, and I sort of had to use the restroom, but I have a phobia of porta-johns. So, in the event I will be in public for extended periods, I take care not to drink anything to avoid having to go because my bladder never grew with the rest of my body. I have the smallest bladder for a full-grown male in the history of humankind. Easily after about 3 ounces of anything, I have to find a tree. I could be in the Guinness Book of World Records. Ripley's Believe it or not could have made a fortune off me. I would have been the headliner the Ringling Brothers' Freak Show Act. The point is that I had to pee, and I wasn't about to use a porta-dumper. Thinking ourselves "clever," we waited for a while for the crowds to disperse. In reality, those that had hurried out quickly were the clever ones. Eventually, we got up and made our way back to the parking garage to go home. It was a Sunday night at 9:30 p.m., and we had to work in the morning. We arrived back at the building, took the elevator up to our level, and exited into the garage area. Cars lined up in a standstill, rap music was blasting. Cars were competing on who could play their awful music the loudest. Why is it that people that listen to Mozart and Chopin don't get into these music blasting contests? As the music blasted, threatening to explode each car's radio sound system, there were humans standing outside of their cars, others waving their arms frantically, lights flashing, the smell of cigarette smoke, the smell of pot, the smell of exhaust, the chaos of humans under the influence of excessive amounts of alcohol. It was a horror show. We got into our car and just sat and waited…but nothing moved. We waited and waited, but nothing moved. I still had to go to the bathroom. After maybe 30-45 minutes without any movement, we exited the car and decided to walk around and look for a bathroom.But what most people might not realize in downtown Charlotte, this city that I love so much, at 10 something on a Sunday night on the 4th of July, is that NOTHING is open. There are no bathrooms ANYWHERE. Block after block, after block, there are humans, shoulder to shoulder, loud, drunk, stumbling, ready to party all night. But there are no bathrooms, there is nothing open to even sneak into a bathroom. I searched desperately for a tree to slip behind but there were none thick enough to hide me. Every alley and crevice in the city seemed to have someone there. The pandemic is over, the fear is gone, the streets are once again packed.And so, I held it. We made our way back to the garage and slowly the line of cars began to pick up. We gradually made our way to the bottom and out into the night. It was 11:45 p.m. by the time we left the garage. We were suffering from anxiety and impatience. PTSD was inevitable. It would be another 30 minutes before we found our way back home to Huntersville, normally just fifteen minutes from the park where so many hours earlier we listened to the fireworks from behind a collection of thick-leafed trees. By the time I reached the bathroom at the house I had to go so bad I could barely go because of the pain.The moral of the story is that there is something to be said about utilizing the comforts of the modern world, for example, a television to watch the fireworks filmed by a drone. Or, if you incline to go to any downtown area in whatever city you might live, I highly recommend that you park on the street, and avoid all parking structures as tempting as they may be, even if you have to walk 40 minutes to the destination. Bring an oxygen mask, sound-canceling earmuffs, a catheter, and for good measure, a sense of humor.