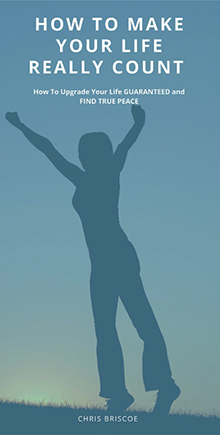 "How to Make Your Life Really Count"
by Chris Briscoe
Among world's 10 biggest mega churches seven of them are here in South Korea. There are about 15 million Christians in South Korea with a population of 49 million or so. In the past several decades Christians exploded in numbers, making the Christianity nation's No. 1 religion.Behind the rapid and exponential growth of Christianity in the nation formerly called Hermit Kingdom, have been the efforts of a number of nameless and unknown foreign missionaries. One of them is Chris Briscoe from Great Britain. His earthly profession is English teaching at private teaching academies or sometimes on campus of colleges or universities. He has been doing this for over 25 years now. But, he minds more and spends more time as a Christian missionary.He is so dedicated in God's work that he recently authored a book titled "How to Make Your Life Really Count." He wrote this book as part of his efforts to help people — believers or non-believers alike — upgrade their life and find true peace in the love of God, as its subtitle says.It was based on his vast experience as a Christian missionary and as an English-language Bible class teacher. The book was published electronically by his own publishing company "Chris Briscoe Publishers' on April 7, 2021. Now is was available at Amazon as both hard copy and paperback as well as E-book or electronic version.The author wants to make all the people to get into close contact with the God's unending love.In the preface the author reveals that he wish to make folks to go through and feel God's love and power in their life's journey.The author says that God is so powerful that God transcends the universe. The writer pinpoints that God wants to enter into your life to show you that how much God personally loves you.
In the Chapter One the author makes an amusing and meaningful argument that "either Christianity is true or false, if you bet it's true, and you believe in God, you've gained God, heaven, and everything else."On the other hand "if its false, you've lost nothing, but you've had a good life marked by peace." The author urges readers to "wager on Christ."His volume is full of other interesting points and arguments as the readers continue to leaf thought his book.Conclusively, the author says that through his book he wants to deliver a message that the "God loves you more than anyone." he wants to stress the people's real and amazing relationship with God, whether they are Christians or non-Christians. "How to Make Your Life Really Count" is Briscoe's first book on Christianity and the second book he has authored up until now.Previously, he wrote a science fiction titled "The Amazing Elevator."It is a real epic story about a family of siblings who inherit a country mansion from their grandfather but also inherit his latest "quantum tunneling" experiments. They stumble across his most amazing elevator which can travel not only north and south, but also, west and east (hence a very unconventional elevator) as well as venture into the fifth dimension.
About the Author: Chris Briscoe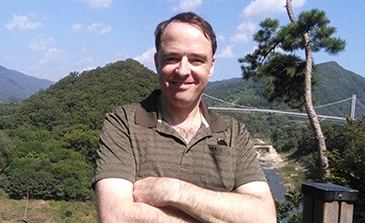 British Missionary Chris Briscoe authors "How to Make Your Life Really Count" on April 7, 2021.
This humble British author says that he is an educationalist for Koreans practicing English. He taught English to the locals for the last quarter of a century.Married to a beautiful and gracious Korean wife, Madame Briscoe, who is now missionary. As a highly gifted soprano herself, she helps Christian worshippers touched by her angelic voice. The British-Korean couple has long been dedicated Christians. They reared up three sons into adulthood successfully. However, Briscoe's interest and passion has always been preaching Christianity to the locals or to anyone they stumble upon. Now they serve as a missionary, teaching the Bible in English at a small local church "Hope World Mission" church located at Seodaemungu area of Seoul.