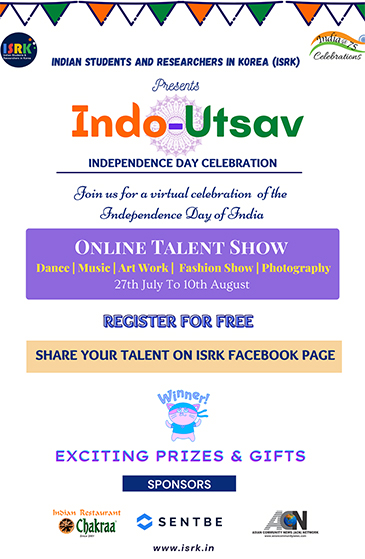 2021 "Indo-Utsav"
The Indian Students & Researchers in Korea (ISRK) will represent "Indo-Utsav" to celebrate the colors of its independence as India is all set to celebrate its 75th Independence Day with full joy and enthusiasm.This year the India's Independence Day falls on on Aug. 15, 2021, the same day as South Korea when the Korean Peninsula was liberated from Japanese colonial rule at the end of the Pacific War.Dr. Lailesh Kumar, ISRK president, announced that ISRK aims to celebrate together with the people of Korea because it's a very happy coincidence that India shares its Independence Day, on the same day on August 15 with Korea.He urged the local Koreans to join them and to participate in "Indo-Utsav" event.He added that the event is aimed at showcasing glimpses of India through activities, performances, and competitions in areas of music, dance, art work, fashion show, and photography.Submission will be available on Facebook. Submission date for activities / competitions is from July 27 to August 10, 2021 on ISRK Facebook (https://www.facebook.com/groups/joinisrk)There will be no registration fees.Participants are required to fill up the registration form and submit your entries: Google form: https://tinyurl.com/ISRK-Indo-UtsavWinners will be announced from each category on August 15, 2021.
Competitions:
Age group 3 to 9 yearsFancy Dress and Artistic VideoAge group 10 to 19 years & above Music (Singing and Instrumental): 3-5 min videoDance: 4-6 min videoArt Work (Painting & sketching)Photography (Because August 15 is also South Korea's Independence Day, photographs with Korean friends reflecting both South Korean and Indian elements preferred)
First Prize (Judges Decision) & Popularity Prize (FB likes)
Competition is open only to Indians residing in South Korea and open to all Koreans."It would be our utmost honor to have your virtual presence at the Indo-Utsav event," Dr. Kumar said, "Let's celebrate together the occasion of Independence day."He went on to say "we would be very grateful if you could help us spread the word among the Indian diaspora and the local community in South Korea." He requested the participants to share the event details on their official social media pages of Facebook, Twitter, and Instagram.
Contact:
Dr. Lailesh Kumar
President, Indian Students & Researchers in Korea (ISRK),
Email- president@isrk.in,
Contact: +82-10-9532-3152
ISRK website: www.isrk.in