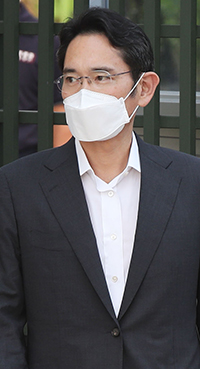 Vice Chairman Lee Jae-Yong of Samsung Electronics was released on parole on August 9, 2021. Known in the West as Jay Y. Lee,je is a South Korean business magnate and the owner of Samsung Group.
Technology contributes to the modernization of human civilization. We input, we learn, we invest, we conduct research, we invent, then we enjoy the fruit of success and technological advancement. Technology makes our life more comfortable and convenient. We benefit from telecommunication technology. Distance between people is now shortened. We expect further advancement in technology and we welcome new products.The 5th generation wireless systems (5G) is no doubt one of the most successful and widely coverage technologies adopted globally. It is a new global wireless mobile network which is designed to bring virtually everyone and everything together. By 2025, 5G networks are predicted to have more than 1.7 billion subscribers worldwide. In brief, all 5G wireless devices are connected to the Internet and telephone network by radio waves through a local antenna; and also will make possible new applications in the internet of things (IoT). In fact, to maintain sustainability and competitiveness, both Samsung and China Huawei have a strategic plan and research for developing the 6th generation wireless system (6G). Regrettably, Samsung Electronics Vice Chairman Lee Jae-Yong was accused of bribery, embezzlement and perjury after an investigation. He was then arrested and prosecuted. He is sidelined from taking part in major Samsung business dealings since he is serving a prison sentence after conviction. Recently he was releases on parole.
| | |
| --- | --- |
| | The above writer Chu Kar-Kin is a member of the Chinese Association of Hong Kong and Macau Studies and a researcher of the Hong Kong and Macau Basic Law Research Center. The PhD candidate serves as the executive director of the Hong Kong Association for Promotion of Peaceful Reunification of China. The veteran current-affairs commentator, based in Hong Kong, can be can be reached at chukarkin@gmail.com |
The leadership of Chinese telecom giant Huawei too faces a similar scenario. Sabrina Meng Wanzhou, daughter of Huawei founder Ren Zhenfei, was arrested in Canada during her flight stopover in the Vancouver airport in late 2018. The U.S. made repeated attempts to extradite Sabrina Meng to the U.S. Court for trial. She was alleged by the U.S. Department of Justice committing a fraud by misleading HSBC when her company knowingly to deal with an Iranian company subject to US sanction. Her submission of evidence that HSBC has the knowledge of the transactions but the evidence was just recently rejected by the Canadian Court. Her lawsuit is still uncertain.Technology should be isolated from politics. The corporate governance of technology companies should not be intervened by politics. Technology benefits the community and mankind, and should not be subject to boundaries or political camps. This is the mechanism of the commercial world. Tenders should not be restricted and executives should not be prosecuted by reasons other than breach of law. Technological advancement enhances the betterment of our living. The competition of science and technology should be conducted in a just and fair manner. Technology giants make inventions and own patents. Intellectual properties should be respected and safeguarded. This would provide motivation for further inventions and input in research. Superpowers should not abuse the political means to stop an emerging technology to shine us. This would only adversely hurt our civilization. Technology should not be bundled with exchanging political conditions or hijacking diplomatic relations.Instead of being a battlefield intervened by politics threat or benefits, science and technology should only be a race of the fruit of research. The insulting and defamation of scientists or technology leaders is never rational. If technology is not widely adopted and utilized because of political reasons, jealousy or basis, that choice is unwise and not logical. The community would lose the chance of getting their living standard improved.
The above writer Chu Kar-Kin is a member of the Chinese Association of Hong Kong and Macau Studies and a researcher of the Hong Kong and Macau Basic Law Research Center. The PhD candidate serves as the executive director of the Hong Kong Association for Promotion of Peaceful Reunification of China. The veteran current-affairs commentator, based in Hong Kong, can be can be reached at chukarkin@gmail.com