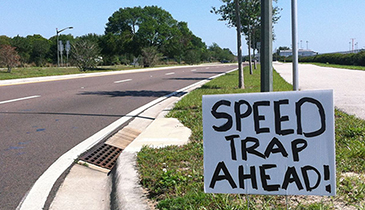 The Speed Trap — A Cash Register for Small Towns in America
Editor's Note: This article discusses the issue of speed traps, especially abnormally slow ones along straight roadways, primarily in small towns throughout America.
It is one of those roads that you don't realize how fast you are going until you get busted. It is inconspicuous, sometimes in the middle of town and sometimes the edge of town. It can be beside a manicured campus or a string of high-end restaurants. It is a "Revenuer's" dream stretch of auspicious macadam. The name of the street is irrelevant and there is at least one such road in every small to medium-sized town across the United States. Speaking candidly, it is a cash register that never runs out of cash. If you are a police officer assigned to surreptitiously hide along with one of these unassuming stretches of roadway to collar unsuspected motorists, seemingly driving normally, if not casually, this is a gold mine. Motorists might bark and complain if they are guilty. But at the end of the day, the fault lies in their stars, and it is called impatience. It is a fairly straight shot along the east edge of an American city proper. These roads are often interspersed with a few bends and undulation but overall, hardly a rollercoaster. That is how you as the motorist are put at ease. Even though a speed limit is posted, alarm bells don't ring. Even for the most careful and obedient driver, it is here that this pristine record, more than a few times, as I have witnessed, motorists will be ruined, riddled with points, and then you are in "the system." And once you are in the system. "Ya ain't gettin' out," as one acquaintance so elegantly put it. "It is a savage injustice to have the speed limit that low, on that stretch of road. You can't even go 25 mph if you try," an employee at a University whined about getting pulled over going 31 in a 25 along a straightaway. "It is preposterous!" "But were you speeding?" I asked. "According to them," he said. "For goodness sakes it is criminal!" If you regularly drive in small towns and even neighborhoods of larger cities with abnormally low-speed limits, you more than likely will see someone pulled off on the shoulder or in a parking lot with their head in their hands and the ominous blue flashing lights behind them. The argument from the other side is simple, "If you don't want a ticket, then don't violate the stated speed limit." Lately, it seems to be easier said than done. Notice we use the term the "stated speed limit" because going 40 mph, on any straight road, is hardly speeding, let alone driving fast. Even going 40 there seems like it's too slow and guaranteed someone will still be aggressively tailgating you. But that is NOT the point. The fact of the matter is that both sides have a valid argument. Who is right? The opinion doesn't play into the equation. One argument on the side of justice is that it is safer to drive slowly, especially around a residential area. This is especially important in this day and age of distracted driving, but it can be vociferously debated that the minimum speed limit begins far too soon and thus is solely a means of generating capital as opposed to safety concerns. But is that wrong? In all fairness to police officers, they have a dangerous job, they are underappreciated (and not only due to the speed trap), underpaid, and deserving of some means of generating the funds for an adequate bonus, albeit at your expense. Do I personally have animosity about the fact that unbearably low-speed limits exist? Not yet. I don't get pulled over. "It seems like every day I see someone pulled over on these gritty streets," a prominent member of the Davidson, North Carolina business community said. I had to laugh out loud because Davidson is far from gritty. It got me thinking, who on earth was the first person to come up with the concept of the speed trap? I am not sure if anyone really knows for sure but catching speeders has been around as long as there have been automobiles. Early in the 1900s, only the wealthy could afford a car, and this created resentment. The New York Times wrote, in those early years, that resentment was widespread. Often, drivers of these early automobiles, the affluent members of the community were given trouble for driving at excessive speeds, being over 10-mph, because of jealousy. Speeding, going over 10-mph could get you arrested, making the front page of the newspaper. 121-years later, it's not much more than 10-mph, but at least your mugshot isn't plastered all over town. Maybe that would be the ultimate deterrent, even more than the pricy ticket. One teacher living along the Virginia/Tennessee state line said, "If I was going to get a ticket, then I would just cross the state line to Virginia, and they would be out of the jurisdiction." If you think you will be clever by quickly driving over the state line thinking that the Bristol, Tennessee, or Virginia police can't fulfill their duties because they are out of jurisdiction you are sorely mistaken. They have a stipulation that allows them to cross the state line if they believe the speeder crossed said line, in an attempt to flee from getting a ticket.The offender then is given the option to return to the state where the violation occurred and take their medicine, i.e., receive the ticket, or they can decline whereby the police of that state will be called, and you will be promptly arrested. You then will spend a minimum of 24 hours locked up, sometimes even 48 hours, because you have now committed a felony. If you are being pursued and think crossing State Street will save you, you have made a poor decision. The reality is that speed limits are there to protect the public. Yes, 25 mph might be considered extreme, especially on about 90% of that road, but as one Bristol officer said, "the law is the law." We have to remember that punitive fines are often more than half of a small town's revenues. If a town is struggling financially, what better way to make real money than by using the judicial system to get it. It isn't much different than parking tickets handed out like snicker bars in large cities. Why do you think street sweeping machines exist, to have a reason to ticket excessively, right… Government watch groups have been monitoring this trend for several years. The issues of excessive fines became national news when St. Louis, Missouri municipalities generated corpulent revenues from fines and courthouse fees. Due to pressure from lawmakers and advocacy groups, there are some communities with lower-income residents that are beginning to look into the problem of excessive fining. It is not to say that Bristol, either Tennessee or Virginia falls into that category. The argument is subjective, and the reality is simple if you don't want to pay a fine and then attend the four-hour driving class to eliminate points or lower the insurance rate. Then you only suffer the 45 seconds it takes to drive the 25-mph speed limit from point A to point B and get on with the day.