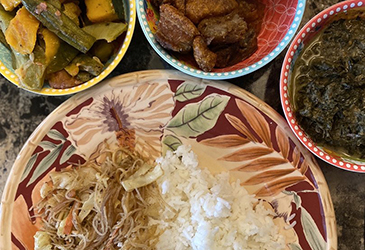 Filipino food
"Kumusta, ako si Greg!" (Hello, my name is Greg), I said to the young Filipina girl standing at the coffee machine in the breakroom of the office where I used to work. She had been wearing a jacket with the Filipino flag so I thought I would be clever and speak her language. I wasn't sure how it was going to be received so I braced myself. We were in the middle of the mountains, deep in the heart of Dixie. One of two things was going to happen, I would be labeled a "creeper," immediately, and have to explain myself to human resources, or she would be amused. The girl spun around with wide eyes. "But, how?" She said with a quizzical expression. "You know Tagalog?" She asked. Referring to the native tongue of the Philippines. A smile crept across on her face, so I knew that she wasn't frightened."I don't know much," I said with a chuckle. In fact, she wasn't the only Filipina working at the company. And I use the term "Filipina" for a reason. There were a number of them, and I would soon learn that there was an entire Filipino community in the area where I was living. They would get together and have parties and eat traditional food, listen to traditional music, perform dances, and feel nostalgia for their homeland so far away.It all began one day when I started working in a new department for a large healthcare chain. The woman that was assigned to train me, about eight years earlier, had immigrated from the Philippines. Her name was Monica. As I learned the new financial processes of the hospital, I was also acquiring an education into the Filipino culture, a world I knew nothing about. She loved to talk about it, and I enjoyed hearing the stories. I was amazed that people in the modern world still made their own clothes, for example, washed clothes by hand in wash bins or even nearby rivers, had no air-conditioning in a stifling climate, resided in huts, and lived on less than $2 a day. The communities are rife with disease, malnutrition, dirty water, a fractured infrastructure, and governmental corruption. Sitting obliquely to her was another Filipina girl and in the adjacent room was a third. These girls moved to the United States in search of a better life.I would learn a great deal about their lives back in the Philippines, the struggles, the journey they took to the states to live the American dream, and how they would have to marry American men to do this. Some grew to love their spouses and had beautiful marriages. Others were not so lucky, and their lives have been tedious, to say the least. But I got along well with them, and their husbands, and after some time they started to trust me and invite me to their events. I was learning the language, the culture, hanging out, and working with full-blooded, native Filipinos, but the one thing that really brought us together was the food. I liked all the dishes and was willing to try anything. All the food I had eaten had been home-cooked dishes, and selective memory aside, every one of them was incredible. Nonetheless, I was longing to try the same dishes in a professional setting, in a restaurant. Last summer we had taken a road trip to the northeast. We stopped at a popular Filipino fast-food chain, something I had been wanting to do for a long time. It was good, better than I expected, but still fast food. I hadn't yet been lucky enough to try authentic Filipino food in a restaurant.That is until I discovered an Asian Grill that serves Filipino food outside of Charlotte, North Carolina. "Can this be true?" I thought to myself. We parked pretty much in front of the establishment and entered. It was crowded with diners. We requested a spot for two and there were only a couple of available seats left and a few empty spots at the bar, but for the most part the establishment was crowded and hopping. We took a table toward the back beside a young family. Immediately the aroma of the place hit me, and I began to salivate. The smells were familiar, comforting, and even nostalgic. I have never been to Manila, but I felt like I was there. A young Asian waitress, that very well might have been Filipino, approached our table and took our drink order. We perused the menu while we waited for her to return. I recognized so many of the dishes. They were ones that I knew how to prepare and over time was becoming quite good. My favorite Filipino dish and one that I have yet to master was there on the menu, glowing, nearly jumping off the laminated page at me, Sisig.Sisig is a sizzling delight of grilled pig face and ears, liver spread or chicken livers, calamansi juice, onions, scallions, chili peppers tossed in a tangy rich sauce (soy sauce, vinegar, liquid seasoning like Maggi). It is a fatty, spicy, full-flavored, citrusy mound of culinary wonderfulness topped with a fried egg that cooks in the sizzle right in front of you. The trick is to quickly stir it into the delicate crisping pork and vegetables. Accompanying the dish is a plate of white rice and the first scoop of this mastery is an explosion of flavor and leaves your taste buds in ecstasy.My girlfriend ordered the Mongolian beef. This dish consists of sirloin or flank steak thinly sliced and cooked with carrots, ginger, scallions, snap peas, and onions in a dressing of soy sauce, brown sugar, cornstarch, Chinese cooking wine, hoisin sauce, rice vinegar, sesame oil, salt, white pepper, oil and Sriracha sauce. It is a deliciously fragrant, and flavorful concoction that is hard to stop shoveling into your mouth, especially tasty with the white rice that comes on the side.We ate so good I almost felt guilty, and at the end finished our meal with a dessert of Ube ice cream, a custard-like concoction that tastes like ice cream but is really purple sweet potato, cheese, and sugar. It is addicting and impossible not to lick clean the wine glass that it is served in. The total bill for all of this food, $25. It was my first Filipino restaurant experience, and it was perfect. I couldn't have dreamt up a better scene. Southeast Asian food is becoming so incredibly popular here in the states, especially in the Charlotte area. It is so refreshing and gives us foodies a great eating experience.*Here is a recipe for the culinary curious!SISIG
Ingredients:
2 pounds of pork (pig face [ears, jowl, and/or snout])
¼ cup of soy sauce
½ cup of calamansi juice (or you can substitute with lime or lemon juice)
1 tablespoon of liquid seasoning like Maggi or Golden Mountain
4 bay leaves
1 large peeled and diced red onion
3 cloves of garlic
1 teaspoon of peppercorns
½ tablespoon of salt
1 cup of water
4 bird's eye (thai) chili peppers minced
Black pepper to tasteCooking Instructions:
1 . Combine in a large pot the pork, soy sauce, vinegar, garlic, peppercorns, bay leaves and salt and use enough water to completely cover the pork.2 . Bring the pot to a boil periodically skimming the scum off the top. Reduce the heat and cover. Let simmer for about an hour or until the meat is tender. Remove the meat from the pot and discard the liquid.3 . Grill the pork for about 10 minutes on each side or until crispy. If you choose not to grill, then you can broil the meat for about 5 minutes.4 . After the meat is grilled then it can be chopped into bite-size pieces and left to cool.5 . In a medium-size bowl combine the pork, chili peppers, calamansi juice, onions, liver spread and liquid seasoning. Liberally season with salt and pepper for personal preference.6 . Serve on sizzling cast iron skillet with a raw fried egg that will cook as it is served.