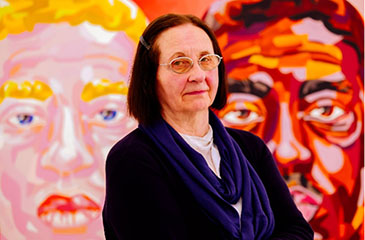 Rissa in front of the painting Die Feinde (1967), Dusseldorf in 2018
The exhibition "Rissa — Back to Painting" is still going on and more and more visitors are falling in love with the works of this terrific artist.After the virtual tour through the exhibition and the inspiring interview with the artist, the gallery gives an insight into Rissa's life and artistic approach.Rissa was born as Karin Martin in 1938 in Rabenstein, near Chemnitz. In 1953, her family fled from the German Democratic Republic (GDR) into West Germany, where she graduated from high school in Bochum in 1959.In the same year, Rissa began her studies in painting at Dusseldorf Art Academy, where she joined the class of K.O. Gotz in 1960, together with renowned classmates such as Sigmar Polke, Gerhard Richter and Gotthard Graubner.As early as 1964, a year before she graduated and got married to Karl Otto Gotz, Rissa took the final decision to abandon the informal for the representational style of painting.She has remained committed to this decision throughout her entire artistic career. Her first group exhibition with K.O. Gotz's class took place in 1966 at the Stadtisches Museum Wiesbaden.From 1969 to 1975 she was a lecturer at Dusseldoft Art Academy, and from 1975 to 2007 she held the professorship for painting.Between 1980 and the end of the 1990s, numerous retrospectives and museum exhibitions followed, often together with K.O. Gotz.In 1997, the K.O. Gotz and Rissa Foundation was established, which continues to preserve the work of both artists and make it accessible to the public to this day.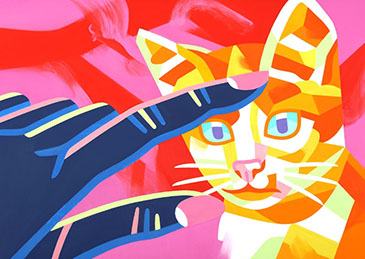 Rissa, Schnurren (2002), Oil on canvas, 115x160cm
In 2018, a retrospective exhibition was held at the Akademie Galerie Dusseldorf and the Stadtische Kunstsammlungen Chemnitz on the occasion of the artist's 80th birthday.After a break of over 10 years, during which Rissa devoted herself exclusively to the care of her husband K.O. Gotz, Rissa rediscovered strength and inspiration for her own painting in 2018, which led to the current exhibition "Rissa — Back to Painting" at DIE GALERIE — her very first exhibition in a gallery.In her works, Rissa deals with contemporary, political and socially themes, ranging from the treatment of our environment and resources to the role of women in society, religious criticism, sexuality, violence, global conflicts, and social relations.On a formal level, her representational painting is defined by a meticulous separation of individual inland areas of color, each of which is clearly delineated from others.The various colors are not blended together, but merely juxtaposed, thus retaining their original luminosity.However, references to informal can often be found in her works, either more extensively in the background of the picture or incorporated in small details.These are not only a reminiscence of her artistic beginnings, but also a homage and memory of the art of her late husband Karl Otto Gotz.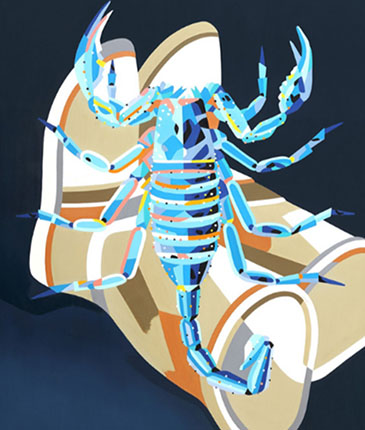 Rissa, Skorpion (1985), Oil on canvas, 90x75cm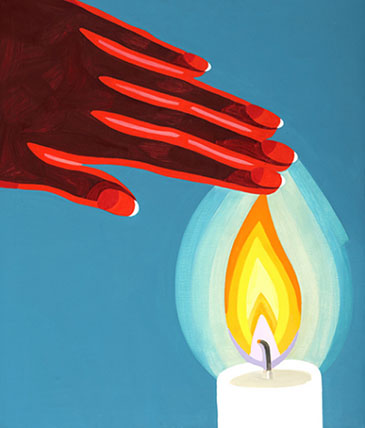 Rissa, Lichtprobe (1968), Oil on canvas, 70x60cm