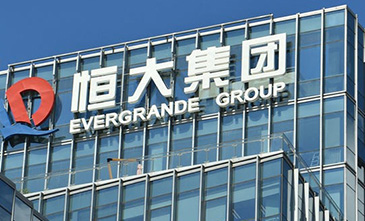 China Evergrande Group
China Evergrande Group, China's second largest private property developer by contracted sales, continues to struggle with US$88.5 billion of total debt (42% of which is reportedly coming due within a year), total liabilities reportedly in excess of US$300 billion, and a net gearing ratio of 150%. After the firm leveraged significant amounts of credit to fuel business growth during mainland China's real estate boom, changes in government policies and a resultant slowdown in China's residential property market have placed it under acute financial strain.
While the company announced on Sept. 22, 2021 that it would pay interest payments on its domestic bonds, somewhat easing investor concerns over the scale of its total debt, it is highly likely that foreign bondholders, which are owed U$19 billion, will suffer some losses. Evergrande failed to make a US$83.5 million payment to foreign bondholders on Sept. 23, 2021, though they have a 30-day grace period before being in default.
The company's current financial troubles stem from a Chinese central government policy ("three red lines") that aims to reduce residential developers' excess leverage and ensure that houses are "for living in, not for speculation." In response to this policy, Chinese real estate developers have become net sellers of assets, a trend CBRE expects to continue. Developers that are experiencing acute financial strain, such as Evergrande, are likely to undergo some restructuring and reorganization. Such restructurings will likely require lenders and investors, particularly foreign bond holders, to take a haircut on the debt they are owed.
CBRE believes the most likely scenario is for the Chinese central government to extend the debt maturity of domestic bank lending and liquidity to selected developers that meet the three red lines policy to avoid a wider ripple effect on the economy and real estate market. In the case of Evergrande, asset disposal will be a viable strategy for the company to meet its short-term liabilities. The firm has offloaded numerous assets over the past 24 months, mostly in lower tier cities and involving lower quality assets, including hotels and retail amenities supporting residential complexes. Although investors are cautious about deploying capital in lower tier markets, opportunistic players could snap up assets if prices fall substantially. Other options for the company include selling its prime land bank in the Greater Bay Area and accelerating sales of its residential inventory.
While the central government's short-term focus will be to protect homebuyers, suppliers and their employees, its position on extending Evergrande's debt payments and a potential restructuring of the company remains unclear. A restructuring and reorganisation, which CBRE believes to be the most likely outcome, could involve a takeover by a State-owned Enterprise (SoE), similar to those involving HNA Group. Anbang Insurance and Huarong, although the legal process would take several years to resolve.
Despite the elevated anxiety about the potential impact on the wider economy, systemic risk in mainland China's banking system is manageable. Listed Chinese banks property-related loan exposure as a proportion of total loans have been on a downward trend since FY2020.
On the real estate investment front, the market has been strong over the first half of the year. Transaction volume in H1 2021 reached US$24 billion, up 22.4% over the same period of 2019. However, the shift in sentiment now means that investment activity will slow in the near-term, with larger transactions coming under closer regulatory scrutiny.
CBRE nevertheless believes mainland China's commercial real estate market offers structural and cyclical opportunities for investors with a long-term perspective. These include:
Multifamily: Despite the more bearish sentiment, the attributes that have attracted institutional capital to multifamily property in China remain in place: the country's large population of renters, sales prices that are beyond the reach of many would-be buyers, and government policy that supports development of rental apartments.
Modern logistics facilities, data centers and cold storage: The demand supply imbalance for modern facilities of these types is spurring investors to engage in both greenfield development and upgrading of older properties located near major hubs.
Business parks: Selected business parks continue to attract agglomerations of industries, and those that are leased to tech and life science firms are keenly sought after by investors.
Shanghai offices: Although this market continues to favour tenants, CBRE believes high-quality assets in core locations will outperform in the long term on the back of growing leasing demand and a flight-to-quality trend among a diverse pool of tenants.
Retail in major cities: As retail sales continue to recover, especially in prime luxury districts and neighbourhood malls, investors with operational expertise can capitalise on opportunities to capture price dislocation opportunities. Another recent development is the debut of mainland China's first REITs in June. The creation of a domestic REIT market is part of a central government effort to reduce debt financing and boost equity financing in the real estate sector. Together with the likely restructuring and reorganisation of Evergrande, CBRE believes the growth of equity REITs will ultimately put mainland China's property market on a more balanced and sustainable long-term growth trajectory.For more information, please contact:
Henry Chin, Ph.D.
Global Head of Investor Thought Leadership
Head of Research, Asia Pacific
henry.chin@cbre.com.hk