The Curious Incident of the Dog in the Night-time
Author: Mark Haddon
Publisher: Vintage
Price: 12,180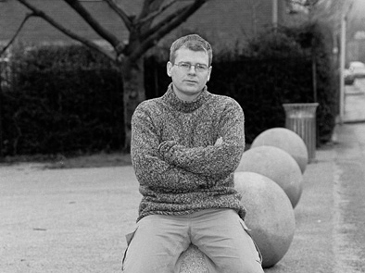 Mark Haddon
"On my way to school I watch the cars going past the bus and remember their colors. Three red cars in a row mean that it is going to be a Quite Good Day. Four red cars mean that it is going to be a Good Day. Five red cars mean that it is going to be a Super Good Day. And four yellow cars in a row mean that it is going to be a Black Day, which is a day when I don't speak to anyone and don't eat my lunch and Take No Risks, because yellow is the color of custard and double yellow lines and Yellow Fever which is a deadly disease."
Christopher is a 15-year-old boy. He is investigating a crime. His neighbor's dog, Wellington, has been stabbed with a pitchfork and killed and Christopher, using methods he has gleaned from his great hero Sherlock Holmes, tries to solve the crime.
Christopher, however, is a little different from most 15-year-old boys. He has Asperger Syndrome, a high level of autism, which means he can only understand the world in a purely logical and literal way. He does not experience emotions as most people do, he cannot tell jokes or lies and he gets agitated to the point of violence if he is touched. Christopher has extraordinary mathematical skills — he lists prime numbers and squares the number two in his head to calm him and bring an order to his life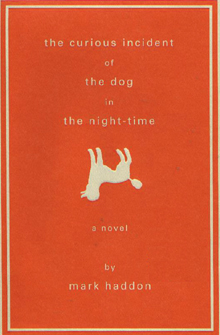 Mark Haddon has spent time working with autistic children in Britain and there is a sense of 'rightness' about the way he presents Christopher as the narrator. He writes using a simple sentence pattern reflecting the way Christopher communicates with his world — subject-verb-object. He allows Christopher to illuminate his inner thinking in a very descriptive way. Being a literal thinker Christopher can understand similes - "(The rain) was falling so hard that it looked like white sparks." — because he can see the similarities in appearance between the heavy rain and white sparks, but he fails to comprehend metaphors that make statements, which, he feels, are not true. As he explains, "When I try…[to imagine] an apple in someone's eye…it doesn't have anything to do with liking someone a lot and it makes you forget what the person was talking about." As we read we experience the world from Christopher's point of view while appreciating the frustration and difficulties other people experience in their dealings with him. The descriptions of how overwhelming everyday life is for Christopher, for someone who cannot differentiate between all the pieces of information we have to process each day, make this novel a fascinating, poignant and compelling read.And then there was no one else in front of the window and I said to the man behind the window, 'I want to go to London,' and I hadn't been frightened when I was with the policeman but I turned round and I saw that he had gone now and I was scared again, so I tried to pretend I was playing a game on my computer and it was called "Train to London" and it was like "Myst" or "The Eleventh Hour," and you had to solve lots of different problems to get to the next level, and I could turn it off at any time.
And the man said, "Single or return?"
And I said, "What does single or return mean?"
And he said, "Do you want to go one way, or do you want to go and come back?"
And I said, "I want to stay there when I get there."
And he said, "For how long?"
And I said, "Until I go to university."
And he said, "Single, then."
This book is much more than it seems, however. The plot line is full of innovative twists and turns and descriptive language that bring it far beyond the usual categories we assign to books. It can be rightly called a "crossover" book — It comes in both a "Children's" and "Adults" edition. It has won both the Whitbread Prize for best novel, the Booktrust Prize for Teenage writing and the Guardian Children's Fiction Prize in 2003. It's Mark Haddon's first novel — he has written fifteen books for children and has won two BAFTAs. Film rights for this novel have been bought by Brad Pitt together with Brad Grey (producer of The Soprano's) and Hey Day (the makers of Harry Potter) in their first acquisition for Warner Bros."My memory is like a film…. And when people ask me to remember something I can simply press Rewind and Fast Forward and Pause like on a video recorder…. If someone says to me, 'Christopher, tell me what your mother was like,' I can rewind to lots of different scenes and say what she was like in those scenes."
This book is available at Kyobo Bookstore, Gwangwamun station, Seoul.