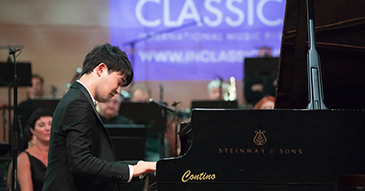 S. Korean Pianist Sunwoo Ye-Kwon Photo Courtesy of InClassica
A Young South Korean pianist Sunwoo Ye-Kwon dazzled audiences filling in the theater of CocaCola Area in downtown Dubai in the evening of Sept. 22, 2021 as part of the "InClassica 2021" International Music Festival which ran from August 28 till Sept. 26. The virtuoso pianist played Sergei Prokofiev's Concerto No. 2, defying the technical difficulties of the intimidating concerto, garnering thunderous applause from the stirred audience. He played this piece with the Kaliningrad Symphony Orchestra under the baton of the Russian conductor Mikhail Kirchhoff. Earlier in the day the fourth press conference was at the extravagant Jumeirah Zabeel Saray hotel built in the architectural style of the Ottoman Empire. In the conference Sunwoo said that it was his first time to be invited to the InClassica. "I just arrived in Dubai last night and have not had a chance to see much of Dubai," he said. "It is meaningful to attend this music event and I hope this is not my last time to attend this great event" The press conference was joined by 13 panelists including Madame Svetlana Chaplygina, spokeswoman of the Russian National Orchestra. She spoke highly of Sunwoo's play and the InClassica itself.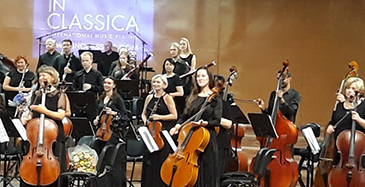 Cellist Alexandra Charnomskaya (third from right) is one of the members of the Kaliningrad Symphony Orchestra.
Among scores of European and Russian journalists was Madame Leila Gouchmazova, music critic of Russia's Rossiyskaya Gazeta Cultura. She also praised Sunwoo's performance. After the morning press conference Sunwoo held an exclusive interview with The Seoul Times. Sunwoo, who lives in Switzerland, commented on the InClassica by saying "the quality of music here is quite high."Asked about his choice of "Prokofiev's Piano Concerto No. 2 in G Minor Op. 16" he said that this concerto is "physically difficult and mentally demanding and it is a challenging work for me"What made Sunwoo's performance outstanding was the members of the Kaliningrad Symphony Orchestra led by Arkady Feldman, who is its founder, composer, and its main conductor. He praised Sunwoo's performance through an interpreter. Its cellist Alexandra Charnomskaya, 30, said the "InClassica event is a good possibility for me to improve my skill by playing with conductors and other musicians." Another member Sofia Dushkina, 32, violist, also commented "I meet amazing players like David Aaron Carpenter, and InClassica is a great possibility to play with them." She said that she watches Korean drama a lot on TV as a big fan of the Korean culture. She played with Korean a pianist Chang Kyu-Min in Hollaland. The "InClassica 2021," the biggest music festival in the Middle East, was participated by 37 world-renowned soloists, seven world's major orchestras, and 12 leading conductors. It was held at the Dubai Opera and Coca-Cola Arena in the capital city of UAE from August 28 through Sept. 26, 2021.
Who Is Sunwoo Yekwon?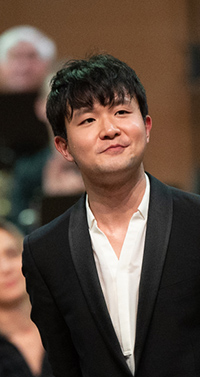 S. Korean Pianist Sunwoo Ye-Kwon Photo Courtesy of InClassica
At 32 in the year of 2021 a South Korean pianist has stood as one of the most acclaimed pianists in the world.Above all, the US-educated pianist Sunwoo Yekwon was the Gold Medalist of the 15th Van Cliburn International Piano Competition among other numerous awards. He became the first Korean to win the competition. Sunwoo has been praised by the world's major newspapers and magazines. He has been hailed for his "unfailingly consistent excellence"by the International Piano Magazine published in London. He was also praised as "a pianist who commands a comprehensive technical arsenal that allows him to thunder without breaking a sweat"by the Chicago Tribune newspaper.The powerful and virtuosic performer said that he "strives to reach for the truth and pure beauty in music."In the past couple of years Sunwoo appeared with the Fort Worth and Tucson symphonies as well as the Bucheon Philharmonic of his own country. He made debuts with Washington Chamber Orchestra, Royal Danish Orchestra, and Danish Radio Orchestra amongst others.In previous seasons, he has performed as a soloist with the Baltimore Symphony Orchestra under Marin Alsop, the Houston Symphony, National Orchestra of Belgium, the Sendai Philharmonic, and the Royal Scottish National Orchestra amongst others. His recital appearances included Carnegie Hall, Wigmore Hall, Elbphilharmonie, Salle Cortot, and Kumho Art Hall.An avid chamber musician, Sunwoo collaborated with Benjamin Beilman, Linus Roth, Andrei Ioniță, Sebastian Bohren, Isang Enders, Tobias Feldmann, Gary Hoffman, Anne-Marie McDermott, and the Jerusalem and Brentano Quartets. Sunwoo won first prizes from such global competitions as the 2015 Int'l German Piano Award, the 2014 Vendome Prize held at the Verbier Festival, the 2013 Sendai Int'l Music Competition, and the 2012 William Kapell Int'l Piano Competition.Sunwoo was born in Anyang, just south of Seoul, South Korea on Feb. 10, 1989. He began learning the piano at the age of eight. Musically he was influenced by his two older sisters. Sunwoo made his recital and orchestral debuts in Seoul at the age of 15. He learned piano from such prominent teachers as Seymour Lipkin, Robert McDonald, Richard Goode, and Bernd Goetzke.He graduated from the Yewon School of Art in Seoul at the top of his class. He also entered Seoul Arts High School with the top score. At age 15 Sunwoo moved to the United States to enroll in the Curtis Institute of Music. He studied with Seymour Lipkin, receiving the Rachmaninoff prize.Then he attended the Juilliard School, studying with Robert McDonald, and earning his master's degree. He was awarded both the Munz Scholarship Competition and the Arthur Rubinstein Prize at Juilliard.Sunwoo also attended the Mannes School of Music, studying with Richard Goode. He earned his artist diploma there.Currently Sunwoo studies under Bernd Goetzke at the Hochschule für Musik, Theater und Medien Hannover in Germany.A self-proclaimed foodie, Sunwoo enjoys finding Pho in each city he visits and takes pride in his own homemade Korean soups.