America
Letters from America
The Mayan Predictions Were Spot On!
By Greg Evans
Special Correspondent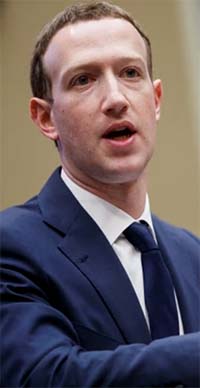 Mark Zuckerberg is the founder, chairman and CEO of Meta
Whispers of Martial Law at the highest level of our oligarchy government have many stockpiling food and extra cartons of eggnog for the apocalypse. Direct military control of society? It didn't work all that well at Kent State, but who cares about learning from history. The Trump organization is building merciless robots to overthrow the election results. The Biden camp is rounding up and arming its San Francisco homeless supporters and moving toward Philadelphia to team up with all its deceased voters to conduct a siege on Washington. Their first step is to ravage the wallets of daily consumers by raising the cost of all essential purchases, food, gas, bottled water, everything they can get their hands on. The free-for-all has become so outrageous that there have even been reports of paramilitary cornhole contests in the Everglades. A distraught population starved for social interaction is ill with the idea of either of the old white men being allowed to decide the fate of this new modern America. And hiding in the rose garden is Kelly Loeffler, waiting for everything to implode so she can lock herself in the Oval Office with Dick Burr and establish an anarchism movement lining their wallets with the newest insider trading secrets as Wall Street seethes.The United States of America, founded by southeast Asian nomads a few hundred thousand years ago, can only shake their heads in disappointment and lapse into heavy alcoholism. And with the western hemisphere sitting wobbly on the edge of a precarious coastline, European nations like Portugal make snide remarks despite their attribution to today's problems. A racially divided nation continues its decline. The Portuguese took it upon themselves to capture African tribesmen and women and ship them in the filthy cargo holds of Spanish ships to Caribbean islands to work for nothing and think there wouldn't be blowback 400 years later.Under the umbrella of distraction is that mysterious Coronavirus that continues to rage, killing people like mice in a sadistic Nazi compound in Argentina. Even the atheists admit God isn't sociopathic enough to create such a monster. City after city is shutting down, and people are desperate enough to consider canceling Christmas. And with the price-gouging of food, these days, a $600 stimulus check barely covers lunch. Republicans, Democrats, and illegals see an astronomical rise in taxes up and down the west coast and are immigrating to the nations of Florida and Texas by the U-Haul load.And with the world upside down, the number one priority of the new party seems to be the flatulence of cows and cars, as if it is a bad thing that Boise, Idaho is on a crash course to be warm all-year-round by 2050. The average person is too busy figuring out how to survive to the next paycheck. They are not concerned about a half-degree rise in the temperature of Siberia. Three-quarters of the Pork 'n Beans district could disappear into a sinkhole, and it might be a footnote.There is a divide in the economic, gender, political, religious, and social climate today. Is anything different? Thucydides' ghost is cackling right now. He saw it 2,000 years ago and even warned us in his bland yet landmark work "The History of the Peloponnesian War," in the premise no less. Let us paraphrase him, "Humans will never change, and they will never learn from history." In the modern world, voters and even school children still don't know the difference between socialism, communism, and capitalism. The neighborhood dogs and feral cats, though, have no problem with these concepts, make a kill, and you eat what you worked to get. In communism, there is no such thing as private property; the state owns it. So that house with the pretty garden and the sleek car with obnoxiously shiny rims "ain't" yours. In a socialist society, you may own your property, but the means of generating wealth is owned communally and managed by the government. The island nation of Cuba is a nice example for those of you that haven't talked to anyone that has ever been to its dystopian shores. Everybody, whether a doctor or a ditch digger makes a whopping $30 a month. So, where is the incentive? Then the government sells the apartment buildings to…somebody, yet nobody cares enough to maintain them, so they are all falling into wreck and ruin. Capitalism is driven by the initiative of the individual worker and thrives on the market as opposed to government interference.Of course, to some extent, there is some government intervention in a capitalist society, and it has been determined, over high tea on Wisteria lane, that there are no purely socialist or capitalist societies in existence today. Yet, ask the typical sorority girl or frat boy about societal woes and become educated. You will learn that "money is the devil," and priorities are getting verified on Facebook or what is left of it after it shares the same fate as Standard Oil. All that is left is a collection of franchisee-owned social media spinoffs, with Chairman Mark Zuckerberg withdrawing to Iceland to join a chess club.With the sun setting, I figure it is time to find shelter before the vampires come out. The last thing I need is to be detained on Elba because my Captain America mask is not apropos.Columnists working the beat slip back to their homes just in time for the curfew to find the locks were changed and military police have taken up residence.

Related Articles
The Dreaded Slump
An Evening in Savannah
A Successful Life Is There for the Taking!
The Millennial's Guide to a Successful ...
The Zen of Blackpink
Confessions of a Single Dad -- I Lost the ...
Blurred Highway
How You Too Can Overcome Depression and ...
Ghost Sightings Around Mooresville Predate ...
No Place Better to Spend Autumn Evenings than ...
Poking a Hornets Nest -- A Carolina Beach ...
First-Ever Filipino Restaurant Experience, And ...
Pfizer Vaccine Approved by FDA in America
The Blurred Highway
The Speed Trap -- A Cash Register for Small ...
What Glitters Truly Is Gold -- Through the ...
There Is Buzz with Elon Musk -- Will Dogecoin ...
Inside Africa -- A Missionary's Work in ...
A Night of Celebration -- 4th of July and a ...
Miami Building Collapse -- Possible Flaw in ...
Building Collapses in Miami, Florida, Leaving ...
Color Blindness in a Colorful World
Lake Norman, the Great Energy Vortex
The Great Hostage Hoax
A Little Bit of Laos -- A Culinary Adventure
Anti-Asian Attacks an Ongoing Problem
By the Grace of God -- The Cylk Cozart Story
Eli Broad, Billionaire Philanthropist, Dies at ...
Clutch Coffee Bar Expanding to Florida
Ten Years Later: Chris Hondros Honored by ...
Local Charlotte Boutique Is Turning Heads
Sailing on Lake Norman without a Rudder
Zen and the Art of Ziplining at Lake Norman
The Proper Etiquette for Street Fighting in ...
The Silent Voices -- A Look inside the Work ...
A Yankee in Dixie
First Hiking Experience, Lake Norman -- Where ...
Who Is the Bigger Band, the Beatles or BTS?
Misogynism Within the Gaming Community
When Has It Gone Too Far -- the Illicit Affair!
The Camping Experience! Well Eventually ...
Taken from Jurassic Park and Put into ...
10 Most Irritating Bad Driver Behaviors
Throw Me a Bone -- What in the World Is a ...
Charlotte, North Carolina's South End ...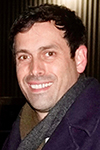 Greg Evans, associate director of communications of King University in Bristol TN, in the US, serves as a special correspondent for The Seoul Times. The seasoned journalist has been writing for such papers as the Mooresville Tribune, Lake Norman Citizen, the Bristol Herald Courier, and the Sentinel-Progress (Easley, SC). He can be reached at gaevans1@king.edu