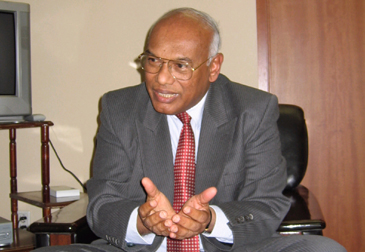 Amb. G. Wijayasiri of Sri Lanka
Sri Lankans are thankful to Korean people for helping tsunami victims in the South Asian country, said its chief envoy to Seoul in a special interview with The Seoul Times he had on the occasion of the Independence Day of Sri Lanka. Amb. G.. Wijayasiri also said that he wants to encourage more South Koreans to visit "the Land of Sun and Sand," during the remainder of his tenure in Seoul. The following are the questions and answers.
Q1:
Could you explain about the Independence Day of Sri Lanka? Why is your Independence Day important and meaningful to the Sri Lankan people and to Sri Lanka itself? How do Sri Lankan people usually observe the day?
A1:
The British colony, called Ceylon, gained independence on Feb. 4, 1948. The newly independent nation retained the name Ceylon until the 1972 constitution renamed it Sri Lanka. Since independence Sri Lanka has maintained a democratic, multi-party system of government. And the coming Feb. 4, 2005 we are going to celebrate our 57th Independence Day. Independence day is celebrated as the day on which Sri Lankans received the right to self-determination after nearly four and a half centuries of colonial servitude. We usually celebrate this date with appropriate pomp and pageantry.
Q2:
How long have you been serving here in Seoul as top Sri Lankan envoy? What area of bilateral diplomatic relations will you focus on during your tenure in Seoul?
A2:
I am here in Seoul as an ambassador of Sri Lanka since March 2003. We have a very strong and meaningful bilateral and diplomatic relation with the Republic of Korea. There are some meaningful committees between Seoul and Colombo, like Sri Lanka-Korea Economic Cooperation Committee, by which Seoul and Colombo are continuing their strong relation. Following the success of the 11th joint meeting of this committee, the 12th joint meeting will be held in Korea this year. Basically we are continuing the relation with economic diplomacy.
Q3:
How large is the trade volume between the Republic of Korea and Sri Lanka? What, do you think, could be done for increasing trade volume between the two countries?
A3:
There is a huge gap between Sri Lanka and the Republic of Korea in import-export statistics. Korea exports to Sri Lanka total around US$ 286 million, whereas Sri Lanka only exports US$ 30 million to Korea. Korea's high technology combined with the adequate natural resources of Sri Lanka would produce very profitable results. Presently Sri Lanka imports cables, computers, networking materials, spare parts, and other technical equipment from South Korea. Besides the heavy industrialization and trade sector, Sri Lankan's agricultural sector — in particular for tea, vegetables, fruits, dairy, fattening etc. — is also an attractive sector. Businessmen of Korea may also come for this rapidly growing sector, because it is in need of investment capitol.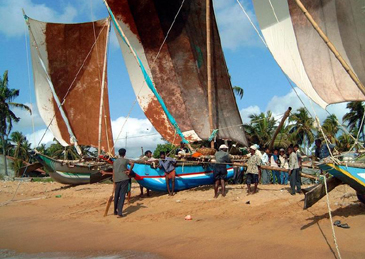 Beach near Negombo, 30 kms away from Sri Lanka's capital Colombo
Q4:
What are your plans to attract more South Korean corporations into your country, or vice versa?
A4:
Sri Lanka offers a most attractive environment for foreign investors due to its disciplined and skilled workforce, and adequate natural resources. Foreign investment is guaranteed in Sri Lanka and it's in the constitution in our country (Article 157) that we offer 100 percent ownership and incentive packages. Presently 99 Korean companies are operating their business in Sri Lanka in which 48,000 Sri Lankan people are currently employed. Most of these are basically textile companies. The Embassy of Sri Lanka in Seoul is now organizing investment seminars and symposiums to attract more Korean companies.
Q5:
What are some of the important economic issues between the two countries? What should be done to boost bilateral relations in general? What, do you think, you can do to further enhance bilateral ties?
A5:
The visit to Sri Lanka of the honorable prime minister of The Republic of Korea (on Jan. 7-8, 2005) due to the tsunami was very fruitful, because it was the first visit of any high official to Sri Lanka. Until now we have no such types of economic issues. But this meaningful visit of the honorable prime minister of the Republic of Korea will make for good relations in the near future. Sri Lanka is one of the best democratic countries in the world, and casting rate of votes is around 80 to 87 percent. We are enjoying the peaceful transfer power.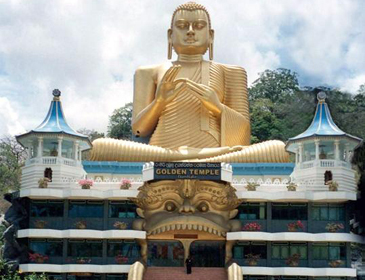 The Golden Temple at Dumbulla in Sri Lanka
Q6:
What are the present state of people's exchanges and cultural exchanges between the two countries? Do you have any plans to introduce more Sri Lankan culture to Korean people or vice versa?
A6:
The cultural, traditional, and social activities of Sri Lanka and South Korea are very rich and ancient. Like Korea, Sri Lanka is 70 percent Buddhist. Korea has built around 108 houses in Sri Lanka called "Jogye village," due to the harmonic relations between Sri Lanka and the Republic of Korea. Sri Lanka is the fourth largest recipient country from KOICA (Korea International Cooperation Agency), and is also getting overseas development assistance from Korea. People of both countries respect their elders. Koreans are hard workers, polite, dedicated, and that's why they are the member of OECD (Organization for Economic Cooperation and Development).
Q7:
Have there been any important developments or events between Korea and your esteemed country in the last year in the economic, political, cultural, or other fields? If yes, please elaborate.
A7:
As I mentioned, the visit of the honorable prime minister of the Republic of Korea was so fruitful this year, we think we are so close to making good economic, political, cultural, and diplomatic relations. As well, last year one of the cultural teams of Sri Lanka visited the Republic of Korea.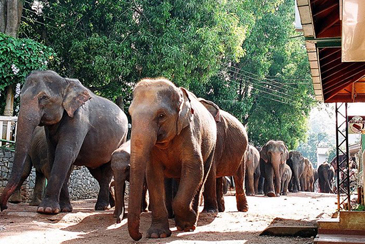 Elephants are jamming the street in Colombo
Q8:
Do you foresee any new developments this year including the possible visit of the chief executive of your country to South Korea? Are any economic or other delegations coming to Korea?
A8:
The 12th joint meeting of Sri Lanka-Korea Economic Cooperation Committee will be held in Korea on Dec. 28, 2005.
Q9:
The 13th SAARC (South Asian Association for Regional Cooperation) summit is due to begin in Dhaka, Bangladesh on Feb. 6, 2005. As a member of "SAARC" what type of regional cooperation do you expect to achieve out of this forum?
A9:
SAARC provides a platform for the peoples of South Asia to work together in the spirit of friendship, trust and understanding. It aims to accelerate the process of economic and social development in member states. The 13th SAARC summit will be called "SAARC Tourism Year." We want to develop active cooperation in some areas, such as agriculture and rural development, health and population activities, women's issues, youth and children's issues, environment and forestry, science and technology, meteorology, human resources development, and transport.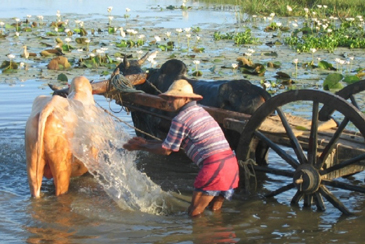 On the road to Okanda in Sri Lanka
Q10:
What are the major tourist destinations of your country? Please explain in detail?
A10:
May you have the gift of long life! With this traditional greeting, we welcome you to Sri Lanka, "the Garden of Eden," "the Original Paradise," amid scenes as beautiful as the hand of God ever created. Many a traveler before you, from ancient mariners and merchants, to modern astronauts and businesspeople, have been seduced by the tantalizing beauty of the colors and costumes of this land which, according to Mark Twain, were "All harmonious, all in perfect taste." We have the eight world heritage site in Sri Lanka (recognized by UNESCO) and also world-class golf courses.
Q11:
Could you please tell us in detail about your family? Are they all here in Korea? What do they do?
A11:
I have been living here since last March 2005. Between my two sons, my elder son is working in Sri Lanka, and my younger son is studying in the United Kingdom. I have visited many different parts of Korea, socializing with people and trying my best to promote tourism.We are living on the same planet and that's why we should have to make a plan under any international organization so that we could save ourselves from any natural disaster, We thank the prime minister of Republic of Korea for his immediate visit in Sri Lanka due to the tsunami, and also thank the great people of Korea.