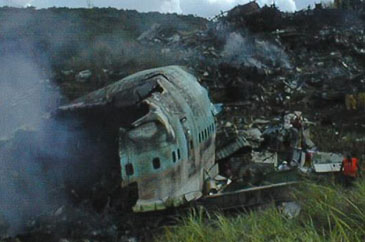 Guam - Korean Air Flight 801 Crash Site - The Carnage "There has been deep tragedy here. We must bury our dead, heal our wounded, face ourselves and confront our own fear of chaos and mortality. Yet, if we are able to transform our experience of this tragedy and use our feelings of loss and despair in order to reach out beyond our own selves, our own families, our own neighborhoods, we can connect with one another on a higher level, then the healing will have begun." Gov. Gutierrez
"We will Blow Off Korean Airliner and Kill Koreans."Korean Air's Cairo Branch Received a threatening phone call from an unknown terrorist at 1:30 p.m. local time Feb. 3, 2005, reported a local newspaper Chosun Ilbo.The vernacular daily quoted a Korean Air employee working at the national flag carrier's Cairo branch. According to the daily, the unidentified Arabic man called Korean Air's office in Cairo and asked if it's the Korean Air's office before he hung over.The male employee said that the unknown man spoke in Arabic but was not speaking with perfect Arabic accent. "I am not sure but I guess that the man does not appear to be an Arabic."The Korean Air employee called immediatedly its head office in Seoul.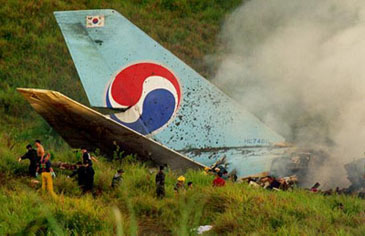 The aircraft crashed on a localizer approach to Guam. The glideslope was out of service, and the crew prematurely descended to decision height. Courtesy AirDisaster.com
The threatening phone call was made barely one hour earlier that Korean Air's flight KE953 bound for Cairo took off from the Incheon International Airport in South Korea.The Korean Air flight was able to finally take off three hours later than its schedule due to the heavy security check at the airport.South Korean Embassy in Cairo called Egyptian security authorities for cooperation after the menacing phone call.The case is under investigation by the Egyptian authorities. Egyptian authorities are investigating if it is merely a fake or real threatening call.Checking is also conducted on the caller to find out if he is an Egyptian or other Arabic national.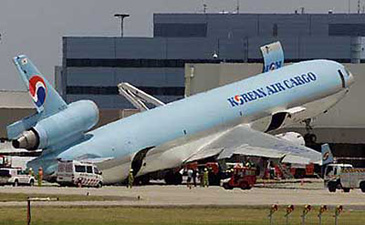 Cargo pallettes aboard the Korean Air's MD-11F were being offloaded when the movement of weight toward the rear of the aircraft caused the plane to tilt onto its tail due to a shift in the aircraft's center of gravity. None of the 10 crewmembers working aboard the aircraft was injured. Courtesy AirDisaster.com
Both Korean Air local employees and Egyptian authority officials stayed overnight at Cairo Airport, checking Korean Air's cargo planes scheduled to leave the airport.Previously Korean Air was also threatened by the terrorists at its Cairo branch office. Last year Egypt Air reportedly received threatening phone calls on several occasions in which terrorists threatened to explode airliners flying between Cairo and European destinations. All turned out to be fake ones later.A record number of 8 million tourists visited Cairo last year. And following the tsunami disaster in South East Asian countries South Koreans pour into Cairo avoiding the disaster-stricken areas. A total of 38,600 South Koreans visited Egpyt, an increase of 43 percent over the corresponding period of the previous year.
A Korean Air accident Courtesy AirDisaster.com
Incidents of Major Airline Terrorism
By Wm. Robert Johnston
May .18, 1973
— A hijacked Aeroflot Tu-104 airliner exploded over Siberia. The airliner was en route from Moscow to Chita. The hijacker set off a bomb in the passenger cabin after his demands were not met, when the plane was about 150 km short of Chita. All aboard were killed. Some reports have claimed, however, that the aircraft was shot down by Soviet fighters while departing Soviet airspace. Fatalities: 100.
Dec. 4, 1977
— A hijacked Malaysian Boeing 737 airliner crashed about 8:15 p.m.near the Straits of Johore. The aircraft was descending when the hijackers shot both pilots after which the airliner crashed in a swamp, killing all aboard. Fatalities: 100.
Sept. 23, 1983
—A Gulf Air Boeing 737 en route from Karachi to Abu Dhabi crashed after a bomb exploded in the baggage compartment. After the explosion, the plane crashed in the desert near Mina Jebel Ali in the UAE about 3:30 p.m. during an attempted landing. Fatalities: 112
June. 23, 1985
— An Air India Boeing 747 en route from Montreal, Canada, to London, England, exploded in midair at 7:15 a.m. off the coast of Ireland, killing all 329 aboard. The aircraft was about 180 km west of Cork, Ireland. About one hour earlier, a suitcase taken off a Canadair flight from Vancouver, Canada, to Tokyo, Japan, exploded at the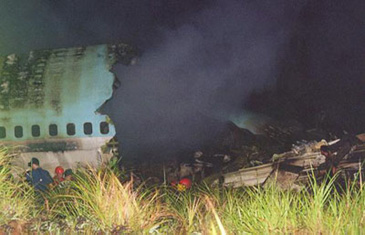 A Korean Air accident Courtesy AirDisaster.com
Nov. 23, 1987
— A Korean Air Lines Boeing 707 was destroyed in a bombing by two North Korean agents. The two planted a bomb aboard the jet and deplaned in Abu Dhabi. The plane exploded en route to Bangkok at about 11:30 a.m. while over the Andaman Sea, killing all 115 aboard. The agents were arrested in Bahrain but consumed poison concealed in cigarettes. The male died, but the female survived and later implicated North Korea in plotting the bombing. Fatalities: 115.
Dec. 21, 1988
— Pam American Flight 103, a Boeing 747, was destroyed in flight by a bomb at 6:56 p.m. The plane was en route from London, England, to New York City, carrying holiday and other travelers. An explosive device, using a sophisticated time-delay fuse, had been concealed in a portable radio in luggage originating in Malta and transferred to the flight in Frankfurt, Germany. This exploded in a cargo hold after the 747's departure from London, with the aircraft rapidly disintegrating due to the damage to the fuselage. All 259 aboard were killed, including 189 Americans. The mid-section of the plane impacted the ground in Lockerbie, Scotland, destroying several buildings and killing 11 more people and injuring 5. An intensive investigation eventually identified two Libyan suspects; the Libyan government was implicated by evidence including the timer used in the bomb. In 2004 Libya settled claims stemming from the bombing. Fatalities: 270.
Sept. 19, 1989
— A French UTA passenger DC-10 was destroyed in mid-air over Chad by the explosion of a luggage bomb at 2:00 PM. While en route from N'Djanen to Paris, the bomb exploded in the cargo area, causing the plane to break up and crash near Bilma, Niger, 46 minutes after takeoff. The bomber is believed to be a man from Congo who deboarded at N'Djanen, but Libyan state involvement is also suspected. Fatalities: 171.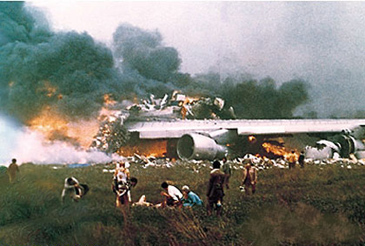 Crash site of an airliner's plane
Nov. 27, 1989
— A bomb exploded aboard a Colombian Avianca Boeing 727 passenger jet departing Bogota, Columbia, en route to Cali, at 7:16. Exploding 5 minutes after takeoff in a passenger seat, the bomb ignited fuel vapors and caused the plane to crash, killing all 107 aboard as well as 3 on the ground. The bomb was planted by members of the Medellin drug cartel, led by Pablo Escobar who was charged by the U.S. in August 1992. The bomb may have been supplied by Islamic terrorists, based on similarities to the one that destroyed Pam American Flight 103. Five passengers were informants who had been targeted by the drug cartel. Two Americans were among those killed. Fatalities: 110.
Oct. 2, 1990
— A Chinese Boeing 737 was hijacked and crashed during landing in Guangzhou (Canton), PRC, about 9:15 a.m. During a flight from Xiamen to Guangzhou, a young man claimed to have explosives and demanded the pilot fly to the Republic of China (Taiwan), clearing the other flight crew from the cockpit. The pilot circled the Baiyin airport near Guangzhou, failing to convince the hijacker that fuel was insufficient to reach the ROC. Apparently as the pilot finally attempted an emergency landing at Baiyin, the hijacked wrestled for control of the aircraft. Upon touching down the 737 swerved into two other aircraft on the ground, a Boeing 707 and a Boeing 757, both China Southwest Airlines. The 737 overturned, killing 84 of 104 aboard; another 48 were killed on the 757. Those killed included 30 from the Republic of China. A total of 49 were injured. [19] Fatalities: 132.
Sept. 22, 1993
— About 6:30 p.m. a Transair Georgian Airlines Tu-154B was hit by a missile while on approach to Sukhumi, Georgia. The aircraft crashed on the runway, killing 106 of 132 aboard. The missile was fired by Abkhazian rebels. Fatalities: 106.
Nov. 23, 1996
— An Ethiopian Boeing 767 passenger jet flying from Addis Ababa, Ethiopia, to Nairobi, Kenya, crashed during a hijacking. The three hijackers, male, are believed to have been Ethiopians and were drunk. The pilot was instructed to fly to Australia but did not have enough fuel and was denied permission to land to refuel. The pilot brought the plane down a few hundred meters off a resort beach at Moroni in the Comoros Islands off Africa. The hijackers may have fought for control of the aircraft during descent, contributing to the crash during ditching. People on the beach were able to rescue 48 of the 175 aboard the plane. All the hijackers were believed killed. Fatalities: 127.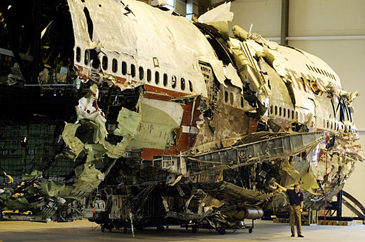 Fuselage of a crashed airliner
Oct. 31, 1999
— An Egypt Air Boeing 767 crashed off the coast of Massachusetts after departing New York City bound for Cario. The crash occurred at 1:52 a.m., 33 minutes after takeoff near Nantucket Island. U.S. authorities have concluded that the Egyptian relief first officer intentional crashed the aircraft. Flight data suggests that he shut off the engines and put the aircraft into a steep dive; a second crewmember unsuccessfully struggled for control of the aircraft, which broke apart from aerodynamic stresses and crashed. Fatalities: 217.
Sept. 11, 2001
—Four jetliners on domestic flights from northeastern U.S. airports were hijacked and crashed, three into buildings. Four or five hijackers aboard each aircraft used utility knives to subdue the crew, with a hijacker with flight training taking control of each aircraft. At 8:46 a.m. American Flight 11 was flown into floors 94 to 99 of the World Trade Center's north tower in New York City. At 9:03 a.m. United Flight 175 was flown into floors 78 to 84 of the Center's south tower.Both crashes resulted in fires which eventually weakened the towers' structural steel, causing the complete collapse of the south tower at 10:05 a.m. and the north tower at 10:28 a.m. Most people not trapped by the fires had been evacuated from the towers at that point; however, hundreds of police officers and firefighters were in the towers. At 9:43 a.m. American Flight 77 was flown into the Pentagon in Alexandria, Virginia, causing a fire and partial collapse of a limited section at 10:10 a.m.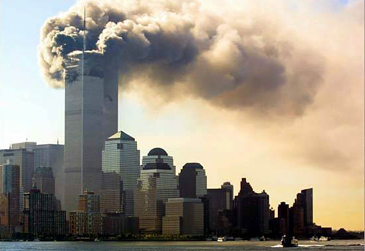 World Trade Center buildings attacked
This killed 125 Pentagon personnel, injured 200, and killed all 64 aboard the aircraft, including 5 terrorists. The section of the Pentagon that was struck was being renovated, contributing to the low casualty count. Passengers on the fourth jetliner, United Flight 93, learned of these events via cellular phones and attacked the hijackers; this aircraft crashed into a field in Somerset county, south central Pennsylvania, killing all 45 aboard (including 4 terrorists), at 10:10 a.m. The hijackers of this plane are believed to have intended to strike a site in Washington, DC, most likely the Capitol Building.The World Trade Center collapse caused fires and/or collapses of several nearby buildings, particularly World Trade Center 7 at 5:20 p.m. Fatalities due to the Trade Center strikes remain uncertain at 2,759 dead; another 43 missing could not be conclusively linked to the World Trade Center site. These figures include 343 firefighters, 60 police officers, 158 aboard the two aircraft, and 2,235 workers and visitors at the Trade Center. Fatalities aboard the aircraft include 88 passengers and crew on American Flight 11, 60 passengers and crew on United Flight 175, and 5 terrorists on each plane.Total fatalities at the Trade Center site include several hundred citizens of foreign countries: 27 were foreign residents (11 of the UK); 568 were born abroad. Foreigners included individuals from the United Kingdom, India, Columbia, Pakistan, Israel, and Puerto Rico. Another 8,700 were injured, of whom 6,391 received treatment. The attacks were conducted by Al Qaeda with the operation overseen by Osama bin Laden. The United States subsequently assisted opposition forces in Afghanistan in the overthrown of its Taliban ruling party, which has sheltered Al Qaeda. Fatalities: 2,993.