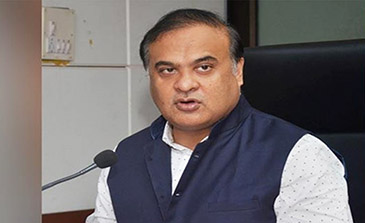 State Chief Minister Himanta Biswa Sarma
Guwahati: Should the journalist-editor-proprietors continue to have government sponsored personal security officers (PSO) even though they do not have visible threats to their lives? Are PSOs slowly becoming status symbols for many celebrated media persons in India? Should not they withdraw the policemen at the earliest and hire private security personnel (meaning paid by themselves) if they need them desperately? After all, why should the authorities pay for someone's personal luxury? These are among few questions, lately floated in public domain, as Assam government lately decided to reduce the number of PSOs from 4000 to nearly half of it. Notably, over 2000 PSOs are presently engaged with leaders of different political parties. Quite a number of PSOs are also protecting many State-based journalists, editors and proprietors, who are seemingly powerful, glamorous and also threatened (even though the common people may find it difficult to realize what kind of risky journalism they adopted in their lifetime).
The debate immediately started with the announcement of State Chief Minister Himanta Biswa Sarma, who insisted on developing Assam with the PSO-free culture. Sarma, also in charge of State home portfolio,had already directed the police department to create an environment, wherein no individual need personal security officers in the coming days. He also urged everyone to move away from the culture as the police would start countering all threats to the society through a strong intelligence and monitoring system. A scribe's organisation also came forward asking the concerned media persons to voluntarily abandon the government security cover, so that those personnel can be engaged in other important works. Appreciating Sarma for the decision to use PSOs judiciously to important individuals only, the Journalists' Forum Assam argued that the security cover should not be used as a status symbol by any one (including among the media). It supported the government proposal to allot PSOs only for those in constitutional posts and in positions that require security cover subject to regular screening by the review committee. Northeast, once known as an insurgency-stricken troubled region in India, has now returned to a peaceful zone, as most of the militant outfits have joined in peace talks and many of the hardcore rebels were neutralized by the security forces engaged in counter-insurgency operations in the region, adjacent to troubled neighbours like Myanmar and Bangladesh. The State police forces have also been empowered to deal with the situation emerged time to time with patronages from anti-social and anti-national elements. For records, the year 2021 ended with no incident of journo-murder,the trend that has been sustained for the last four years in the region. It witnessed two incidents of assassination of scribes
(Shantanu Bhowmik and Sudip Datta Bhaumik) in Tripura (2017) for the last time, whereas the country as a whole continues to lose 5 to 15 journalists to assailants every year. Tripura also reported the assassination of three media persons (Sujit Bhattacharya, Ranjit Chowdhury and Balaram Ghosh) in 2013, where all of them were killed in a newspaper office inside Agartala. Assam and Manipur witnessed the murder of scribes for the last time in 2012, as Raihanul Nayum and Dwijamani Nanao Singh fell prey to perpetrators. But till then, the region witnessed the killing of nearly 30 editor-reporter-correspondents since 1991, where Assam accounts a major share of the victims. The saga of sensational journo-murder began with the brutal killing of veteran Assamese freedom fighter turned journalist Kamala Saikia. The Septuagenarian teacher was targeted by the armed members of banned United Liberation Front of Assam (Ulfa) for his critical media columns against their disruptive activities.
Five years later, the murder of human rights activist turned journalist Parag Kumar Das in Guwahati also created a massive public outcry. The executive editor of Asomiya Pratidin was apparently targeted by surrendered armed militants as he used to write strongly against them as well the governments in New Delhi and Dispur for anti-Assam policies. Other journo-victims from Assam include Punarmal Agarwala, Pabitra Narayan Chutia, Dipak Swargiary, Manik Deuri, Nurul Haque, Jiten Sutiya, Ratneswar Sarma Shastri, Dinesh Brahma, Prahlad Gowala, Mohammad Muslemuddin, Jagajit Saikia, Anil Majumdar, etc. Lately, an Assamese satellite news channel broadcast a program where it boldly asked the beneficiary journalist-editor-proprietors to
withdraw the PSOs and go for private services to enhance their security measures. A large number of social media users termed them 'surrendered sentinels', as they had hardly questioned the men in power for anti-people policies or even raised voices against the militants even when it was a real necessity. They urged the authority to withdraw the PSOs from everyone, who simply want it as status symbols. A decisive public opinion indeed! The author is a northeast India-based journalist and media commentator