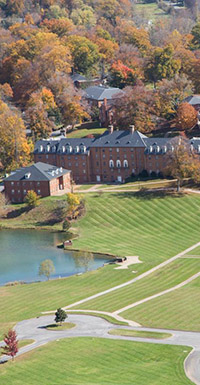 Campus of King University in Tennessee
The "dreaded" interview, as so many will attest. But it is something that really doesn't have to be feared at all. The reality is that it is not the elephant in the room if it is approached properly. Instead of worrying and chewing your nails down to the cuticles, you should welcome the interview as a challenge, a learning experience from which you will grow and learn a little bit more about yourself. Interviews are wonderful tools, both for the interviewer and the interviewee. And know that King University prepared you for this moment. You are ready, you are there because they are interested in you.The first thing you have to do when that email or phone call comes in that a company is impressed by your stellar resume is that you have to change your mindset. You have suddenly been gifted an amazing opportunity. For one, you might land that dream job that you have always wanted. Two, you can practice persuasive communication. You can learn better to think on your feet and apply the hard work of preparation unveiling a performance for the ages.But above all else, you can be yourself and show the company why you would be such a valuable asset. Teach them how well you would fit into their culture, enrich the work environment, your co-workers and produce memorable work augmenting the market value of the company and the products or services for sale.Preparation for an interview is the key. This requires you to research the company. Learn about their history, the company's management, and, if possible, the person who will be interviewing you. In an age of high-speed internet and social media, it is easy enough to track down almost anybody.You can use sites like Glassdoor, former employees, and other sites and methods to learn about interview techniques and types of questions that you might face and then rehearse them. Write out positive contributions you have made at your place of employment and practice saying them out loud in front of the mirror. Practice smiling and nodding, giving nonverbal feedback as if the interviewer is responding likewise. And don't talk with your hands. Just rest them comfortably in your lap. Practice this.Study the job description, know what you will be doing inside and out and how your skills and experience apply. Have a family member or friend practice asking and answering questions. In most interviews, you will be asked to discuss a recent time when you had used a skill or dealt with a situation. A common method for answering is the "STAR method." This is an acronym for Situation, Task, Action, and Result. Have one or two of these types of answers ready in case you are faced with the question to avoid panicking and rambling. Take a deep breath, thinking out your answers, there is no need to rush and discuss how you tackled the problem or situation. On the day of the interview, you will be happy that you practiced these.Make sure that you are dressed appropriately. Guys, have a shirt and suit dry cleaned and make sure you have a matching tie. If you have shiny shoes, shine them! Be as clean-cut as possible and get a lot of sleep the night before. Ladies, wear a conservative dress, dress pants or pencil skirt, a neutral or light-colored blouse and close-toed heels, short boots, or flats.On the day of the interview, if it is in-person, arrive 10-15 minutes early and bring copies of your resume as well as a notebook and working pen. First impressions are definitely lasting. When you enter the room, smile, and make eye contact. Give a firm handshake and sit with confidence and ease. There is no reason at this point to be nervous. You look amazing. You are well prepared, and now it is you interviewing them. Is this the type of company and culture where you want to work? They are lucky to have you. Now it is up to them to win you over.It is important to practice your good manners and be positive at all times. Never bad-mouth your former employer, refrain from being self-deprecating, and absolutely NEVER lie. When the interviewer/s begins firing off questions, you want to respond with brief and concise answers. Rambling is a sign of nervousness. This is an indication of a lack of preparation or composure. If you are stumbling through questions with long-winded answers it will generate concern. Managers might assume that you aren't quick on your feet and thus may perform equally unsteadily, ruining a business opportunity, a deal, or scaring away a recruit or client. But at the same time, you don't want to get stuck in any long stale silences either. It is important to maintain a conversational flow.
Lastly, have questions prepared, but also practice active listening and try to learn as much as you can while the interviewer/s is talking. If a question arises ask it. Be yourself, be confident, be polite, and be positive. After the interview is over, thank them for their time and ask them for a business card. You can then go home and write a thank you letter.Good Luck! You can do anything if you are willing to work it and prepare. That includes landing that dream job.