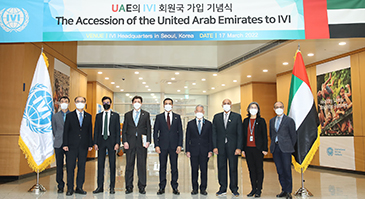 The Acxcession of UAE to International Vaccine Institute (IVI)
UAE Embassy in Seoul has participated joined forces with the International Vaccine Institute (IVI) in South Korea in a ceremony held in Seoul to contain the Covid-19, the embassy announced recently. The following is the full text of its news release.The International Vaccine Institute (IVI) in the Republic of Korea held a ceremony on the occasion of the joining of the United Arab Emirates to the Institute, on Thursday morning, March 17, 2022, in the presence of His Excellency Abdulla Saif Al Nuaimi, Ambassador of the UAE to the Republic of Korea, and His Excellency Nasser Al Budoor, Assistant Undersecretary for External Relations Affairs and Health of the UAE.On the Korean side, the ceremony was attended by Lee Jong-Koo, Ambassador for Global Health Security of the Republic of Korea and Dr. Jerome Kim, Director General of IVI.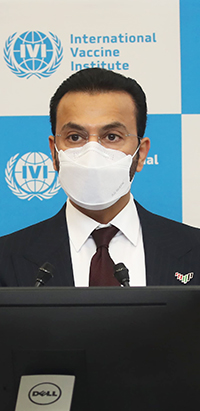 UAe Ambassador Abdulla Saif Al Nuaimi,
His Excellency the Ambassador delivered a speech on this occasion, in which he expressed the UAE's thanks and appreciation for joining this prestigious international institute, and explained that the UAE's joining of this institute will contribute to strengthening cooperation and coordination between the UAE and the aforementioned institute, and will help support and expand the role and tasks of the UAE in the field of vaccines at the international level.The ceremony also witnessed the raising of the UAE flag at the top of the International Vaccine Institute building, followed by the national anthems of both friendly countries, which have a special strategic partnership and close relations in various fields and sectors.This event indicates the appreciation of international and regional organizations for the efforts of the UAE to contain the Covid-19 pandemic and its pioneering contributions in providing vaccination doses in most of the affected countries. This accession will contribute to highlighting the UAE's leading role in serving the international community, as the UAE is considered one of the first countries that contributed to providing a helping hand to needy countries.In this context, it should be noted that the UAE has given the health sector one of its most important priorities. The National Agenda of the UAE Vision looks forward to implementing a health system based on the highest international standards. It works, in cooperation with all local health authorities, to accredit all government and private hospitals, according to clear national and international standards in terms of providing services, and the quality and adequacy of the medical staff. The National Agenda also aspires to consolidate the preventive aspect, reduce the rate and diseases of cancer, and lifestyle-related diseases such as diabetes and heart, to achieve a healthy life and a long life. And developing the health system's readiness to deal with epidemics and health risks, in addition to its global efforts in providing medical aid to various needy countries.