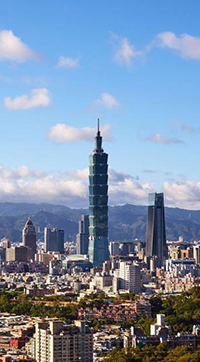 Taipei, Taiwan
SINGAPORE (April 28, 2022) — The wealth of Taiwan's 50 richest on the 2022 Forbes list reveals a mixed picture, with 23 listees adding to their net worth and 24 seeing a decline. Overall, their collective wealth rose to US$158 billion from $149 billion last year.
With the Omnicron outbreak in the region disrupting production and supply chains, the benchmark Taiex index fell 3% over the past 12 months. Still, strong tech exports and a revival in domestic demand boosted Taiwan's economy by 6.3% in 2021, the biggest gain in a decade.Footwear magnate Zhang Congyuan, who debuted last year following the 2021 IPO of his Huali Industrial Group, retains the top spot. But his net worth fell 12% to $12.1 billion from $13.8 billion, as the Guangdong-based company faced logistical challenges brought on by Covid-19.Brothers Tsai Hong-tu and Cheng-ta remain at No. 2 with $10.5 billion, up 14% from $9.2 billion, as their Cathay Financial Holding posted record net income of $4.9 billion for 2021. Another pair of finance tycoons, brothers Daniel and Richard Tsai of Fubon Financial Holding, keep the third
spot with a fortune of $9.6 billion, up 22%, thanks to the company's stellar performance in stock and
bond investments.Soaring prices of chemicals boosted the wealth of two of this year's big dollar gainers. The net worth of Lin Shu-hong (No. 5), cofounder of petrochemical conglomerate Chang Chun Group, surged $2.1 billion to $6.9 billion. Siblings Tseng Cheng and Sing-ai (No. 14, $4.3 billion), whose late father
Tseng Shin-yi was also a cofounder of Chang Chun, saw their wealth increase by $1.65 billion.Tony Chen (No. 47, $850 million) and Scott Lin (No. 42, $1.1 billion), cofounders of Largan Precision, a lens supplier to Apple, saw the biggest decline in their wealth in percentage terms. A sluggish mainland China market for smartphones and supply chain obstacles dragged down their wealth by 47% and 46% respectively. Rising shares of Kinglai Hygienic Materials, a maker of stainless steel components used in ultra-clean manufacturing processes such as in semiconductors and vaccines, propelled founder Li
Shui-po, the sole newcomer this year, to No. 50 with $765 million. Amid the global shipping boom, the Chang brothers – Kuo-Hua, Kuo-Ming and Kuo-Cheng – whose father was Evergreen Marine's late founder Chang Yung Fa, returned to the list at No. 11 with $5.3 billion. Three dropped off this year including restaurant tycoon Ho Kuang-chi, whose mainland China-focused hotpot chain Xiabuxiabu recorded its first annual loss last year since it went public in 2014.The minimum amount required to make the list was $765 million, up from $740 million last year.The top 10 richest in Taiwan are:
1) Zhang Congyuan; US$12.1 billion
2) Tsai Hong-tu & Cheng-ta; $10.5 billion
3) Daniel & Richard Tsai; $9.6 billion
4) Tsai Eng-meng; $7.1 billion
5) Lin Shu-hong; $6.9 billion
6) Terry Gou; $6.8 billion
7) Wei Ing-chou, Ying-chiao, Yin-chun & Yin-heng; $6.4 billion
8) Jason & Richard Chang; $6 billion
9) Barry Lam; $5.5 billion
10) Samuel Yin; $5.4 billionThe list was compiled using information from individuals, analysts, government agencies, stock exchanges, databases and other sources. Net worths were based on stock prices and exchange rates as of the close of markets on April 15 and real-time net worths on Forbes.com may reflect different valuations. Private companies were valued by using financial ratios and other comparisons with similar companies that are publicly traded. The estimates include a spouse's wealth and, where the person is the company founder, also include the wealth of children and siblings that is derived from that company.The list can also include foreign citizens with business, residential or other ties to the city, or citizens who don't reside in the city but have significant business or other ties to the city.
About Forbes
Forbes champions success by celebrating those who have made it, and those who aspire to make it. Forbes convenes and curates the most influential leaders and entrepreneurs who are driving change, transforming business and making a significant impact on the world. The Forbes brand today reaches more than 150 million people worldwide through its trusted journalism, signature LIVE and Forbes Virtual events, custom marketing programs and 47 licensed local editions in 80 countries. Forbes Media's brand extensions include real estate, education and financial services license agreements. Forbes recently announced plans to go public through a business combination with Magnum Opus (NYSE: OPA), a special purpose acquisition company (SPAC), which is expected to close in the second quarter of 2022.
For media queries, please contact:
Catherine Ong Associates Pte Ltd
Catherine Ong
cath@catherineong.com
Joana Ferreira
joana@catherineong.com