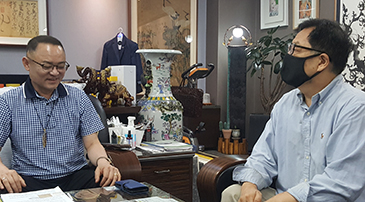 S. Korea's CEO Cho Jae-Hyun (left) is being interviewed by Publisher Joseph Joh of The Seoul Times in his Seoul office recently.
South Korea's businessperson Cho Jae-Hyun holds many important titles including president of the Korea Sword Association and China's World Business Association (ñé国á¦Í£Íê销æáØï). The 59-year-old man's spacious office in the southwestern part of Seoul is filled with various works of art including numerous potteries small and large, which makes his office a museum of art. His office is decorated with old Chinese works of art including a calligraphy work of one of the most famous Chinese calligraphers Bai Juyi (ÛÜËÜæ¶: 772-846). One side of his office is full of a variety of porcelains and celadons of the Liao Empire (916-1125).Currently Chairman Cho leads "A1J," a platform company for domestic and global marketing with a particular focus on China. Recently he has launched a state of the art online business card called "ttongttong," which applications can be downloaded on the Google Play Store.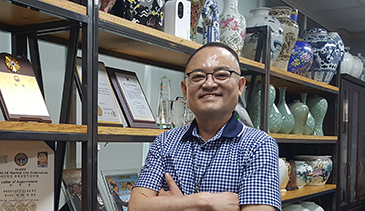 . Korea's CEO Cho Jae-Hyun poses in his office in Seoul.
The new business card platform has the function of a blog for self promotion. The platform is expected to have as many as 17 million users around the world. He has signed business partnerships with many countries including the Philippines and Japan.One of his many businesses is importing high-quality salts from South America. "Blue Ocean Andes Pink Salt" contains electrolytes and minerals. The top-quality salts have been approved by the Food and Drug Administration (FDA) of the Unites States, according to Chairman Cho.At the corner of his office Cho personally made a bulb get lighted by the water of his salts in an experiment to prove that the Blue Ocean Andes Pink Salt" is full of electrolytes and minerals. "My salts have no heavy metals," Cho said in a recent interview. "They are natural and pure salts" Cho emphasized his salts by saying that the general water purifiers produce "dead water" lacking minerals.As a devout Christian Cho wants to turn PyeongChang of South Korea's Gangwon Province into a mecca of the nation's Christianity. For this he said that he will soon sign a MOU with PyeongChang County administration. One of his projects include building 10-killo-meter trekking course for pilgrims from around the world. Another is engraving the whole contents of New Testament into marble stones. He wants to make a huge botanical garden. Chairman Cho says that the proceeds of his businesses will be donated to his Christian causes.