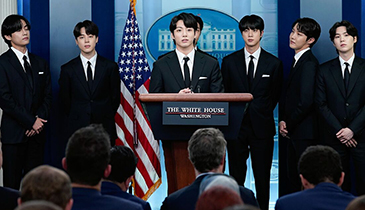 BTS invited to the White House
K-pop is the South Korean phenomenon with a passionate global audience. He is a national entertainment industry which, more than any other, is supported by the South Korean government, making K-pop a fascinating exercise in soft power. Its association with South Korean cultural diplomacy, and its firmly-entrenched foundations in consumption, reflect commodity capitalism's borderless appeal. Any K-pop fan can attest that 'stanning' (that is, closely following a particular group in the increasingly popular genre) is a process that involves far more than just listening to music.These past years started strongly for K-pop. The beginning of a new decade, it felt like anything could happen. Then the Covid-19 pandemic shut down much of the world, changing people's lives.
Initially, South Korea had a successful response to the coronavirus, and things stabilized quickly for the K-pop industry after planned album releases and world tours were postponed or cancelled.Fear of the spread of coronavirus has taken a heavy toll on the South Korean entertainment industry, where many scheduled concerts and events have been canceled. The K-pop sector has been especially hurt.Even with South Korea's live music sector still largely shut down due to the coronavirus outbreak, the K-pop world is buzzing to life with the arrival of new music. Some of the world's biggest musical acts have postponed plans to release music for months to come, but it's business as usual when it comes to K-pop releases.The impact of coronavirus on K-pop is just another example of how the pop music genre sits at the intersection of performance, profit, and politics.Since late January, the entire world has been turned upside down because of COVID-19, and South Korea has been no exception. The country was among the first to be affected by the virus outside of China, and while the situation has slowly improved, the virus undoubtedly affected all corners of Koreans' daily lives – even those in the K-Pop industry!K-pop has even had a beneficial effect on the psychological state of young people. Many say that these frothy videos have helped them cope with the Coronavirus blues – a term that describes the anxiety caused by the pandemic.COVID-19 restrictions have adversely impacted live concerts and performances of musical artists across the world. While some artists have posted free online performances for fans to enjoy during quarantine, select music industries have taken the opportunity to develop new methods of delivering virtual entertainment. Amid the success of South Korean measures taken to abate the spread of COVID-19, the Korean music industry and K-pop fans alike have mobilized to keep the art of the performance at the center of K-pop.Other adaptations to live performances, however, seem better suited to continued use beyond COVID-19 restrictions, and K-pop has capitalized on this opportunity better than any other music industry. BigHit Entertainment and SM Entertainment, perhaps the two most successful entertainment companies in K-pop, have each developed their own approaches to capture K-pop hungry fans during COVID lockdowns. These same strategies showcase great potential for longer-term growth of the industry beyond COVID. Driven by the huge success of K-pop groups, these new trends in cultural consumption did not originate during the health crisis, but the pandemic has amplified and accentuated them. And we can only imagine that they are here to stay. With much of K-pop's content aimed at global and digital audiences rather than just consumers in Korea who buy physical albums and EPs, most Korean pop acts aren't really changing how they're doing things when it comes to new music releases Capitalizing on the popularity of this music among the younger generation, new social networks have emerged – such as Clubhouse, an invite-only social network based on audio-chat – where members from all over the world can talk in real time In response to the popularity of music programs and short formats, the industry has adapted. Content related to K-pop has helped channels such as Dingo Music on YouTube to amass over 2.7 million subscribers. K-pop has also given a boost to paid music streaming sites such as Melon, the country's most popular music streaming app among youth, followed by YouTube Premium, according to Statista (link is external). People in this age group streamed an average of 137 minutes of music a day, 20s Lab noted. Many K-pop artists have taken to social media and YouTube to practice social distancing, such as TWICE launching a TikTok channel. Others are starting YouTube channels, while some artists are documenting their work on new music.The K-pop music industry saw a surge in accumulated album sales despite the prolonged COVID-19 pandemic, thanks to top-tier artists such as BTS, EXO and Aespa.According to a year-end 2021 report from the South Korean music chart tracker Gaon Chart on Wednesday, the nation's top 400 albums sold 57.09 million copies in and out of the country in 2021, up by 36.9 percent from the previous year's 41.71 million.After exceeding the 20 million mark for the first time in 2018, the number has since jumped drastically each year, surpassing the 25 million mark in 2019, the 40 million mark and the 57 million mark, respectively, in 2020 and 2021.The sharp increases were attributed mainly to growing demand by K-pop music fans to soothe their disappointment in the wake of far fewer in-person performances after the COVID-19 pandemic began in 2020, according to local music industry officials.The top artists' albums released by the two K-pop powerhouse labels Hybe and S.M. Entertainment dominated last year's album sales, the data showed. Hybe subsidiaries include Big Hit Music, Belift Lab, Source Music, Pledis Entertainment, Koz Entertainment and Hybe Labels Japan.Of the 400 albums tracked, 26 albums by Hybe artists were on the top 100 list — all from K-pop acts and soloists. Their combined album sales came in at 15.23 million copies, which accounted for 33.5 percent of the total.They included albums by BTS, Seventeen, Tomorrow X Together and Enhypen. Hybe's main artist BTS topped the list, selling the most albums with its second English-language single "Butter," which sold nearly 3 million copies last year.BTS, not only one of the most-well known K-pop groups but perhaps one of the most popular musical groups in the world, postponed their 2020 "Map of the Soul" tour due to the COVID-19 outbreak. BTS first participated in a free, online event called "Bang Bang Con" in April, drawing over 50 million fans. BTS then hosted "Bang Bang Con: The Live" in June, a 90-minute online concert featuring the group's seven members. Tickets for the concert were available for purchase on Weverse, a Korean mobile app created by BigHit Entertainment, BTS' label. The event sold 756,600 tickets, making "Bang Bang Con: The Live" the biggest audience for a virtual paid concert to date with an estimated profit of nearly $20 million.Global sensation Bangtan Sonyeondan's (BTS) first all English hit song, Dynamite, not only won the group its first Billboard number one hit. In addition, BTS's contribution to the Korean economy was a whopping $1.43 billion. According to a study by the South Korean Ministries of Culture, Sports and Tourism, and Korea Culture & Tourism, the revenue generated from that one song contributed towards providing 7,928 jobs during the COVID-19 pandemic.Dynamite', the first song from K-pop band BTS to be sung entirely in English, was such a big hit when it was released in August 2020, that it was estimated to have contributed over $1.4 billion to the economy of the Republic of Korea, the Ministry of Culture, Sports and Tourism estimated.The feel-good music video from the hugely popular boy band smashed all previous YouTube records – with a total of 101.1 million views in a single day, twenty-four hours after its release. K-pop, arguably the country's most successful cultural export, has not suffered due to the pandemic. Quite the contrary. The genre's influence, which can be measured by the popularity of its online concerts, has grown steadily in recent months. For instance, KCON:TACT 2020, a week-long online concert in June 2020, attracted over four million viewers.Nearly forty percent of those who attended these virtual events said they would purchase tickets again, the Korea Creative Content Agency (link is external) found. Seeing the potential of the economic contribution of online K-pop concerts, the government announced that they would allocate 29 billion South Korean won to build a studio – to encourage entertainment companies to organize more of these events.Paradoxically, 2020 turned out to be a major year for the Korean pop industry at a time when many others struggled."Rather than photoshoots or TV shows, I could do concerts all day long. That's the biggest loss for me," - BTS Jungkook "We sympathize with people who fear vaccines, because it's a change. It's understandable to be wary of something that didn't exist before. But I believe that if we're afraid of the past, we won't be able to make progress. We need to be more positive about the vaccine in order to create a better future." - BTS Jin"Through this, we continue talking and we find out what the future generation and the young people are thinking about and as it goes on, things will improve," - J-Hope said."As eager as we are to perform, we hope the situation will get better soon and more people will get vaccinated so that conditions will improve enough for us to be able to perform," - J-Hope said.
"We are all vaccinated, and I can also sympathize somewhat with people who fear vaccines and think it is only natural that they are afraid because it's something that didn't exist before. But I believe if we are afraid of the past, there won't be any progress in the future," - Jin said.