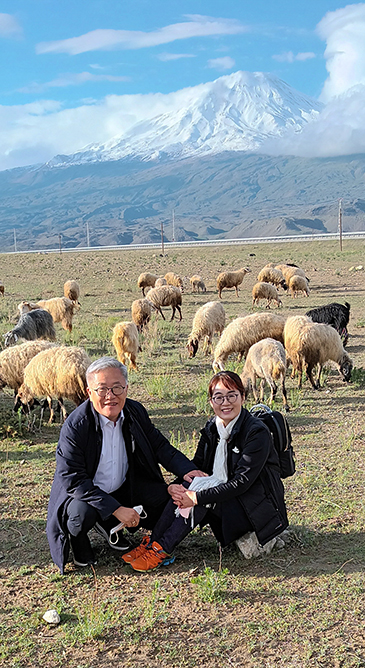 Rev. Samuel Yun poses with Mrs. Yun with a flock of sheep and Mt. Ararat behind in Dogubayazit, Turkey on May 5, 2022.
Rev. Samuel Yun of South Korea has recently made his first world mission journey to Mt. Ararat, the biblical venue of Noah's Ark in Turkey, attending the 1st international symposium on Noah's Ark held in Turkey, Rev. Yun told The Seoul Times. Rev. Yun, a renowned scholar on the Bible, has studied at the School of Divinity of Harvard University. He also graduated from the prestigious Yonsei University in Seoul. He specializes in Ancient Near East Studies and Biblical Archaeology. Aside from Rev. Yun several South Korean church leaders and scholars took part in the symposium.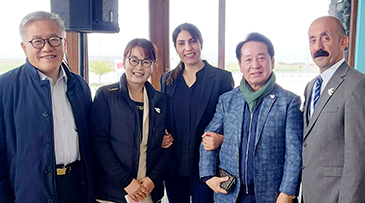 Rev. Samuel Yun (left) poses with Dr. Oh Sun-Hwa (second from left), with Dr. Stephen Pfann (right), president of Holy Land in Jerusalem, and his wife Mrs. Pfann.
The biblical symposium held at Noah's Village in Dogubayazit, the city of Mt. Ararat in Turkey from May 5 till May 7, 2022, was participated by some 70 scholars and religious leaders from around the world, according to Rev. Yun. They are from 10 countries — Turkey, Israel, Georgia, Armenia, Poland, England, Germany, the Netherlands, the United States, and South Korea. "Mt. Ararat, site of Noah's Ark, is the most sacred mountain among world religion, " Rev. Yun quoted a local parliamentarian as saying in the symposium. Rev. Yun said that Turkey has thus far been ignored by Alglo-American scholars. "However on the occasion of this symposium they will pay more attention to Turkey," he said.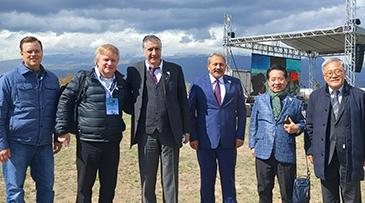 Rev. Samual Yun (right) poses with other speakers.

Rev. Yun went on to say that Noah's three sons are the ancestors of human race and region of Anatolia where Noah's Ark stayed is the cradle of human civilization in the symposium. In his paper announced at the symposium Rev. Yun argued that "Ar" and "Er" both means God in Korean language. Therefore "Ar-arat," as in Mt. Ararat, signifies "God's place." He also said that "Ar-menia" means "God's mountain." In the same vein he argued that the name of the traditional song of "Ar-irang" means "with God." The biblical scholar added that "Sum-er" means "breathing of God," "Shin-ar" means "moon goddess," "Sin-ai" means "children of moon goddess," respectively. He concluded that the Korean language preserves the primitive human language and culture in his paper. A native of Seoul, capital of South Korea Rev. Yun spent nearly three decades in the United States, studying and serving as a pastor. Rev. Yun has his own Gethcemane Presbyterian Church in Songdo, Incheon west of Seoul. He also serves as president Gethsemane Mission Seminary in Suwon south of Seoul.