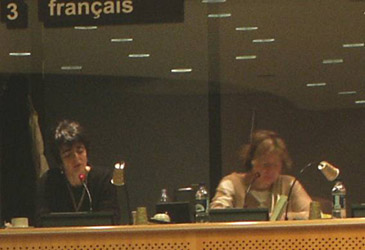 Professional interpreters at work
Being an interpreter is a dangerous job. In Italy, an interpreter quit his job because of threats from terrorists.The interpreter may feel safe in his new job, but you and I should not. The serious shortage of Arabic interpreters and translators in Europe and the U. S. means that terrorists can communicate with each other and officials monitoring them may not comprehend what they say and plan. The inability to understand and identify terrorists before they act translates into a serious problem in the war on terrorism.Shortages of Arabic interpreters and translators are severe in the US. The same is occurring in Europe but there the situation is less critical.European countries with large Arabic immigrant populations manage to find some highly capable interpreters. Europeans also have a multilingual view of the world, which is not a magic bullet to solve difficult international conflicts but certainly helps.In the U.S. the focus is primarily on the use of English which makes us more vulnerable.Interpreting is always a difficult job requiring deep knowledge of two languages but also familiarity with the culture, slang, and of course religion. University training is useful but sometimes academic study is not nearly enough preparation to interpret.Interpreting and translating from Arabic has its special needs because of the many dialects. Someone speaking Arabic from Morocco may or may not understand what an Iraqi says.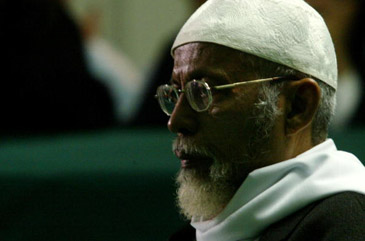 An Al Quaida-linked cleric
Spelling Arabic names in English and other Western languages is also very problematic because it is not standardized. The most famous example is Al Quaida, sometimes spelled Al Quaeda, or other times Al Qida.During the Christmas season of 2003, a number of flights from Paris to Los Angeles were in all likelihood canceled because the spelling of some names on passengers' lists were similar to those on terrorist watch lists.Changing a letter on a person's name may identify an innocent person as a threat or miss a real dangerous one.Because the information involved in interpreting is so sensitive security is also a vital concern. A number of cases have been reported in the last few years where the interpreters may have been unreliable and indeed some may have acted as double agents.Given the serious shortages of interpreters, western law enforcement officials are sometimes forced to rely on spy agents from Middle Eastern countries to translate. Sometimes these individuals are not trustworthy and their loyalties may not lie with Western interests.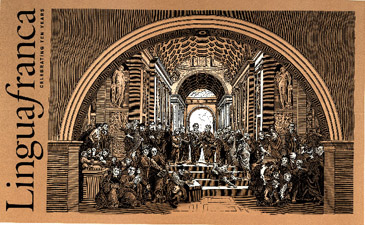 At other times, non-Muslim interpreters may prove problematic because of their resentments toward Muslims. These individuals may not do an adequate job of interpreting or translating. Their bias may prevent them to pass on accurate information to law enforcement agents to make appropriate decisions.The war on terrorism is different from traditional conflicts. It's no longer the case of two armies on the battlefield. Terrorist use words to hide among innocent people and plan their monstrous acts.It's these innocent people who may provide answers to find qualified interpreters and translators. Unfortunately, law enforcement officials monitoring suspected terrorists sometimes make mistakes and trample on people's basic freedoms. Racial and ethnic profiling may sometimes be necessary but it tends to antagonize entire groups whose assistance is indispensable to find and arrest potential threats. When a relative or friend of yours is arrested for no reason, you may not feel well disposed to help government agencies.The U.S. is the most powerful nation on earth but when it comes to languages it's another story. Part of the problem has to do with the importance of the English language in today's world. As English has become the de facto lingua franca, there is a strong tendency to view other languages as frills.That's a serious mistake. Not knowing other people's languages makes you vulnerable. The clich?of the tongue-tied American has to end otherwise we can't be secure in an ever-increasing dangerous world.