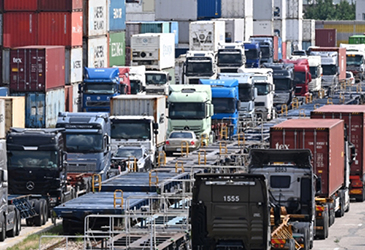 Truckers strike in South Korea in June of 2022.
From Seoul to Ulsan and Incheon to Busan, union and non-union truckers from all over South Korea have united in a multi-day strike for demands for higher pay and in protest of skyrocketing
fuel prices. The specific demands of the truckers include the extension of subsidies that are set to expire this year that would guarantee minimum wages simultaneous with the rise of fuel prices.The Cargo Truckers Solidarity union set the strike in motion on June 8, occurring as ports internationally are struggling with chip slowdowns, supply bottlenecks, petrochemicals and autos that are threatening South Korea's mainstay exports.South Korea's Ministry of Land, Infrastructure and Transport responded to the union, countering "that ship owners, the party of interest, demand the current Safe Trucking Freight Rates System
be abolished". Attempted negotiations between government officials and truckers on-strike disintegrated. Cargo Truckers Solidarity, a union of 22,000 truckers, affiliated with its umbrella group, the Korean Confederation of Trade Unions, pursued their walkout due to failure to meet their demands.Dozens of strikers were detained by police, but the strike has continued to be predominantly peaceful. Four rounds of attempted negotiations have faltered, as the government urged striking truckers to return to work and said that any amendment of the law and policy is up to the ruling of the National Assembly.On June 13, the Korea Petrochemical Industry Association stated that South Korea's average daily shipments of petrochemical products have sunk by 90 percent since the strike began. Volumes decreased to 10 percent of the regular 74,000 metric tonnes. POSCO, a steelmaker, has plans to discontinue some plants from Monday due to a lack of space to store a large amount of unshipped products that have amassed from the strikes. Additionally, Automaker Hyundai Motor has decreased production at some of their lines. While this issue is unique to South Korea considering South Korea's leading role internationally in the textile, steel, car manufacturing, shipbuilding and electronics industries, especially since South Korea is the world's largest producer of semiconductors, the issue of striking truckers is not unique to South Korea. In February of 2022 in Ottawa, Canada, a three-week occupation of truckers occurred over Covid-19 restrictions, cross-border Covid-19 vaccine mandates for truck drivers, and the overall Trudeau government style resulted in 76 vehicles being towed and 191 arrests. Throughout February and March of 2022, truckers in the United States also protested vaccine mandates and Covid-19 restrictions. Although South Korea is not facing trucker protests over Covid-19 related affairs, this demonstration showcases the importance of truckers with regard to national and international peace, supply chain, and production.Hopefully, South Korea's trucker strike pertains to its peaceful functionality, and successful negotiations will ensue in order to restore stability in South Korea and international production in
industries affected by the strikes. All eyes are on newly elected President Yoon Seok-youl, as South Koreans are observing how this political novice will handle his first national crisis.
The above writer, Jullea Powell, is a high school student journalist and writer from the United States that aspires to be a corporate attorney. If she's not writing, she's singing "I Am The Walrus" while driving. She is the guest columnist for The Seoul Times.