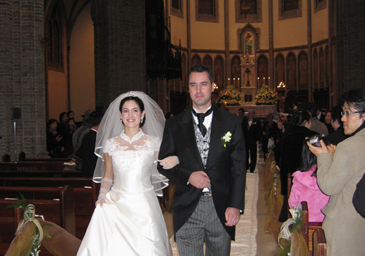 The wedding ceremony of Michelle Umana to Ulf Rontgen at the Myeongdong Cathedral in Seoul Feb. 5, 2005.
Ambassadorial couple of Honduras to Seoul — Mr. Rene Francisco Umana Chinchilla with his wife Mrs. Gladys de Umana — invited some 200 friends and other guests to a reception at Lotte Hotel downtown Seoul on Feb. 5, 2005, on an occasion of a wedding ceremony of their daughter Michelle Umana. The top Honduras envoy's youngest daughter married German man Ulf Rontgen, who works as a car designer for General Motors.Earlier on the day the religious wedding ceremony was held in the Myeongdong Cathedral, Jung-Gu, at 4:30 p.m. The time-honored cathedral is the first brick-laid Gothic building ever built in Korea, which construction was completed 1898.The wedding ceremony was fulfilled Rev. Msgr. Kurian Matthew Vayalunkal, who is serving as the ambassador of Holy See to Seoul.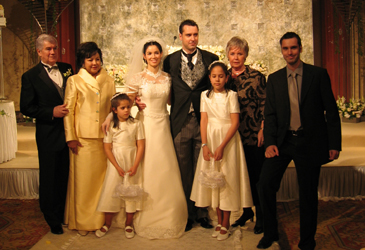 Family members of Michelle Umana and Ulf Rontgen at the reception held at Lotte Hotel Feb. 5, 2005
The bride, dressed in a fascinating white wedding dress with bridal veil, and groom in a dark suit, were warmly met by about 150 guests including diplomatic members in Seoul and their families. The hour-and-a-half religious matrimony in the South Korea's most famous cathedral was accompanied by organ music and sacred singing.The guests included top-ranking diplomats and their family members. Among the VIP guests were Amb. Alfredo F. Ungo of El Salvador with his wife Mrs. Yolanda F. de Ungo, Amb. Honorat Abeni Koffi of Cote d'Ivoire, Amb. Aleksandr V. Semeshko of Belarus with his wife Mrs. Lidia Semeshko, Amb. Moosa Hamdan Al Taee of Oman, Amb. Jaafar Alj Hakim of Morocco, Amb. Hussein Rammal of Lebanon, Amb. Uzi Manor of Israel, Amb. Guillermo Quintero of Venezuela, Amb. Vitali V. Fen of Uzbekistan with his wife Mrs. Ludmila Fen, Amb. Sydney Bafana Kubheka of South Africa with his wife Mrs. Lanny Widjaja Kubheka, Amb. Pavel Hrmo of Slovakia, Amb. Saleh M. Al-Rajhy of Saudi Arabia, Amb. Valeriu Arteni of Romania, Amb. Carlos Frota of Portugal with his wife Mrs. Arlinda Frota, Amb. Partha S. Ray with his wife Mrs. Sujata Ray.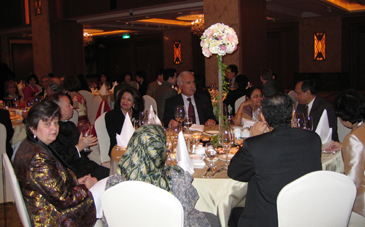 VIP guests at the reception for the wedding ceremony of Michelle Umana and Ulf Rontgen
The wedding ceremony was followed by a dinner reception held at the Hotel Lotte's Crystal Ballroom in downtown Seoul at the 6.30 p.m., which lasted into the late evening.During the reception guests cheered loudly as Ulf Rontgen kissed his new bride.At the beginning of the dinner reception, bride's father Mr. Umana (Chinchilla) has delivered his heartfelt speech. His wished Michelle, his youngest daughter, a long family life longer than his own of 35 years. Of all the virtues of married life the top Honduras envoy stressed "love."Amb. Umana welcomed all the guests and asked them to pray for this newly-wed couple. And he expressed his special thanks to one of his old diplomatic friends — El Salvador Amb. Alfredo F. Ungo, who also serves as dean of Diplomatic Corps in Seoul.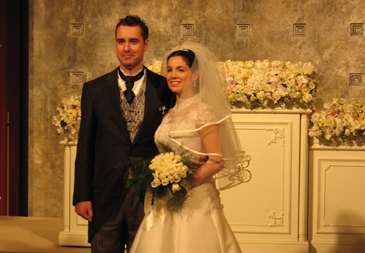 Newly-wed couple at the reception
After the photo session with their friends and families, the new couple joined over 200 reception participants for a delicious dinner which included smoked salmon with caviar, cream of mushroom, fillet of beef "Tournedos Rossini," backed potato and grilled vegetables, lemon pie, fresh fruit and with glass of wine.After the dinner guests were encouraged to dance to the tune of sweet Western pop songs and exciting Latin music. On the dance floor Amb.Umana Chinchilla of Honduras handed over his daughter to his new son-in-law Ulf Rontgen. Nearly all guests joined the young couple and their family for dancing.Ulf Rontgen, a promising car designer of General Motors, will fly coming month to his home land, Germany after finishing his assignment in General Motors Daewoo in Seoul.And this time Michelle Umana will be with him after finishing her MBA program from Sejong University in Seoul. The newly married couple will head to Guam for their honeymoon trip. The reception ended around 11 p.m.
Related Photos
The above photos were taken by Matthias Smith