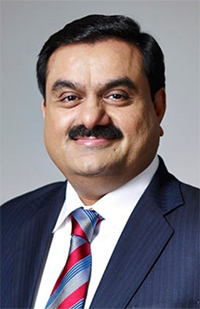 Gautam Shantilal Adani is an Indian billionaire tycoon. He is the chairman and founder of Adani Group
SINGAPORE — The collective wealth of tycoons on the 2022 Forbes list of India's 100 Richest grew US$25 billion to $800 billion. A weaker rupee impacted the majority of the richest but that was offset by Gautam Adani's record gain, which made him the new No. 1 on the list. The complete list is available at www.forbes.com/india. The list can also be found in the October issue of Forbes Asia and the November issue of Forbes India. India's post-pandemic demand revival powered its economy to become the fifth-largest in the world, surpassing the U.K. The increase in the collective net worth of the 100 richest was largely due to infrastructure tycoon Gautam Adani's rise, which changed the pecking order at the top for the first time since 2008. After nearly tripling his wealth in 2021, Adani doubled his net worth this year to $150 billion to become the No. 1 and also, for a while, the second richest person on the planet. The biggest gainer this year in both percentage and dollar terms, Adani announced that he would be investing $100 billion over the next decade, with 70% of it in green energy.Mukesh Ambani, who controls Reliance Industries, the energy to telecom giant, is at No. 2 with $88 billion, down 5% from last year. Between them, Adani and Ambani now account for 30% of the total wealth of India's 100 richest.The country's retailing king, Radhakishan Damani, who owns the DMart supermarket chain, broke into the top three for the first time though his net worth declined 6% to $27.6 billion. Another year of bumper profits from Covid-19 vaccines pushed up India's vaccine baron Cyrus Poonawalla to fourth place with a fortune of $21.5 billion. Rounding out the top 5 is Shiv Nadar of software giant HCL Technologies with a net worth of $21.4 billion, down by $9.6 billion from the year before. Naazneen Karmali, Asia Wealth Editor and India Editor of Forbes Asia, said: "India's post-pandemic recovery story is one of opportunities created by a resurgence in domestic demand amid challenges from external factors. Gautam Adani's remarkable ascendancy to the top spot and the addition of so many newcomers to the 100 richest ranks this year, epitomize the country's entrepreneurial spirit."
There are nine new faces this year including three from IPOs: Falguni Nayar (No. 44, $4.08 billion), a former banker who became India's richest self-made woman after listing her beauty and fashion retailer Nykaa; ethnic garments retailer Ravi Modi (No. 50, $3.75 billion) and shoemaker Rafique Malik (No. 89, $2.22 billion) who listed Metro Brands last December.Three prominent list members passed away this year: Rahul Bajaj, the ailing patriarch of the Bajaj family (No. 10, $14.6 billion); Rakesh Jhunjhunwala, often referred to as India's Warren Buffet, who died shortly after launching his new airline Akasa Air in August and whose wife, Rekha Jhunjhunwala (No. 30, $5.9 billion) takes his place; and construction magnate Pallonji Mistry, whose death in June was followed by that of his son 54-year-old son Cyrus
Mistry in a fatal car crash in September, leaving the patriarch's older son Shapoor Mistry (No.13) at the helm of the family's $14.2 billion fortune.Among the four returnees to the ranks is Anand Mahindra (No. 91, $2.2 billion), whose Mahindra & Mahindra created a buzz by launching an electric SUV. The gainers on the list were outnumbered by the majority—60 in all—who saw their wealth decline from a year ago.Notable among the drop-offs this year was Vijay Shekhar Sharma, who saw shares of his One97 Communications, the parent company of fintech Paytm, fall amid the global tech rout.The minimum amount required to make this year's list was $1.9 billion, close to last year's $1.94 billion.The top 10 richest in India are:1) Gautam Adani; US$150 billion
2) Mukesh Ambani; $88 billion
3) Radhakishan Damani: $27.6 billion
4) Cyrus Poonawalla; $21.5 billion
5) Shiv Nadar; $21.4 billion
6) Savitri Jindal; $16.4 billion
7) Dilip Shanghvi; $15.5 billion
8) Hinduja brothers; $15.2 billion
9) Kumar Birla; $15 billion
10) Bajaj family; $14.6 billion
This list was compiled using shareholding and financial information obtained from the families and individuals, stock exchanges, analysts and India's regulatory agencies. The ranking lists family fortunes, including those shared among extended families such as the Bajaj and Godrej families. Public fortunes were calculated based on stock prices and exchange rates as of September 23. Private companies were valued based on similar companies that are publicly traded. The list can also include foreign citizens with business, residential or other ties to the country, or citizens who don't reside in the country but have significant business or other
ties to the country.
About Forbes
Forbes champions success by celebrating those who have made it, and those who aspire to make it. Forbes convenes and curates the most influential leaders and entrepreneurs who are driving change, transforming business and making a significant impact on the world. The Forbes brand today reaches more than 140 million people worldwide through its trusted journalism, signature LIVE and Forbes Virtual events, custom marketing programs and 48
licensed local editions in 82 countries. Forbes Media's brand extensions include real estate, education and financial services license agreements.
About Forbes India
Forbes India is a Network18 venture in partnership with Forbes Media. Since its launch in 2009, Forbes India has been at the vanguard of entrepreneurship and innovation. With a fortnightly magazine and digital destination forbesindia.com, Forbes India delivers sharp, in-depth and engaging stories on leadership, strategy, startups, technology, luxury, wealth-creation and philanthropy. Forbes India has emerged as the most influential and credible business magazine in the country.For media queries, please contact:
Catherine Ong Associates Pte Ltd
Catherine Ong
Franz Navarrete
cell: +65 9697 0007
cell: +65 9653 6424
cath@catherineong.com
franz@catherineong.com