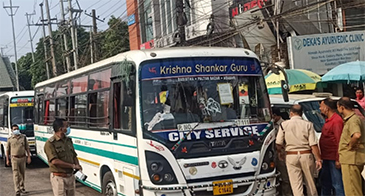 City Buses in Guwahati, India

When a senior minister in Himanta Biswa Sarma's State cabinet takes a ride in city buses of Guwahati to understand the problems of daily commuters, it makes news. So, when Assam urban affairs minister Ashok Singhal recently got into a city bus and accompanied common passengers, it received massive media coverage. But the question that arises is, if the young minister had observed a number of difficulties faced by the elderly people along with the women and children in their rides?Regularity and reliability of city buses in the virtual capital of northeast India, sustained comfortability of passengers (precisely the ladies), extra waiting time period in a prescribed stoppage, behaviour of the bus drivers, conductors and handymen (most of whom are fond of using abusive languages towards passengers and even the pedestrians on duty hours), cleanliness of the vehicles, etc may have also been observed by the media savvy minister.Moreover, it is hoped that Singhal would pursue these issues with the concerned authorities (along with State chief minister Sarma and transport minister Parimal Shuklabaidya) for a pragmatic resolution. One may remind him that the local authorities in 2015 decided to launch the night city bus service in some selected routes of Guwahati. Those night buses were supposed to start the service from 8 pm till the midnight hours every day. Passengers were appealed to pay fifty percent extra fare, but it was never fully realised and the Guwahatinas might have forgotten about it.
The prehistoric city today supports over 15 lakh permanent residents and a sizable number of city dwellers truly depend on the city buses for their daily works. Nearly 650 buses (over 500 owned by private parties) ply in the streets of Guwahati. Lately 100 new compressed natural gas run buses, equipped with the facilities of air-conditioning, fire-detection, global positioning systems, etc, have been introduced in the city. The transport department is expected to operate these CNG buses in a sustainable manner assuring the dignified service to the commuters.The official city buses routes include Khanapara to Jalukbari, ISBT to Paltanbazar via Nepali Mandir, ISBT to Kachari via Datalpara, Basistha Chariali to Gauhati University via NH 37, Khanapara to Kachari via Ganeshguri flyover, Jalukbari to Khanapara via NH 37, Paltanbazar to ISBT via Lalganesh, Kahilipara to Amingaon via Chandmari, Chandrapur to Dharapur Chariali, Basistha Mandir to Adabari via Chandmari, Basistha Mandir to Adabari via Paltan Bazar, Narengi to Khanamukh via Chandmari, Panjabari to Adabari via Chandmari, Adabari to Hajo, Adabari to Sualkuchi, Chaygaon to Adabari, Khanapara to Khetri, Bornihat to Jalukbari, etc.Assam State Transport Corporation (ASTC) runs around 100 city buses across the city. ASTC (constituted under Road Transport Corporation Act 1950 with effect from 31 March 1970) otherwise operates nearly 1,100 buses (including over 600 luxury ones) for long distance destinations. A large number of privately owned buses (over 1,200) are also used under the ASTC operation. The corporation assures a reliable, safe and comfortable journey to the passengers. Besides covering rural areas inside Assam, the ASTC buses also reach important locations of different neighbouring States.Patriotic People's Front Assam (PPFA), a forum of nationalist citizens, recently urged the authorities to focus on the quality night bus service in the city. The forum put a logical question to the State government in general and the transport department in particular why they cannot ensure a sincere city bus service in Guwahati after the dusk even after the law & order situation has improved in the last few years. It added, "Why Guwahatians cannot enjoy a city bus ride after 9 pm on various routes? How long do they have to wait for a consistent bus service till midnight? If the private owners are not ready to operate during night hours, why not the department run their own buses?"As Guwahati has been developed and readied to connect many south (and southeast) Asian nations including Bangladesh, Myanmar, Thailand, Laos, Cambodia, etc, it should be active and alive till the late-night hours. Today hundreds of local young people work in different commercial establishments including shopping malls, restaurants, hospitals, media houses, etc till the night hours and they may not be able to afford private vehicles. Moreover, once the decent night bus service is in place, all kinds of commuters will plan their evening activities accordingly. These positive changes should take place as early as possible.