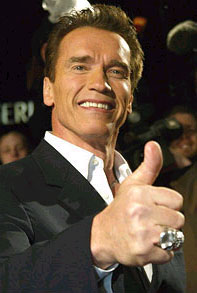 Arnold Schwarzenegger's election as governor of California looks like a good omen for George Bush's chances of carrying California in 2004. When you add Tom McClintock and Schwarzenegger's votes, the two Republican candidates for governor, you come up with a total of 62 percent (13 percent and 49 percent respectively) of all the ballots cast by Californians in the recent recall election. With a Republican governor in Sacramento, will Bush win the Golden State's 55 electoral votes in the next presidential election?
It does not look good for Democrats but an analysis of Schwarzenegger's victory suggests Republicans still have their work cut out in California. Although 44 percent of Californians are registered Democrats, compared to 35 percent Republicans, in the recall election the numbers of voters were basically the same. About 39 percent of those who cast ballots were Democrats, 38 percent were Republicans, and 17 percent were Independents, according to the Washington Post.
Predictably, the vast majority of Republicans (89 percent) voted to recall Gray Davis while most Democrats (75 percent) voted against the recall; 55 percent of Independents voted for the recall and 45 percent against it.In essence, Gray Davis was recalled because a significant percentage of Democrats stayed home. The low Democratic turn out meant victory for Schwarzenegger. If 10 percent more of the registered Democrats had gone to the polls, Davis would in all likelihood have kept his job.
Of course, Democrats had little reason to go to the polls. Gray Davis has been characterized as extremely aloof and although he has been in politics for several decades, he managed to inspire virtually no one.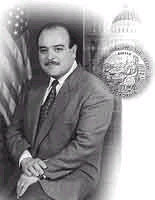 Davis was helped somewhat by Cruz Bustamante, who ran on a platform of "no" on the recall but "yes" on Bustamante. The hope was that as a possible Latino governor, he would energize Latino voters who would probably have voted against the recall and for Bustamante.
Latinos did vote against the recall (55 percent no, 45 percent yes), but a significant number also stayed home. And the Latinos who came to the polls tended to be middle and upper middle-class voters, who are more concerned about taxes than social services. That would explain the fact that Tom McClintock and Schwarzenegger, the two major Republican candidates, got a total of 41 percent of the Latino vote. This is considerably higher than in most other elections in which Democrats routinely get about 70 percent of the Latino vote.In addition to Davis' lackluster campaign, he had to face a very popular opponent. Schwarzenegger was extremely well recognized and did not need much publicity to make himself known. Although he barely gave any specifics about his plans to fix the state's problems, many people voted for him because they saw weakness in Davis and vigor in his opponent.With the "cooperation" of the media, which barely asked Schwarzenegger to answer any questions, the recall became little more than a popularity contest. Schwarzenegger's interviews were by non-journalists such as Oprah Winfrey, Jay Leno, Howard Stern, and Larry King. Even when he agreed to debate the other candidates, he demanded to have the questions in advance. Of course, he was accommodated. Celebrities are pampered in ways ordinary politicians aren't accustomed to.
Ironically, it was likely the debate in which he participated which sank Bustamante's chances. Until the debate, the lieutenant governor was ahead of Schwarzenegger, according to many polls. At the debate, Bustamante looked lethargic, was patronizing to Arianna Huffington, and overall did not show the energy California voters expected. He looked quite a bit like Gray Davis.The recall election should be a lesson for Democrats. If they continue to nominate candidates like Gray Davis in future elections, they'll win only if Republicans are crazy enough to counteract with the likes of Bill Simon or his look alikes.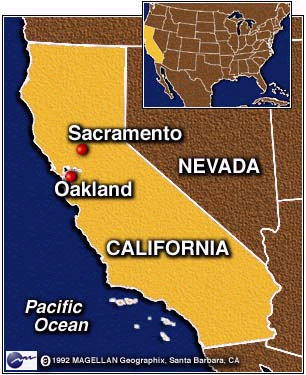 Courtesy MAGELLAN Geographix
Schwarzenegger showed that an actor in popular movies could get elected even if he offers nothing but empty promises. People vote for candidates in part for their ideas but to a significant extent for their ability to "seduce" voters with their personality.Bush is very good at "seducing" voters and with a Republican governor in California, he will have a better chance to carry the Golden State in 2004. But personality and circumstances only go so far. In 2002, Bush lost California by 11 percent points to Al Gore, who had Gray Davis' charisma. Republicans can celebrate for now, but they have a long way to go before California becomes the land of the GOP.