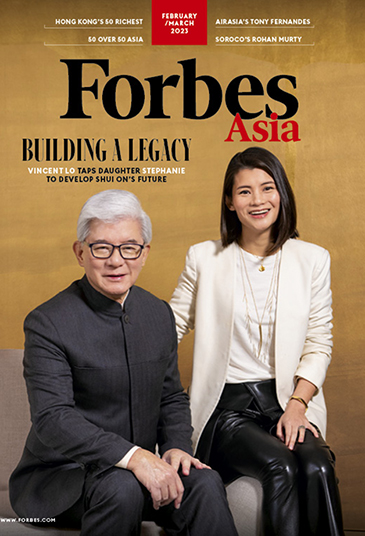 The cover of the February/March 2023 issue of Forbes Asia
SINGAPORE (Feb. 23, 2023) — The combined wealth of tycoons on the 2023 Forbes list of Hong Kong's 50 richest dipped slightly to US$324 billion from $328 billion last year. The complete list is available at www.forbes.com/hongkong as well as in the February/March issue of Forbes Asia.Hong Kong's economy contracted by 3.5% in 2022, as export disruptions and weaker domestic demand took their toll. But the outlook for a recovery turned positive as pandemic curbs were eased late last year and quarantine-free travel resumed in January after a three-year hiatus. The benchmark Hang Seng index declined 12% since fortunes were last measured a year ago.The pecking order at the top remains unchanged. Li Ka-shing continues to lead the list with $39 billion, up $3 billion from last year. While shares of his flagship infrastructure conglomerate CK
Hutchison Holdings were down on softer earnings, that was partially offset by a boost from his stake in energy drink maker Celsius Holdings, which saw its shares nearly doubling after PepsiCo announced a $550 million investment in the company.Real estate tycoon Lee Shau Kee retains the No. 2 spot though his net worth fell 11% to $30.3 billion in a weak property market. Looking to the future, Lee's Henderson Land is proceeding apace
with its plans to construct a $14.6 billion commercial landmark on the Central harborfront. At No. 3 since 2020 is Henry Cheng, son of the late magnate Cheng Yu-tung. His fortune, which he shares with his family, is up $2.5 billion to $28.9 billion, as rising demand for gold jewelry lifted shares of his Chow Tai Fook Jewellery Group by nearly 20%.The biggest gainer in percentage terms is Jean Salata (No. 15), whose wealth doubled to $5.9 billion from $2.95 billion last year, after he sold his Baring Private Equity Asia in October to Stockholm-based private equity giant EQT. Another big gainer is shipping tycoon Helmut Sohmen (No. 17), whose BW Group benefited from a strong freight market and boosted his estimated net worth by 53% to $5.5 billion.
The sole newcomer on this year's list is property developer Hip Shing Hong Group's co-chairman David Fong (No. 35, $2.3 billion), who takes the spot of his late father Fong Yun Wah.Brothers Victor and William Fung (No. 40, $1.85 billion), whose supply chain giant Li & Fung's subsidiary was acquired last August by Danish shipping juggernaut A.P. Moller-Maersk for an
enterprise value of $3.6 billion, return to the ranks after a four-year interval.Nearly half of the listees saw their wealth decrease and none more so than Yeung Kin-man and Lam Wai-ying (No. 21), the couple behind smartphone glass cover maker Biel Crystal. Their fortune
halved to $4.4 billion as the company postponed its IPO amid declining global demand for smartphones. The net worth of college professor Tang Xiao'ou (No. 33), cofounder of AI firm SenseTime, who had debuted last year, plunged almost 60% to $2.5 billion alongside the company's continued losses.Featured on the cover of February/March issue of Forbes Asia is father and daughter duo Vincent Lo (No. 43, $1.7 billion) and Stephanie Lo of Shui On Group, who are doubling down on investments in Shanghai.The minimum net worth to make the list this year was $965 million, up slightly from $955 million last year.The top 10 richest in Hong Kong are:1) Li Ka-shing; US$39 billion
2) Lee Shau Kee; $30.3 billion
3) Henry Cheng & Family; $28.9 billion
4) Lee siblings; $19.3 billion
5) Peter Woo; $16.9 billion
6) Kwong Siu-hing; $15.2 billion
7) Lui Che Woo; $14.9 billion
8) Joseph Lau; $13.2 billion
9) Joseph Tsai; $8.5 billion
10) Francis Choi; $8.2 billion
The list was compiled using information from individuals, analysts, government agencies, stock exchanges, databases and other sources. Net worths were based on stock prices and exchange
rates as of the close of markets on February 3 and real-time net worths on Forbes.com may reflect different valuations. The ranking lists both individual and family fortunes, including those shared
among relatives. Private companies were valued by using financial ratios and other comparisons with similar companies that are publicly traded. The list can also include foreign citizens with business, residential or other ties to the city, or citizens who don't reside in the city but have significant business or other ties to the city. For more information, visit www.forbes.com/hongkong
About Forbes
Forbes champions success by celebrating those who have made it, and those who aspire to make it.Forbes convenes and curates the most influential leaders and entrepreneurs who are driving change, transforming business and making a significant impact on the world. The Forbes brand today reaches more than 140 million people worldwide through its trusted journalism, signature LIVE and Forbes Virtual events, custom marketing programs and 45 licensed local editions in 76 countries. Forbes Media's brand extensions include real estate, education and financial services license agreements.
For media queries, please contact:
Catherine Ong Associates
Catherine Ong
Joana Ferreira
cath@catherineong.com
joana@catherineong.com