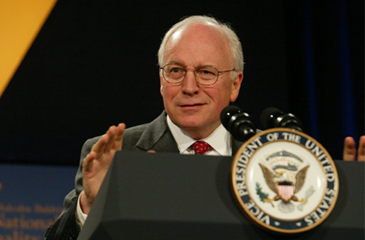 US Vice President Dick Cheney
TOKYO, Feb. 11 — The day after North Korea declared that it possessed nuclear weapons, Japan's prime minister urged the North to re-engage in disarmament talks. He spoke as the clock was running down toward a new law that will put economic pressure on North Korea by barring most of its ships from Japanese ports starting March 1.In Washington, Vice President Dick Cheney met South Korea's foreign minister on Friday and pressed him not to reward the North by pursuing trade deals with the country — a point on which the United States and South Korea have increasingly been divided. According to officials close to the discussion, Mr. Cheney specifically urged the South not to fill a North Korean request for hundreds of thousands of tons of fertilizer, saying that the nations trying to disarm the North had to take a common approach if they hoped to force its president, Kim Jong Il, to choose between nuclear arms and deeper isolation.China, officials said, is considering delaying or a mission to North Korea scheduled for next week to urge the country to end the eight-month hiatus in talks. But Mr. Cheney, the member of Mr. Bush's national security team considered to be most hawkish on North Korea, told his South Korean visitor, Ban Ki Moon, that the United States would stick with the six-party negotiations that the North has rejected, and gave no indication that Washington was considering military action or a quarantine of the country, the officials said.Separately, the White House rejected a demand from North Korea for one-on-one negotiations, instead of group talks that would also include Japan, China, South Korea and Russia. President Bush has argued that bilateral negotiations failed in the 1990's because North Korea acted in bad faith, starting a second suspected nuclear program after agreeing to freeze its program in a 1994 accord with the Clinton administration.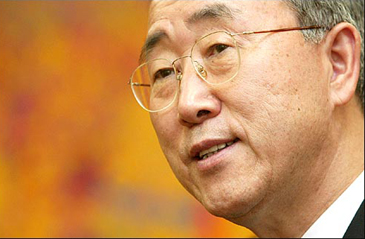 South Korean Foreign Minister Ban Ki-Moon
The White House spokesman, Scott McClellan, insisted Friday that even within the larger talks, North Korea's negotiators would have many chances to face their American counterparts. "There's plenty of opportunities for North Korea to speak directly with us in the context of the six-party talks," Mr. McClellan said. While the administration talked about diplomacy, several officials said they were exploring ideas to put renewed economic pressure on the North. One senior American official said it was likely that the administration would search for new ways to squeeze the flow of money that runs into North Korea. Talking to reporters in Sapporo, Japan, about 600 miles across the Sea of Japan from North Korea and a center of trade with the country, Prime Minister Junichiro Koizumi maintained Japan's public stance that the tightening shipping rules were not sanctions against North Korea. The rules, scheduled to go into effect in three weeks, require all ships over 100 tons calling at Japanese ports to have property and indemnity insurance, which few North Korean ships have. It was passed last year after one Japanese city had to pay $6.4 million to salvage a North Korean shipwreck and to clean up its oil spill.The driving force for Japanese economic sanctions on North Korea is popular anger over North Korea's abductions of Japanese citizens in the 1970's coupled with widespread uneasiness about North Korea's nuclear weapons and missile program.North Korea fired one missile over Japan in 1998, prompting Japan to join the United States in its effort the build a missile-defense shield.The law is expected to have a crushing effect on North Korea's seafood industry. In 2003, only 2.5 percent of North Korean ships visiting Japan had insurance. In recent weeks, only one North Korean ship, a passenger-cargo ferry, is known to have purchased insurance.The insurance barrier will also be felt at Tokyo's Tsukiji market, the world's largest fish market, where North Korea is a major supplier of snow crabs, sea urchins and clams. As Asia's richest nation, Japan is the best market for North Korea's fishing fleet."It will hurt, it will pinch, it will be felt by North Koreans who are significant," said Chuck Downs, an American expert on Korea and author of "Over the Line: North Korea's Negotiating Strategy." "This will have a major impact," he said.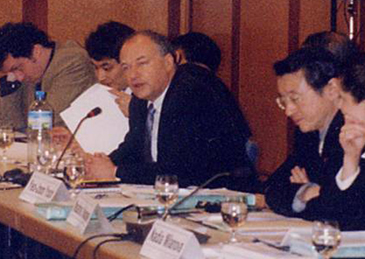 Chuck Downs (center)
Trying to form a circle around the already isolated state, Japan, Russia, China and South Korea all urged North Korea on Friday to return to talks aimed at to dismantling North Korea's nuclear arsenal and its weapons assembly line. The neighbors were reacting to North Korea's announcement Thursday that it possessed nuclear weapons and that it was "indefinitely" boycotting disarmament talks. The talks, coordinated by the United States, were last held in June in Beijing.But of the five nations, only Japan is taking new steps to punish North Korea economically.On Tuesday, Prime Minister Koizumi received a petition demanding economic sanctions against North Korea, a call signed by five million people. Last December, a Kyodo News poll of 1,009 people found that 75.1 percent wanted the government to "invoke economic sanctions and take a stern posture" in dealing with North Korea. Last week, Katsuya Okada, Japan's main opposition leader, told foreign reporters, "Measures should be imposed that will bring North Korea to the negotiating table."Taking a different tack, American and South Korean officials have asked Mr. Koizumi in recent days not to impose sanctions for fear of driving North Korea away from the disarmament talks.The new insurance requirement is part of a wider Japanese effort to enforce safety and maritime rules on North Korea, a campaign that is cutting sharply into trade. Last year, North Korean ships made 1,071 port calls in Japan, down from 1,415 in 2002. Two-way trade last year amounted to $259 million, the lowest level on record and about 20 percent of the 1980 peak.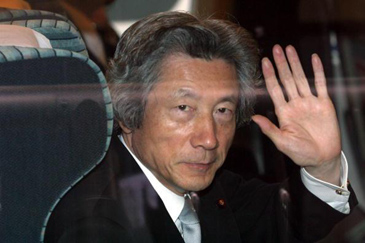 Japanese Prime Minister Junichiro Koizumi
In 2003, North Korea's trade with South Korea amounted to $724 million. With China, it hit $1 billion. These two land neighbors of North Korea oppose economic sanctions for fear that the government in Pyongyang would collapse, unleashing millions of economic refugees from North Korea, Northeast Asia's poorest nation.In turn, North Korea has warned the world that it considers economic sanctions "a declaration of war.""Japan stands to gain nothing from economic sanctions that run counter to a mood of peace between the D.P.R.K. and Japan," the newspaper Rodong Shinmun said in an editorial on Thursday, referring to North Korea by its official name, the Democratic People's Republic of Korea.Adding its own analysis, the Korean Central News Agency, the state news agency, warned Thursday about Japanese sanctions: "The Korean Army and people are hating and cursing the crafty and wicked Japanese reactionaries. We have too many accounts to settle with Japan."But to some outsiders, economic pressure could move North Korea back to the table."It's a nifty way to send a powerful message to Pyongyang that it can't expect cooperation from its neighbors while it engages in insulting and perverse behavior," Peter Hayes, executive director of the Nautilus Institute in San Francisco, said Friday. "If Japan were combining positive with negative inducements, it would be viewed in the region as independent of the United States, and more liable to win Korean cooperation."
James Brooke reported from Tokyo for this article, and David E. Sanger from Washington.The above article is from The New York Times.