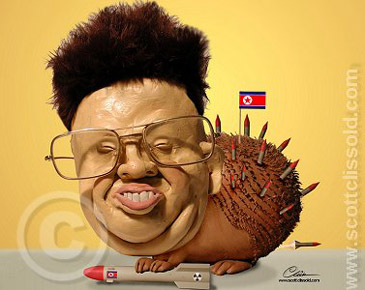 Courtesy www.Scottclissold.com
WASHINGTON, Feb. 13, 2005 — In the months before North Korea announced that it possessed nuclear weapons, the Bush administration began developing new strategies to choke off its few remaining sources of income, based on techniques in use against Al Qaeda, intelligence officials and policy makers involved in the planning say.The initial steps are contained in a classified "tool kit" of techniques to pressure North Korea that has been refined in recent weeks by the National Security Council. The new strategies would intensify and coordinate efforts to track and freeze financial transactions that officials say enable the government of Kim Jong Il to profit from counterfeiting, drug trafficking and the sale of missile and other weapons technology. Some officials describe the steps as building blocks for what could turn into a broader quarantine if American allies in Asia — particularly China and South Korea — can be convinced that Mr. Kim's declaration on nuclear weapons last week means he must finally be forced to choose between disarmament and even deeper isolation. China and South Korea have been reluctant to impose penalties on the North.To some degree the effort arises from Washington's lack of leverage over North Korea, and the absence of good military options, and it is far from clear that the administration's development of what one official calls "new instruments of pressure" will work. More than four decades of economic embargos of Cuba, tried by nine presidents, have failed, largely because European, Canadian and Latin American allies have not joined in. Nor have they succeeded against the Burmese, also a major source of drugs. The Secret Service has tried for years to halt North Korean counterfeiting dollars, and Australia and Japan have tried to end its sales of amphetamines and heroin.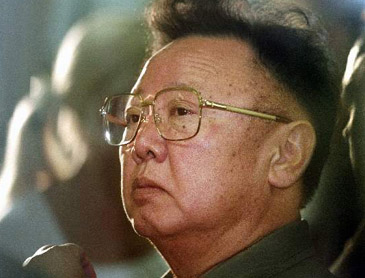 North Korean leader Kim Jong-Il
In interviews over the past three weeks, administration officials have denied that the renewed effort is part of an unstated initiative to topple Mr. Kim. But several officials say North Korea has stepped up its illicit trafficking and counterfeiting in part to make up for lost missile sales and a crackdown on cash transfers from North Koreans living in Japan, some of which are illegal. "We think they are desperate to put more money into the nuclear program and we're trying to cut that off," said one senior official.Some officials acknowledge that undermining Mr. Kim's hold on power could be a side effect of the program, if it was successful. "That wasn't the intent in drafting it," said one senior official involved in the process. "Whether it could be one of the results is anyone's guess." Several officials cautioned, however, that the new "tool kit" did not yet constitute a plan of action because the United States was only slowly trying to engage other nations in the strategy. They said some of the new techniques had already been carried out, but would not say which ones. Details were described by officials in one intelligence agency and two other government agencies. One official of a foreign government who has been briefed on parts of it confirmed some of the elements. On Sunday evening, Scott McClellan, the White House press secretary, cast the effort as "complementary to our continued diplomatic efforts," but insisted that some of the techniques had been used for some time.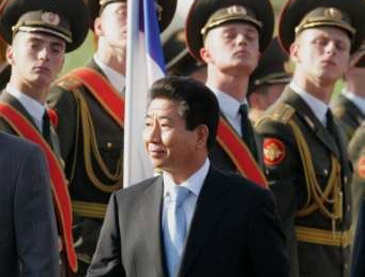 S. Korean President Roh Moo-Hyun in Moscow Courtesy Reuters
"We have been working with our allies and partners for some time now to stop North Korea's illegal activities, especially in counterfeiting and narcotics," he said. "We have a responsibility to protect our citizens, our allies and our economies. North Korea cannot continue its involvement in illegal activities. It must make a strategic decision and eliminate its nuclear weapons program."Other officials said that while different agencies had been pursuing the North, the new effort represented the first time the White House was coordinating and expanding the tactics to put more pressure on Mr. Kim. Several officials confirmed that the most recent proposal was drafted by Robert Joseph, the counter-proliferation chief at the National Security Council, before he left the administration in November.Mr. Joseph is widely expected to be nominated for the post of under secretary of state for arms control and international security.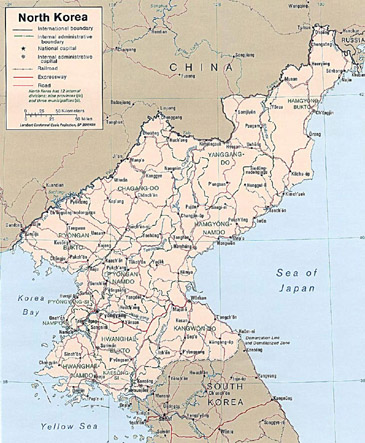 Courtesy www.Academic.Reed.Edu.com
Two American officials cited, as an example of new pressure tactics, a Japanese law that goes into effect on March 1 that requires all ships to carry liability insurance against spills and other accidents. Almost no North Korean vessel meets the requirement, so it could halt most shipping traffic with North Korea.Although the nuts and bolts of the proposed measures are not clear, officials appear to be working from lists they have been collecting of banks and companies that the North Koreans have been using. Tracking North Korean financial transactions has long been difficult; it often deals in cash, and through shell companies and unregulated banking centers. White House officials have declined to say what role President Bush has played in the new strategy. But his dislike for Mr. Kim is well known, and his involvement in strategies to deal with him was described by one former official as "a lot more intense than you might think."Advisers, military officials and American and foreign diplomats who deal with Mr. Bush on North Korean issues say he frequently criticizes Mr. Kim's human rights abuses, referring to him as "immoral" and "a tyrant," according to one official who sat in on a recent meeting. In a meeting in December with President Roh Moo Hyun of South Korea, Mr. Bush spoke about how Mr. Kim lets his people starve.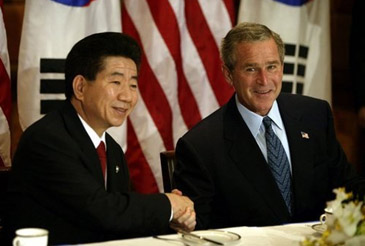 S. Korrean President Roh Moo-Hyun (left) meets with US President George W. Bush. Courtesy White House
"Roh said to him, 'Yeah, he's a bad guy, but we don't have to say it in public,' " said one official who has reviewed notes of the session. Mr. Roh's point was that turning the nuclear dispute into a personal confrontation, the way the Bush administration did with Saddam Hussein, could undercut any chance of diplomatic success in disarming North Korea.Mr. Bush, the official recounted, responded, " 'Alright, I won't say it publicly,' or words to that effect, and so far he hasn't." Officially, the Bush administration has never declared that "regime change" is its objective in North Korea, and Mr. Bush has expressed a willingness to offer a "security assurance" to North Korea pledging that the United States will not invade. Such an attack is considered nearly impossible, given North Korea's ability to destroy Seoul, South Korea's capital, about 40 miles from the border, and the fact that American intelligence does not know where the North's nuclear arms or all of its nuclear facilities are.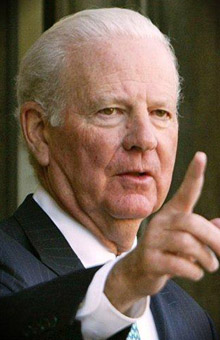 Ex-US State Secretary James Baker III
But Mr. Bush has never made any such assurances about attacking North Korea's economic lifelines. On Sunday, former Secretary of State James A. Baker III, who served under Mr. Bush's father when North Korea was making what the C.I.A. later concluded were its first two nuclear bombs, raised the possibility of a broad economic crackdown.Appearing on the ABC News program "This Week," Mr. Baker told the host, George Stephanopoulos, that "there's a big gap" between abandoning the six-nation negotiations that had been sporadically under way for the past 18 months "and going to military force.""There are many things we can do," Mr. Baker added."Quarantine?" Mr. Stephanopoulos asked."Quarantine is one," Mr. Baker said. "And perhaps the best one, of course, is sanctions by the United Nations Security Council for North Korea's violation of her promises to the International Atomic Energy Agency and the global community."
The above article is from the New York Times.