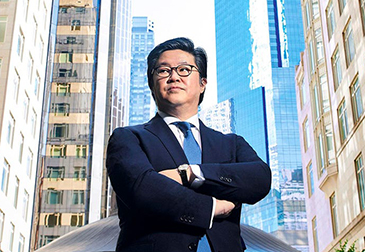 Private equity maven Michael Kim (Kim Byung-Ju) of MBK Partners
SINGAPORE, April 18, 2023 — Tycoons on the 2023 Forbes list of Korea's 50 Richest saw their combined wealth fall 18% to US$106 billion, from $130 billion a year ago, impacted by a falling stock market and a weaker won. The complete list is available at www.forbes.com/korea as well as in the April/May issue of Forbes Asia and the May issue of Forbes Korea.While South Korea's export-dependent economy grew 2.6% in 2022, its stock market was one of the worst performers in Asia over the past 12 months. The benchmark Kospi index fell 9% amid rising interest rates and a slump in demand for tech goods, which account for a third of the country's total exports.Fewer than a handful saw their wealth increase and none more so than private equity billionaire Michael Kim (Kim Byung-Ju), who tops the ranking for the first time and is this year's new No.1 with $9.7 billion. Kim, whose MBK Partners has assets under management of more than $26 billion, was the biggest gainer in both percentage and dollar terms with his fortune rising by $2 billion.Samsung heir Jay Y. Lee, who became Samsung Electronics' executive chairman last October, holds onto the No. 2 spot for the third year in a row, though a drop in demand for memory chips and smartphones reduced his wealth to $8 billion from last year's $9.2 billion. Pharma magnate Seo Jung-jin moves up to No. 3 despite his fortune falling to $5.7 billion from $6.9 billion. In March, Seo returned as chairman of his Celltrion group, two years after stepping down from the role and has pledged to focus on acquisitions.Among the 35 listees whose wealth declined is last year's No. 1 Kim Beom-su, who slipped to No. 5 as his fortune nearly halved to $5 billion. Shares of his internet giant Kakao fell after criticisms of its monopoly-like status. The crypto downturn knocked down the fortune of Song Chi-hyung, cofounder and chairman of Dunamu, which operates Korea's largest crypto exchange (by volume), by
74%. Ranked at No. 9 last year, he is no longer a billionaire and has dropped to No. 41 with $950 million.Despite the Kospi's losing streak, there are six newcomers this year. They include EcoPro's Lee Dongchae (No. 18, $1.7 billion) and Kumyang's Ryu Kwang-ji (No. 48, $840 million), both chairmen of chemical companies; and biotech firm Caregen's founder and CEO Chung Yong-ji (No. 30, $1.11 billion). Two founders of unicorns also enter the list after scoring big investments: Lee Su-jin (No. 26, $1.2 billion) of travel superapp Yanolja, whose investors include SoftBank, and Kim Jae-young (No. 21, $1.55 billion) of Kakao-backed online game developer Lionheart Studio.Sisters Kim Jung-min and Jung-youn (No. 8, $3.6 billion), make their debut as the youngest on the list after inheriting stakes in online gaming giant Nexon from their father, Kim Jung-ju, who died in February 2022 at the age of 54.Four people returned to the list this year, including Lee Jay-hyun at No. 31 with a net worth of $1.1 billion. Shares of his CJ Corp., the holding company of food-to-entertainment conglomerate CJ Group, rose on the prospect of its health and beauty chain CJ Olive Young going public.Among the 10 drop-offs from last year are three founders of online gaming companies whose valuations fell from their pandemic highs: Pearl Abyss' Kim Dae-il, Krafton's Chang Byung-gyu and Wemade's Park Kwan-ho.The minimum amount required to make the list is $830 million, down from $950 million last year.The top 10 richest in South Korea are:
1) Michael Kim; US$9.7 billion
2) Jay Y. Lee; $8 billion
3) Seo Jung-jin; $5.7 billion
4) Kwon Hyuk-bin; $5.1 billion
5) Kim Beom-su; $5 billion
6) Hong Ra-hee; $4.9 billion
7) Chung Mong-koo; $4.1 billion
8) Kim Jung-min & Jung-youn; $3.6 billion
9) Cho Jung-ho; $3.4 billion
10) Lee Boo-jin; $3.3 billionThe list was compiled using information from individuals, analysts, government agencies, stock exchanges, databases and other sources.Net worths were based on stock prices and exchange rates as of the close of markets on April 7 and real-time net worths on Forbes.com may reflect different valuations. The ranking lists both individual and family fortunes, including those shared among relatives, and can differ from the World's Billionaires List, which includes individual fortunes with net worths as of March 10. Private companies were valued by using financial ratios and other comparisons with similar companies that are publicly traded. The list can also include foreign citizens with business, residential or other ties to the country, or citizens who don't reside in the country but have significant business or other ties to the country.For more information, visit
www.forbes.com/korea.
About Forbes
Forbes champions success by celebrating those who have made it, and those who aspire to make it. Forbes convenes and curates the most influential leaders and entrepreneurs who are driving change, transforming business and making a significant impact on the world. The Forbes brand today reaches more than 140 million people worldwide through its trusted journalism, signature LIVE and Forbes Virtual events, custom marketing programs and 48 licensed local editions in 82 countries. Forbes Media's brand extensions include real estate, education and financial services license agreements.
For media queries, please contact:
Catherine Ong Associates Pte Ltd
Catherine Ong
cath@catherineong.com
Chenxi Wang
chenxi@catherineong.com