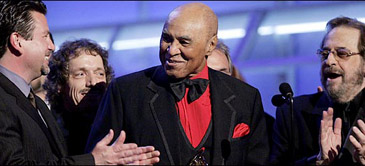 Ray Charles' manager Joe Adams (center) with producer John Burk, left, and Phil Ramone, accepted the award for album of the year for "Genius Loves Company" at the 2005 Grammy Awards on Sunday. Courtesy AP
LOS ANGELES, Feb. 13, 2005 — Ray Charles, the blind visionary who revolutionized American music with fusions of soul, rock, jazz and country, broke the mold once more tonight at the 47th annual Grammy Awards, posthumously dominating the telecast with wins in eight categories.Mr. Charles's wins of eight diverse awards, including the marquee categories of best album for his final new release, "Genius Loves Company" and best record for his duet on that album with Norah Jones, reflected his easy shifts among genres. It also capped a salutation of Mr. Charles's life and music that had been under way since he died at 73 in June, first with the release of the duets CD and then the arrival of his film biography, "Ray." "How many millions of people has he made smile?" said Norah Jones, battling tears as she accepted the trophy for best record for "Here We Go Again," the track she recorded with Mr. Charles for "Genius Loves Company." Mr. Charles, who received a Grammy for lifetime achievement in 1987, was also the subject of a string of tributes here tonight, beginning with a duet of "Georgia on My Mind" by Jamie Foxx, who portrayed Mr. Charles in the film, and Alicia Keys. Also on tap was a tribute by Bonnie Raitt, who joined Mr. Charles for a rendition of "Do I Ever Cross Your Mind" on the duets album, and the gospel singer and pianist Billy Preston.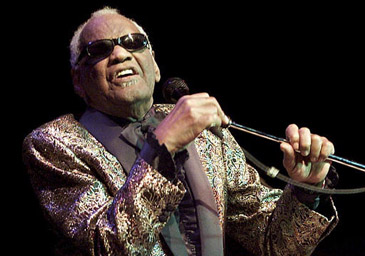 Ray Charles
The outpouring of votes for Mr. Charles also underscored the influence of R&B music - and the power of nostalgia - among members of the National Academy of Recording Arts and Sciences, which sponsors the Grammys. But as much as Mr. Charles's trophies served to honor his life, the most dramatic moment of the evening - Kanye West's performance and acceptance speech for winning best rap album - underscored life's frailty.Mr. West, the young Chicago-bred producer and rapper, came close to dying in a car accident on this city's streets more than two years ago. "When I had my accident, I found out at that moment nothing in life is promised except death," Mr. West said. "If you have the opportunity to play this game of life, you need to appreciate every moment. A lot of people don't appreciate the moment until it's passed."For Mr. Charles, the win for album of the year was the first such posthumous award since John Lennon won in 1982 for "Double Fantasy." The pop-rock band Maroon5 scored one of the evening's biggest upsets, winning the new-artist prize that many Grammy observers, including Maroon5's singer Adam Levine, suspected would go home with Mr. West or Gretchen Wilson. Mr. Levine began his acceptance speech saying, "Kanye West, I want to thank you so much for being unbelievable." Loretta Lynn, whose album "Van Lear Rose" became a favorite with the rock intelligentsia for its collaborations with the rock artist Jack White of the White Stripes, took home the country album trophy, though that CD received little attention and perhaps even less airplay in Nashville.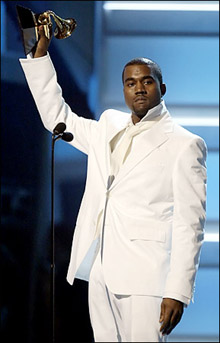 Kanye West picked up the best rap album award for "The College Dropout." Courtesy Reuters
The academy voters split up the early prizes among three young artists who had been expected to challenge Mr. Charles in some major categories: Usher, Ms. Keys and Mr. West. The award for contemporary R&B album went to Usher's "Confessions," which also ranked as 2004's best seller, racking up sales of more than 7.9 million copies. Usher and Ms. Keys won best R&B vocal performance by a duo or group for their duet on his album, "My Boo." Ms. Keys won for best female R&B vocal performance for "If I Ain't Got You." Mr. West shared a prize with her for co-writing another track on her most recent album, the song "You Don't Know My Name," and Mr. West also won a songwriting prize for co-writing a hit from his own album, the song "Jesus Walks." But Mr. West and Ms. Keys lost out in the coveted song-of-the-year category, in which the troubadour John Mayer - an occasional collaborator with Mr. West - won for "Daughters," which Mr. Mayer resisted releasing as a single, but which became one of his biggest radio hits. He also won male pop vocal performance for his recording of that song.The awards in some other early categories, however, reflected voters' preferences for older artists. In perhaps the most dramatic example, the Beach Boys' leader, Brian Wilson, received his first Grammy, for rock instrumental performance for "Mrs. O'Leary's Cow," a track from his long-unfinished solo masterpiece, "Smile." "I waited 42 years for this Grammy," Mr. Wilson said backstage. "It was well worth the wait." he continued. "It represents a triumph and an achievement in music that I feel that I deserve."Later, Prince, who re-ignited his pop career last year with a new album and one of the year's best-selling concert tours, beat other contenders, including Usher, to win best male R&B vocal performance. Prince also won best traditional R&B vocal performance.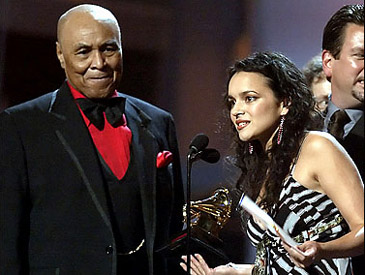 Norah Jones, right, and Ray Charles' manager Joe Adams accepted the award for record of the year for "Genius Loves Company." Courtesy Reuters
In similar fashion, the hard-rock band Motorhead, celebrating its 30th anniversary, beat younger performers like Killswitch Engage to take the honor for best metal performance. The Irish quartet U2, a longtime academy favorite, won best rock song for "Vertigo" in a field that included newcomers like the Killers and Modest Mouse. U2 also won for best short-form music video for its clip of the same song, besting videos from Franz Ferdinand and Steriogram.The evening's first televised award, at the Staples Center here, was for best pop performance by a duo or group with vocals, which went to the Tex-Mex trio Los Lonely Boys, who entered the ceremony as underdogs for best new artist. The punk trio Green Day won best rock album for "American Idiot," a bitter rumination on politics and media-swarmed society. The singer Billie Joe Armstrong passed on a chance to offer the sort of angry commentary on the album, saying only "rock 'n' roll can be dangerous and fun at the same time." Politics remained a minor undercurrent in other categories. Former President Bill Clinton won for best spoken-word album for the audio version of his autobiography, and Jon Stewart won for best comedy album, built from his "Daily Show" on Comedy CentralJohn Shanks won best nonclassical producer for his work in the recording studio for Sheryl Crow and Kelly Clarkson, but he spent much of his time backstage fending off questions about the live performances of another of his clients, Ashlee Simpson, whose hit album he produced. Ms. Simpson caused an uproar when she was caught lip-synching on "Saturday Night Live" last year, a flub she blamed on a sore throat."What do you do, as a professional? Do you cancel at 11:20 on a Saturday night?" Mr. Shanks said, adding: "I don't really care. As a lover of music, it's great when you go see a concert and it sounds like the record."Britney Spears won her first Grammy, for best dance recording for the single "Toxic." The British dance act Basement Jaxx's "Kish Kash" won for best electronic-dance album, and the trio mentioned backstage that that was its last recording with their record label, Astralwerks.Ms. Wilson, the country music newcomer who scored a hit with her anthem "Redneck Woman," won for female country vocal performance, but the writers of that song lost to Tim Nichols and Craig Wiseman's "Live Like You Were Dying," performed by Tim McGraw as a tribute to his late father. Mr. McGraw also won for country vocal performance for his recording of that song.Recordings released from Oct. 1, 2003, to Sept. 30, 2004, were eligible for awards. The winners are chosen by the recording academy's 11,000 voting members, who include musicians, producers, record executives, artist managers and others.
The above article is from The New York Times.