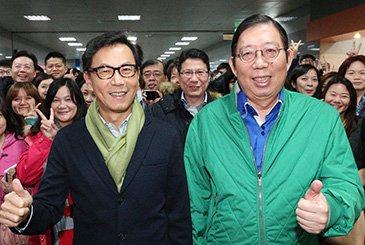 Brothers Daniel (left) and Richard Tsai
SINGAPORE, April 20, 2023 — The combined wealth of tycoons on the 2023 Forbes list of Taiwan's 50 Richest fell only slightly to US$155 billion from $158 billion last year, despite a stock market decline. The complete list is available at www.forbes.com/taiwan and in the April/May issue of Forbes Asia.After a 6.3% jump in 2021, Taiwan's economy grew at a modest 2.5% in 2022 as exports slowed amid a global demand slump and rising geopolitical tensions. The benchmark Taiex index declined 9% since fortunes were last measured. The net worths of 22 listees fell this year, leading to a reshuffle in the pecking order at the top.Brothers Daniel and Richard Tsai rose two spots to reclaim the No. 1 position after a five-year gap, despite an 8% drop in their wealth to $8.8 billion. Shares in their Fubon Financial Holdings took a hit as insurance claim payments for Covid 19-related policies dragged down earnings.Siblings Wei Ing-Chou, Ying-Chiao, Yin-Chun and Yin-Heng, who control a food and beverage empire under privately-held Ting Hsin International Group, moved up to No. 2 with $8.3 billion. The group's listed Tingyi, also known as Master Kong, is one of the largest instant noodle makers in mainland China. The brothers are also mulling an IPO of their fast-food chain Dicos, which opened its first Hong Kong store in January.Rising chemical prices boosted the net worth of Lin Shu-hong, cofounder of petrochemicals conglomerate Chang Chun Group, to $7.9 billion, propelling him to third place on the list. Insurance payouts impacted the fortune of another pair of finance magnates, brothers Tsai Hong-tu and Cheng-ta of Cathay Financial Holdings, who fell from No. 2 to No. 4 and are now worth $7.7 billion.Footwear magnate Zhang Congyuan, who was last year's richest, slipped to No. 5 this year as his wealth contracted the most in dollar terms, by $4.5 billion to $7.6 billion. Shares of his Zhongshan, Guangdong-based Huali Industrial Group fell amid decreasing orders from existing clients following pandemic-induced disruptions.At No. 6 is Terry Gou, who retains his position as his net worth rose to $7.4 billion from $6.8 billion in 2022. Gou gets the bulk of his wealth from Hon Hai Precision Industry (better known as Foxconn), which achieved an 11% rise in revenue to $217 billion. In April, Gou announced his run in Taiwan's 2024 presidential election after withdrawing from the 2020 contest.Brothers Chang Kuo-Hua, Kuo-Ming and Kuo-Cheng (No. 14), who inherited the Evergreen Marine shipping empire from their late father, Chang Yung Fa, saw their wealth plunge 40% to $3.2 billion, as Evergreen shares plummeted due to falling freight rates. Growing demand from sectors such as artificial intelligence and automobiles boosted the net worth of Wu Li-gann (No. 35), founder of mainland China-based printed circuit board maker WUS, by 78% to $1.65 billion, making him one of the biggest gainers in percentage terms.Notable among the four newcomers on this year's list is Samuel Chen (No. 22), an early investor in Zoom, who debuts with $2.4 billion. Wang Shih-Chung (No. 43), also joins the ranks with $1.3 billion as his AirTAC International Group, a maker of pneumatic equipment, reported stellar sales last year despite market headwinds. Other new additions to the list include the Ma family (No. 15, $3.15 billion), the heirs of Rudy Ma, the founder of Yuanta Financial holdings, who died last October and the Chiao family (No. 17, $3 billion) of wires and cables manufacturer Walsin Lihwa.
One of the two returnees this year is Steven Pan, chairman of Silks Hotel Group, Taiwan's largest listed hotel operator, who appears at No. 50 with $1.05 billion. The company's shares surged as the hotel sector recovered from pandemic woes.
The minimum amount required to make this year's list is $1.05 billion, up from $765 million last year.The top 10 richest in Taiwan are:
1) Daniel & Richard Tsai; US$8.8 billion
2) Wei Ing-Chou, Ying-Chiao, Yin-Chun & Yin-Heng; $8.3 billion
3) Lin Shu-hong; $7.9 billion
4) Tsai Hong-tu & Cheng-ta; $7.7 billion
5) Zhang Congyuan; $7.6 billion
6) Terry Gou; $7.4 billion
7) Jason & Richard Chang; $6.3 billion
8) Tsai Eng-meng; $6.1 billion
9) Barry Lam; $5.6 billion
10) Pierre Chen; $5.5 billionThe list was compiled using information from individuals, analysts, government agencies, stock exchanges, databases and other sources. Net worths were based on stock prices and exchange rates as of the close of markets on April 7 and real-time net worths on Forbes.com may reflect different valuations. Private companies were valued by using financial ratios and other comparisons with similar companies that are publicly traded. The estimated net worths may differ from those on the World's Billionaires List, which includes individual fortunes with net worths as of March 10. The list can also include foreign citizens with business, residential or other ties to Taiwan, or citizens who don't reside in Taiwan but have significant business or other ties.For more information, visit
www.forbes.com/taiwan.
About Forbes
Forbes champions success by celebrating those who have made it, and those who aspire to make it. Forbes convenes and curates the most influential leaders and entrepreneurs who are driving change, transforming business and making a significant impact on the world. The Forbes brand today reaches more than 140 million people worldwide through its trusted journalism, signature LIVE and Forbes Virtual events, custom marketing programs and 48 licensed local editions in 82 countries. Forbes Media's brand extensions include real estate, education and financial services license agreements.
For media queries, please contact:
Catherine Ong Associates Pte Ltd
Catherine Ong
cath@catherineong.com
Chenxi Wang
chenxi@catherineong.com