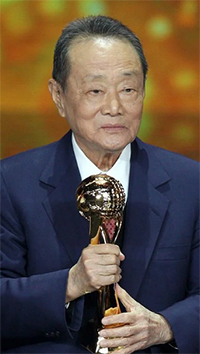 Chairman Robert Kuok (1923-present) of Shangri-La Hotels and Resorts Chain. The business titan remains Malaysia's richest person, with a net worth of $11.8 billion.
SINGAPORE (June 1, 2023) — Despite a dip in the stock market, the collective wealth of tycoons on the 2023 Forbes list of Malaysia's 50 Richest edged up to US$81.6 billion from $80.5 billion last year. The complete list can be found at www.forbes.com, as well as in the June issue of Forbes Asia.After rising 8.7% in 2022 on the back of a rebound in domestic consumer spending, Malaysia's economy is expected to grow at a more moderate pace this year. Despite the country's post-pandemic revival, the stock market fell 8% since fortunes were last measured and the ringgit was also down nearly 2%.Business titan Robert Kuok, who will be a centenarian in October, is Malaysia's richest person, a position he has held for more than a quarter of a century. Kuok, the biggest gainer in dollar terms this year, is one of only two persons on the list with a double-digit fortune of $11.8 billion. The other is Quek Leng Chan, executive chairman of the Malaysian arm of the privately held Hong Leong Group, who is at No. 2 with $10.2 billion. Overall, 19 fortunes were up and nearly half were down. Despite being in the latter category, metals magnate Koon Poh Keong and his siblings remain in third place. Their combined wealth of $5.8 billion is down nearly 7% from $6.2 billion last year, in line with the fall in shares of their company Press Metal Aluminium Holdings, Southeast Asia's largest integrated aluminum producer, amid higher raw material and freight costs. Taking the fourth spot is Ananda Krishnan of Maxis, whose net worth rose $400 million to $5.4 billion. Among the big gainers on this year's list are father-and-son duo Yaw Teck Seng and Chee Ming, who control timber giant Samling. They jumped to No. 16 from No. 32 last year as their wealth more than doubled to $1.25 billion, on new information about their private assets. Former math teacher Chia Song Kun (No. 10, $1.8 billion), executive chairman of his family's seafood firm QL Resources, returns to the ranks after a seven-year gap on a nearly 20% rise in the company's shares and the inclusion of his broader family's stakes.
Two private equity-backed tycoons got a boost from landmark deals. Syed Azman Syed Ibrahim (No. 24), whose Weststar Aviation Services operates the second-largest offshore services helicopter fleet in Asia-Pacific, bought back investment firm KKR's 21% stake and is now worth $825 million, up 27% from last year. The wealth of funeral services provider Nirvana Asia's founder, David Kong (No. 23, $860 million), rose on the proposed sale by PE firm CVC Capital Partners of its stake at an estimated valuation of $2 billion.The five new faces this year include property magnates Chiau Beng Teik (No. 29, $665 million), founder of the Chin Hin Group, and Yu Kuan Chon (No. 39, $430 million), a medical doctor, who runs his family's YNH Property. The other newcomers are Ong Soon Ho (No. 32, $630 million), founder of agrochemicals group Hextar and Goh Nan Kioh (No. 40, $425 million), who owns investment firm Mega First and has a stake in D&O Green Technologies, which makes LEDs for the automotive sector. The fortune of veteran banker Teh Hong Piow, founder of Public Bank, who died in December, is now listed under his children, the Teh
siblings (No. 5, $5.2 billion). The minimum net worth to make the list was $315 million, up from $255 million in 2022.The top 10 richest in Malaysia are:1) Robert Kuok; US$11.8 billion
2) Quek Leng Chan; $10.2 billion
3) Koon Poh Keong & siblings; $5.8 billion
4) Ananda Krishnan; $5.4 billion
5) Teh siblings; $5.2 billion
6) Lee Yeow Chor & Yeow Seng; $4.6 billion
7) Chen Lip Keong; $2.8 billion
8) Lim Kok Thay; $2.3 billion
9) Tan Yu Yeh & Yu Wei; $1.9 billion
10) Chia Song Kun; $1.8 billion
This list was compiled using shareholding and financial information obtained from the families and individuals, stock exchanges, annual reports and analysts. The ranking lists both individual and family fortunes, including those shared among relatives. Private companies were valued based on similar companies that are publicly traded. Net worths were based on stock prices and exchange rates as of the close of markets on May 12, 2023. The list can also include foreign citizens with business, residential or other ties to the country, or citizens who don't reside in the country but have significant business or other ties to the country. For more information, visit www.forbes.com/malaysia.
About Forbes
Forbes champions success by celebrating those who have made it, and those who aspire to make it. Forbes convenes and curates the most influential leaders and entrepreneurs who are driving change, transforming business and making a significant impact on the world. The Forbes brand today reaches more than 140 million people worldwide through its trusted journalism, signature LIVE and Forbes Virtual events, custom marketing programs and 48 licensed local editions in 82 countries. Forbes Media's brand extensions include real estate, education and financial services license agreements.
For media queries, please contact:
Catherine Ong Associates Pte Ltd
Catherine Ong
cath@catherineong.com
Chenxi Wang
chenxi@catherineong.com