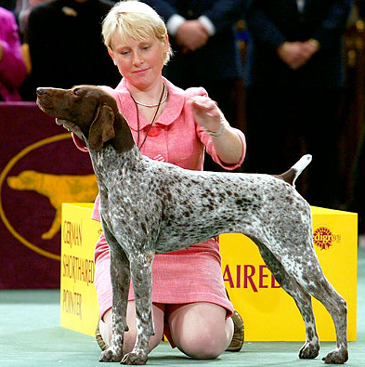 Posing like the very symbol of the Westminster Kennel Club, a German shorthaired pointer called Carlee became America's top dog Tuesday night. Courtesy Shannon Stapleton/Reuters
NEW YORK — Posing like the very symbol of the Westminster Kennel Club, a German shorthaired pointer called Carlee became America's top dog Tuesday night.The 5-year-old female with the soft eyes and gliding gait won best in show, beating out a popular Norfolk terrier, a champion bloodhound and a wobbling Pekingese.All seven finalists gave fine performances on the green carpet of Madison Square Garden. But the sellout crowd and judge Lynette Saltzman were clearly won over by Carlee's "`free stack,"' the time when the dog stands alone and shows its stuff.Paying rapt attention to star handler Michelle Ostermiller, Carlee pointed with perfection as the cheers grew louder and louder."She was spectacular," Ostermiller said.Last year, Ostermiller neatly guided a big Newfoundland named Josh to this best in show title. This time, she came back to be the tops among the 2,581 entries in 165 breeds and varieties."I'm stunned," she said.Carlee, with a brown face and white-and-liver spotting, now will retire to Castle Rock, Colo., with her ninth best in show title overall. Officially named Ch. Kan-Point's VJK Autumn Roses, the sporting group winner wound up a champion in the nation's most prestigious canine event.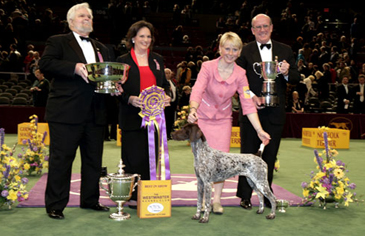 The 2005 Best In Show Trophy was awarded to "Ch Kan-Point's VJK Autumn Roses," a.k.a. "Carlee," a German Shorthaired Pointer.

Carlee became the second German shorthaired pointer to win at Westminster, and was a direct descendant of the other winner in 1974."She just did everything right," Saltzman said.Just like Josh last February. The barking, slobbering Newfie was back in the ring, too.Josh got a nice round of applause when he bounded out during Westminster's tribute to its Angel on a Leash program, where therapy dogs help the healing process for pediatric patients. He retired after his big win — it's rare for Westminster champions to try for a repeat.A sprightly Norfolk terrier named Coco represented the terriers. She was the favorite at Westminster last year, and came back this time at 6 1/2 years old after taking off six months to deliver three puppies — Tom, Dick and Harry.Fans called out Coco's name when she showed for the last time, her tongue hanging out and her ears flopping. She might've been No. 2 overall, but there's no way to know — only a winner is picked.Knotty, a bloodhound that won the AKC/Eukanuba show last month, was trying to become the first hound in 22 years to take best in show at Westminster. Instead, he could not top Carlee.A Pekingese called Jeffrey was the toy winner. His father won the largest show in the world — Crufts in England, with 25,000 or so dogs — in 2003.
| | |
| --- | --- |
| | A German Shorthaired Pointer puppy —The German Shorthaired Pointer certainly has the handsome good looks needed for the show ring, but he was bred to be a high performance hunting dog. Many regard him as the most versatile of sporting dogs, reflecting his land and water skills. His 19th century origins can be traced to Germany and Austria, where old Spanish Pointer was probably mixed with English Foxhound and other scent hounds |
An elegant Great Pyrenees, the first of its breed to take the working group, was fondly described as an animated snowdrift. Named Fame, he was a surprise winner a day before, leaving breeder Karen Justin without tickets for the final night.A silky Tibetan terrier — not really a terrier, despite its name — also was the first of its breed to take the non-sporting group. Named Baloo, for the "Jungle Book"' character, he spent his down time snacking on his favorite dog biscuits.Merlin, a border collie, represented the herding group.Asleep in her crate much earlier Tuesday, Morgan hardly had a care in the world. Let the other dogs get cramped by the backstage crowds, this otterhound was taking a nap.And certainly unaware of the pressure she faced.A win could've brought much-needed attention to one of America's rarest breeds. Instead, she lost out to Knotty in the hound group — too bad for a breed that keeps moving closer to extinction.Yes, extinction.Believe it or not, there were only 23 purebred otterhounds registered in the United States last year. That's 23, compared to the 146,692 Labrador retrievers, the most popular dog."We don't get a lot of exposure," offered Morgan's co-owner and breeder, Betsy Conway.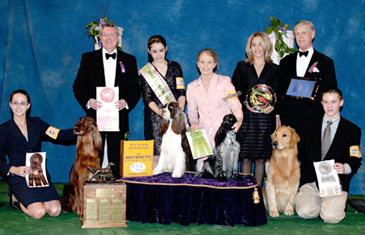 2005 Junior Showmanship results
Conway described Morgan as a bloodhound with a black-and-tan, woolly coat. Think of the shaggy dog in the Disney film "The Absent-Minded Professor"' and that's close, but bigger."There's no such thing as an otterhound," kidded Lab breeder Christine Tye. "I've never heard of them."Most people haven't. There are fewer than 1,000 in the world, perhaps 350 scattered around America. The population steadily declined in the 20th century when otter hunting was outlawed in many places.Also, Conway admitted, they're not for everyone. Otterhounds have oily coats that can rub off on clothes and furniture, need room to roam and have a deep bay voice. At home in Sherman, Conn., Morgan loves to dig for moles and look for cats."But if you want a dog that will love you, they're perfect," she said.Conway currently owns or co-owns 10 of the 23 registered otterhounds. A career insurance saleswoman, she intends to ensure the breed sticks around."They will not become extinct in my lifetime," she said, "because I won't let it."
The above article is from AP.