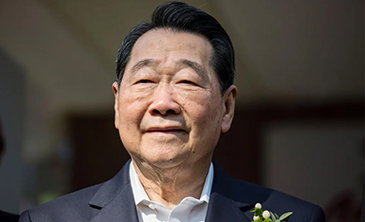 Dhanin Chearavanont, senior chairman, Charoen Pokphand Group
SINGAPORE (July 6, 2023) — With the economy boosted by the return of tourists, the combined wealth of tycoons on the 2023 Forbes list of Thailand's 50 Richest rose nearly 15% to US$173 billion. The complete list can be found at www.forbes.com/thailand, as well as in the July issue of Forbes Asia and the August issue of Forbes Thailand.The Chearavanont brothers of the Charoen Pokphand group, who earlier this year completed the merger between their group's telecom unit True and rival Total Access Communications, clocked the biggest gain in dollar terms to remain at No. 1. Their wealth is up $7.5 billion from last year to a record $34 billion.Chalerm Yoovidhya retains the No. 2 spot with $33.4 billion, as Red Bull sales hit 11.6 billion cans worldwide, notching up revenue of over $10 billion in 2022. The energy drinks tycoon added $7 billion to his wealth, which he shares with his family. Charoen Sirivadhanabhakdi of Thai Beverage remains at No. 3 with $13.6 billion, up $2.4 billion from last year.The Chirathivat family of the Central group moves up one spot to No. 4 with a net worth of $12.4 billion, up $1.8 billion from $10.6 billion last year. Energy billionaire Sarath Ratanavadi of Gulf Energy Development is at No. 5 on the list with $11.3 billion, up slightly from $11.1 billion previously.Overall, 21 fortunes got a boost from a year ago. A couple of the biggest gainers in percentage terms benefited from the return of foreign shoppers: Aiyawatt Srivaddhanaprabha, whose family owns duty-free operator King Power International, more than doubled his net worth to $3.5 billion to reclaim a place in the top ten and appears at No. 8. The fortune of Supaluck Umpujh (No. 15), who runs her family's retailing empire The Mall Group, which owns a string of popular malls such as Siam Paragon and EmQuartier, doubled to $2 billion.The retailing rebound propelled one of two newcomers to the list. Pradit Phataraprasit, the country's former deputy finance minister, whose family has a stake in The Mall Group, as well as stakes in other businesses, makes his debut at No. 27 with $1.4 billion. The other newcomer Anan Ruckariyapong (No. 50, $590 million), founder of listed beverage firm Sappe, started out five decades ago selling Thai-style candied peanuts and cookies named after his daughter Piyajit, who now runs the company as CEO.Stock market debuts of their companies benefited two people on the list. The fortune of insurance veteran Vanich Chaiyawan (No. 6, $3.9 billion), whose 81-year-old firm Thai Life Insurance listed last year in what was the country's largest IPO in 2022, saw his net worth rise 30%. Chaivat Taepaisitphongse (No. 30, $1.2 billion) returned to the ranks after a two-year gap, following last October's IPO of his food conglomerate Betagro.Among the 22 listees who saw their fortunes fall is paints magnate Prachak Tangkaravakoon (No. 16, $1.99 billion). His net worth dropped nearly 30%, the most in percentage terms, due to problems engulfing wire and cable maker Stark, in which his son Vonnarat has a stake.The minimum net worth to make the list was $590 million, down from $655 million last year.The top 10 richest in Thailand are:
1) Chearavanont Brothers; US$34 billion
2) Chalerm Yoovidhya; $33.4 billion
3) Charoen Sirivadhanabhakdi; $13.6 billion
4) Chirathivat Family; $12.4 billion
5) Sarath Ratanavadi; $11.3 billion
6) Vanich Chaiyawan; $3.9 billion
7) Prasert Prasarttong-Osoth; $3.8 billion
8) Aiyawatt Srivaddhanaprabha; $3.5 billion
9) Somphote Ahunai; $3 billion
10) Osathanugrah Family; $2.5 billionThis list was compiled using shareholding and financial information obtained from the families and individuals, stock exchanges and analysts, the Stock Exchange of Thailand and regulatory agencies. Unlike Forbes' World Billionaires rankings, this list encompasses family fortunes, including those shared among extended families of multiple generations. Public fortunes were calculated based on stock prices and exchange rates as on June 16. Private companies were valued based on comparisons with similar companies that are publicly traded. The list can also include foreign citizens with business, residential or other ties to the country, or citizens who don't reside in the country but have significant business or other ties to the country.For more information, visit www.forbes.com/thailand.
About Forbes
Forbes champions success by celebrating those who have made it, and those who aspire to make it. Forbes convenes and curates the most influential leaders and entrepreneurs who are driving change, transforming business and making a significant impact on the world. The Forbes brand today reaches more than 140 million people worldwide through its trusted journalism, signature LIVE and Forbes Virtual events, custom marketing programs and 48 licensed local editions in 82 countries. Forbes Media's brand extensions include real estate, education and financial services license agreements.
For media queries, please contact:
Catherine Ong Associates
Catherine Ong
cath@catherineong.com
Chenxi Wang
chenxi@catherineong.com