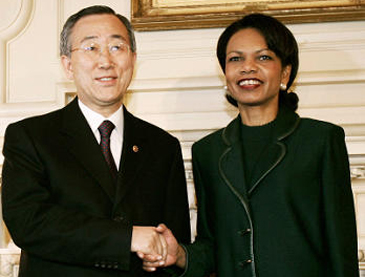 Secretary of State Condoleezza Rice (right) greets South Korean Foreign Minister Ban Ki-Moon at the State Department in Washington on Feb. 14, 2005, prior to their meeting to discuss the situation in North Korea. Courtesy AP/Haraz Ghanbari
WASHINGTON, Feb. 14, 2005 — Secretary of State Condoleezza Rice, in a meeting with the South Korean foreign minister on Monday, pledged to continue using diplomatic means to pressure North Korea to end its nuclear program and give up the nuclear weapons it claimed last week that it possesses. For his part, the foreign minister, Ban Ki Moon, told Ms. Rice that his country believed that North Korea might be bluffing, an administration official said. That contention was amplified in Seoul on Monday by Chung Dong Young, South Korea's minister of unification, in a speech to the National Assembly in which he noted that the North had made similar claims at least 10 times since 2003. "We see it as a claim to own nuclear weapons, not an official statement of being a nuclear weapons state," Mr. Chung said.Along with the nuclear weapons announcement last week, North Korea also said it was pulling out of the six-party talks on ending its nuclear weapons program in exchange for security and economic considerations. No talks have been held since last June. North Korea wants direct negotiations with Washington, an idea the Bush administration rejects.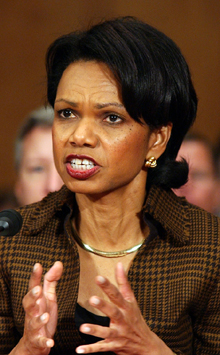 US State Secretary Condoleezza Rice
Richard A. Boucher, the State Department spokesman, said: "I think you will see a very active pace of discussions between the various parties to the six-party talks. We've already been in touch with many of the other parties through our embassies in the capital, and we'll continue to pursue an active diplomacy aimed at making these six-party talks work."Mr. Boucher noted that the administration had asked Christopher R. Hill, ambassador to South Korea, to be the American representative to those talks, should they resume. The other three members are Japan, China and Russia. Diplomatic contacts among the five nations have intensified in recent days. On Saturday, Japan plans to send both its foreign and defense ministers to Washington for discussions on North Korea.In Seoul, Mr. Chung dismissed the North's claims as nothing more than a bargaining ploy intended to "compel the United States to change its stance." His Unification Ministry promotes peaceful coexistence with the North and rarely voices skepticism of it. But Mr. Chung also heads South Korea's National Security Council, and his comments seem to contradict a South Korean Defense White Paper issued 10 days ago.According to that policy document, North Korea probably has assembled one or two nuclear weapons and is believed to have conducted an aerial blast test, a step that could precede an actual nuclear weapons test.Also, analysts note, while North Korea has blustered about having nuclear capacity, last Thursday was the first time it publicly used the phrase nuclear weapons to refer to its nuclear program.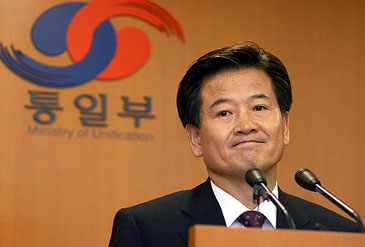 S. Korean Unification Minister Chung Dong-Young
Minutes after Mr. Chung's speech, a member of the conservative opposition called for his resignation."As all rosy predictions regarding the six-party talks and others regarding North Korea have failed, is it not right for the Unification Minister to step down?" asked Hong Jun Pyo, a leader of the Grand National Party, part of a conservative force that controlled the National Assembly for half a century until upset elections in April.Conservatives are pressing the South Korean president, Roh Moo Hyun, to curb South Korean trade, aid and investment programs that funnel hundreds of millions of dollars annually to the cash-starved Communist state.With the South Korean government determined to maintain its policy of economic aid and investment with the North, many analysts here agree that China is the only nation with leverage on North Korea. A Chinese mission is expected to travel to Pyongyang, North Korea's capital, later this week. "China is the only country that has carrot and sticks, and that is willing to use both," Peter M. Beck, Northeast Asia director for the International Crisis Group, an aid organization, said in an interview here on Monday. Referring to South Korea, he added, "When you have half of your population in artillery range, when you have a relationship with the North that is so tenuous, you walk very cautiously." According to Mr. Ban, South Korea is not yet ready to abandon its policy of engagement. "With this increased and intensified diplomatic efforts," he said, "I am confident that in the end North Koreans will come back to the dialogue table."
Joel Brinkley reported from Washington for this article and James Brooke from Seoul.The above article is from NYT.