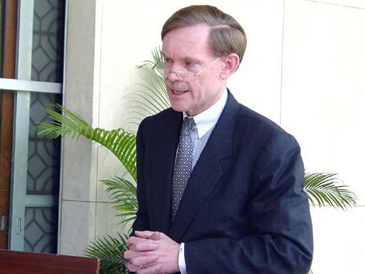 Robert B. Zoellick addressing a press conference
WASHINGTON, Feb. 15, 2005 — Robert B. Zoellick, a senior government official nominated to be deputy secretary of state, suggested Tuesday that North Korea's recent announcement that it now possesses nuclear weapons might have been a bluff."I would be careful about reading too much into the North Koreans' most recent statement," Mr. Zoellick, the United States trade representative, said during his Senate confirmation hearing for the second-ranking position in the State Department. He then listed several possible political motivations for the statement, including "pounding one's chest" for the benefit of North Korean citizens. His remark represented a subtle shift in tone on Tuesday by Bush administration officials, who had previously focused their response on urging the North Koreans to return to the regional negotiations intended to persuade them to dismantle their nuclear program. The White House spokesman, Scott McClellan, echoed Mr. Zoellick's assessment, saying at a news briefing on Tuesday that "North Korea has frequently used that rhetoric in the past."The comments by the White House officials are similar to that offered by the South Korean foreign minister, Ban Ki Moon, in talks on Monday with Secretary of State Condoleezza Rice. Another senior South Korean official was even more direct, saying Monday that North Korea's statement represented little more than a bargaining ploy intended to compel the United States "to change its stance."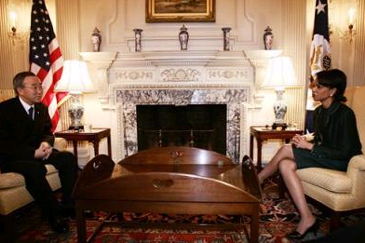 US Secretary of State Condoleezza Rice (right) meets with South Korean Foreign Minister Ban Ki-Moon at the State Department in Washington on Feb. 14, 2005, to discuss the situation in North Korea Courtesy AP/Haraz Ghanbari
North Korea wants direct negotiations with Washington, while the Bush administration insists that negotiations be limited to the six-party talks that also include South Korea, Japan, China and Russia. No talks have been held since June. Mr. Zoellick listed several possible motives for North Korea to make its provocative statement last Thursday. The announcement "could have been, as they have done in the past, sort of a demand to get additional compensation," he suggested. He added, "It could have been related to the fact that the Chinese were scheduled to come, and they have played a key role in terms of economics and assistance.""In some senses it doesn't matter what one guesses," he said, as long as the United States "stays constant with the core strategy here," the six-party talks.Mr. Zoellick faced no apparent opposition at his confirmation hearing, where he responded in detail to questions about a wide range of foreign policy issues; even the committee's Democrats embraced him. He caused a positive stir among some committee members by speaking out against the Venezuelan president, Hugo Chávez. He cited Mr. Chávez as an example of what he called the "creeping authoritarianism" afflicting Venezuela and other Latin American states. "You win the election, but you do away with your opponents, you do away with the press, you do away with the rule of law, you pack the courts," he said.The Organization of American States adopted democratic changes in the early 1990's intended to protect nations from military coups, he said. But now, he added, the region faces this new threat.The United States, he said, "should not be afraid" to speak out when Mr. Chávez "is taking away liberties." If Mr. Chávez cuts off oil shipments - the United States imports 13 percent of its oil supply from Venezuela - Mr. Zoellick said he was confident that the United States could make up the losses from other sources.
The above article is from NYT.