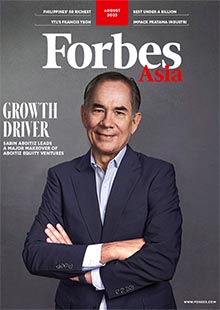 The August 2023 issue of Forbes Asia
SINGAPORE (August 10, 2023) — The combined wealth of tycoons on the 2023 Forbes list of Philippines' 50 Richest rose 11% to US$80 billion from $72 billion last year.
The Philippine economy logged 6.4% growth in the first quarter of 2023, marking two years of continuous expansion since its recovery from the pandemic. Although the economy must now deal with inflation and higher interest rates, the country's benchmark stock index rose 6% from a year ago when fortunes were last measured.More than half of those on the list are wealthier this year, led by the top three. The Sy siblings, heirs to the group built by the late Henry Sy Sr., retain the top spot, adding $1.8 billion to their net worth, which now stands at $14.4 billion. Shares of their flagship SM Investments, a conglomerate with interests in banking, property and retail, jumped 19% from a year ago amid a rebound in consumer spending. Property tycoon Manuel Villar continues to hold second place with a fortune of $9.7 billion, up $1.9 billion, on the back of a resilient housing market. Villar also listed his power business, Premiere Island Power REIT, in December 2022. Rounding out the top 3 is this year's biggest dollar gainer, ports tycoon Enrique Razon Jr., who saw his fortune rise $2.5 billion to $8.1 billion. Shares in his company International Container Terminal Services jumped 24% from a year ago, thanks to sustained improvement in supply chains. Another notable gainer is Ramon Ang, president and CEO of listed conglomerate San Miguel Corp., who moves up five spots to No. 4. His wealth was up nearly 40% to $3.4 billion following the acquisition of his majority owned Eagle Cement, one of the archipelago's largest cement makers, by San Miguel. Taking the fifth spot on the list is Tony Tan Caktiong of Jollibee Foods, who saw his net worth rise $600 million to $3.2 billion.
Featured on the cover of the August issue of Forbes Asia is Sabin Aboitiz, a fourth-generation member of the Aboitiz family (No. 6, $3.15 billion). Aboitiz is spearheading a $7 billion transformation of Aboitiz Equity Ventures, Philippines' second largest electricity producer, into a banking, infrastructure and technology powerhouse.The three new newcomers to the list are all inheritors. The Gotianun family, at No. 22 with $850 million, inherited stakes in conglomerate Filinvest Development from matriarch Mercedes Gotianun, who died last December. The Yuchengco family, heirs of Alfonso Yuchengco and the biggest shareholder of Rizal Commercial Banking Corp., one of the country's largest lenders, also joins the ranks at No. 33 with $420 million. Federico Lopez debuts on the list at No. 42 with $300 million, shared with his family, after taking over the media, property and power empire from his father, Oscar, who died in April at age 93. The minimum net worth to make the list was $180 million, slightly down from $185 million last year.The top 10 richest in the Philippines are:
1) Sy siblings; US$14.4 billion
2) Manuel Villar; $9.7 billion
3) Enrique Razon Jr.; $8.1 billion
4) Ramon Ang; $3.4 billion
5) Tony Tan Caktiong; $3.2 billion
6) Aboitiz Family; $3.15 billion
7) Lance Gokongwei & siblings; $3 billion
8) Isidro Consunji & siblings; $2.9 billion
9) Jaime Zobel de Ayala; $2.8 billion
10) Lucio Tan; $2.6 billion
The list was compiled using shareholding and financial information obtained from the families and individuals, stock exchanges, analysts and other sources. Unlike the Forbes Billionaires' rankings, this list includes family fortunes, including those shared among extended families. Net worths are based on stock prices and exchange rates as of the close of markets on July 21, 2023. Private companies were valued based on similar companies that are publicly traded. The list can also include foreign citizens with business, residential or other ties to the country, or citizens who don't reside in the country but have significant business or other ties to the country. For more information, visit www.forbes.com/philippines
About Forbes
Forbes champions success by celebrating those who have made it, and those who aspire to make it. Forbes convenes and curates the most influential leaders and entrepreneurs who are driving change, transforming business and making a significant impact on the world. The Forbes brand today reaches more than 140 million people worldwide through its trusted journalism, signature LIVE and Forbes Virtual events, custom marketing programs and 45 licensed local editions in 76 countries. Forbes Media's brand extensions include real estate, education and financial services license agreements.
For media queries, please contact:
Catherine Ong Associates
Catherine Ong
cath@catherineong.com
Wang Chenxi
chenxi@catherineong.com