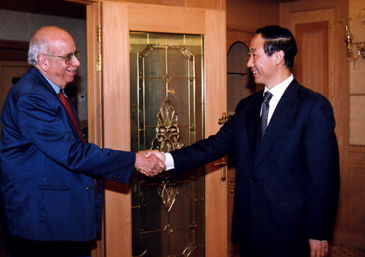 Wang Jiarui (right), minister of the International Department of the Communist Party of China (CPC) Central Committee, receives a foreign guest.
A senior Chinese official is flying to North Korea to persuade Pyongyang to resume stalled six-nation talks aimed at ending its nuclear programme. Wang Jiarui's visit comes a week after the North said it would stay away from the talks for an "indefinite period" and "bolster" its nuclear arsenal. China is North Korea's closest ally and has coaxed it back into talks before. The US renewed its criticism of the North on Friday, calling its drive to have nuclear weapons a "dead end."The Chinese envoy, who is head of the ruling communist party's international department, is expected to be in the North until Monday. No details have been released about his schedule, but he is expected to press the North to resume six-nation talks on the nuclear stand-off. The official Chinese news agency Xinhau said only: "The two sides will have an exchange of views on the inter-party contacts in 2005, as well as the regional and international issues of common concern." China has sponsored three previous rounds of talks and is keen to retain the diplomatic initiative concerning a country it sees as a key ally.
US response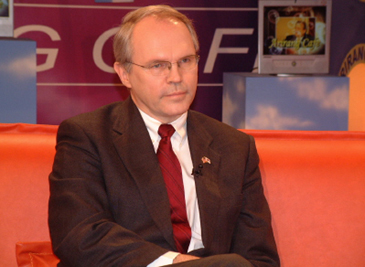 US Ambssador Christopher Hill
Washington's chief negotiator to the talks, Christopher Hill, said North Korea's pursuit of nuclear weapons was a "huge mistake" because it had damaged the country's economy and its relations with the outside world. "Holding nuclear weapons is a dead end for North Korea. They cannot make progress if they continue on this road," Mr Hill said on Friday, after returning from a visit to Beijing. Mr Hill also said the US and other parties to the talks should co-ordinate their approach to North Korea. The BBC's Seoul correspondent, Charles Scanlon, says China has urged patience and South Korea is sticking with its policy of reconciliation with the North, while the US appears to favour a tougher response. A key test of that co-ordinated approach will come soon, our correspondent says, after North Korea asked the South for 500,000 tons of fertiliser. American press reports said US officials want the request to be rejected. But South Korea has in the past described fertiliser and food as humanitarian aid, not linked to political considerations. South Korea announced on Friday that it would allow its state-owned power company to supply electricity to Kaesong, a joint-venture industrial complex just north of the border. The Kaesong project, which was agreed in 2000 at a key inter-Korean summit, is seen as a symbol of South Korea's reconciliation policy.
The above article is from BBC.