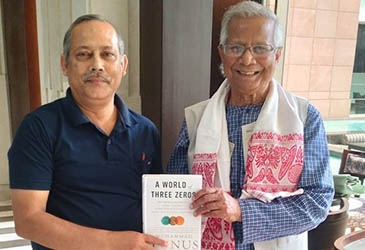 Nobel peace laureate Prof. Muhammad Yunus (right) holds his book with The Seoul Times special correspondent Nava Thakuria.
Observing that for the last 13 years, the Bangladesh government led by Prime Minister Sheikh Hasina has been persecuting Nobel peace laureate Prof. Muhammad Yunus, 177 global leaders including 106 Nobel laureates, elected officials, business & civil society leaders, etc urged the government in Dhaka to stop harassing the brilliant economist turned revolutionary banker to social thinker.Highlighting on a current judicial proceeding against Prof. Yunus, they termed it as a broader assault on human rights, democracy, and the rule of law in Bangladesh. Expressing solidarity with 34 courageous Bangladeshi leaders, who issued a letter of support to the creator of Grameen movement, they also appealed to the citizens around the world to support the campaign. The global personalities issued the open letter on August 28, 2023.Admiring the laudable progress made by Bangladesh since its independence in 1971, they however expressed deep concern over the threats to democracy and human rights in Bangladesh. One of the threats to human rights, that concerns the global leaders, was around Prof. Yunus, who has been targeted by the government with judicial harassments. They also mentioned about an earlier appeal by 40 global personalities expressing concern about his safety and freedom."We respectfully ask that you immediately suspend the current judicial proceedings against Prof. Yunus, followed by a review of the charges by a panel of impartial judges drawn from within your nation with some role for internationally recognized legal experts. We are confident that any thorough review of the anti-corruption and labor law cases against him will result in his acquittal," said the open letter.Appreciating Prof. Yunus' work as inspirational to all of them which focuses on how social business can be a force for international progress resulting in zero poverty, zero unemployment, and zero net carbon emissions, the letter added that Prof. Yunus is a leading example of how Bangladesh and Bangladeshi nationals have contributed to global progress in recent decades."We sincerely wish that he (Prof. Yunus) be able to continue his path-breaking work free of persecution or harassment," stated the letter adding that they expect PM Hasina to ensure the resolution of these legal issues in an expedient, impartial, and just manner. The influential global citizens asserted that they would join with millions of concerned citizens around the world in closely tracking how these matters are resolved in the coming days.The signatories include Nobel laureates namely Barack H. Obama, José Ramos-Horta, Mairead Corrigan-Maguire, Shirin Ebadi, Leymah Roberta Gbowee, Albert Arnold Gore Jr., Tawakkol Karman, Denis Mukwege, Nadia Murad, Maria Ressa,
Oscar Arias Sanchez, Juan Manuel Santos, Rigoberta Menchu Tum, Jody Williams, Peter Agre, Thomas R. Cech, Martin Chalfie, Emmanuelle Charpentier, Jacques Dubochet, Joachim Frank, Walter Gilbert, Alan Heeger, Richard Henderson, Edmund Phelps, Vernon L. Smith, Joseph E. Stiglitz, J. M. Coetzee, Herta Muller, Orhan Pamuk, etc.They did not forget to ask PM Hasina for ensuring a free, fair, and participatory national election in the coming months (probably January 2024). Stating that the previous two national elections in Bangladesh lacked legitimacy, the international citizens expressed hope that the administration of the election (for its 350-member Jatiya Sansad) be acceptable to all major parties in the south Asian country.The letter was also signed by Ban Ki-Moon (former UN Secretary General), Hillary Rodham Clinton (former US Secretary of State), Narayana Murthy (founder, Infosys), Ron Garan (former NASA astronaut), Dumitru Bragish (former Moldova Premier), Emil Constantinescu (former Romania President), Mirko Cvetkovic (former Serbia Premier), Ameenah Gurib Fakim (former Mauritius President), Yves Leterme (former Belgium Premier), Giorgi Margvelashvili (former Georgia President), Mary Robinson (former Ireland Premier), Viktor Yushchenko (former Ukraine President), etc.