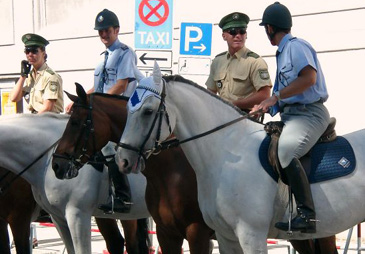 Swiss policemen
A police officer in Switzerland allegedly undressed a South Korean female student and kicked her all over her body and slapped her in the face several times, a South Korean news agency Yonhap reported Feb. 24, 2005 from Geneva.The news agency reported that the police brutality was committed near Bazel Feb. 18, 2005 when the Swiss border policeman was checking the South Korean woman known only as Ms. Lee for drug possession.The Korean woman said that the Swiss border police officer took her to his office before the brutal incident took place. She was on a train from France and moving toward Bazel.Immediately after the incident took place, she reported to the South Korean Embassy in Bern, Switzerland. She revealed that the Swiss police officers might have considered her "health powder food" she was possessing as a kind of heroine drug. Her story was listed on the discussion board of the local Korean Embassy in Bern.She said that even after the drug test conducted on her by the Swiss police was found to be negative she was forced to be on her knees. She was kicked all over her body by the investigator during and after the drug test.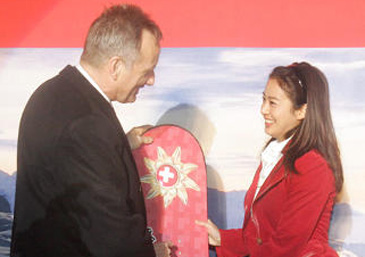 Swiss Ambassador Christian Hauswirth (left) offers a snowboard to a South Korean TV actress after she was appointed as "Goodwill Ambassador for the Switzerland" in an ice link in front of the Seoul Metropolitan City building on Feb. 17, 2005
Photo Courtesy YNA
After her suspicion was cleared by the Swiss police she approached one police officer in charge of the drug test and asked him about the officer's name and phone number, demanding an apology from him. Her demand for apology was denied outright.She asked the South Korean Embassy to contact the local police.South Korean Embassy in Bern announced that they will do their best to find out what happened.One embassy official told Yonhap that the policeman could have been French officer.Meanwhile, an official from Swiss Embassy in Seoul announced that they receive many phone calls on this case from angry South Korean citizens.She said that the embassy already send inquiry to the foreign ministry in Switzerland. The embassy is awaiting an answer from the ministry, she added.