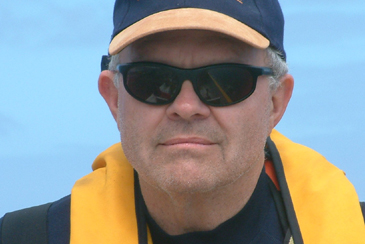 Steve Fossett>
SALINA, Kan. (Reuters) — Steve Fossett, who sailed around the globe in a balloon three years ago, took off from a Kansas airfield on Monday trying to circle the Earth nonstop in a one-engine plane without refueling.Fossett rolled down the runway at 7:45 p.m. EST from Salina Municipal Airport before about 200 people.Among those on hand was Virgin Atlantic Airways chief Richard Branson who wants to send tourists into space. He is bankrolling the flight, has put his brand on the experimental aircraft and flew in a contingent of journalists aboard one of his airline's 747s to cover the event.Fossett hopes to touch down back in Kansas in a little less than three days after covering 23,000 miles at altitudes of up to 52,000 feet and speeds that may exceed 285 mph.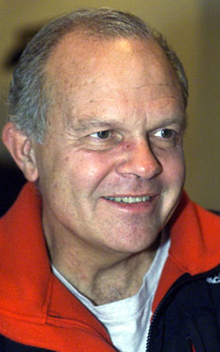 Steve Fossett
While he would be the first to make such a journey as a solo pilot, merely completing the trip would not set a record, according to the Paris-based Federation Aeronautique Internationale. Jeana Yeager and Dick Rutan made the first nonstop, unrefueled global flight in 1986 in the propeller-driven Voyager with a nine-day circumnavigation covering 26,366 miles.The federation said Fossett might qualify for a speed record depending on his time.The Kansas site was chosen because it would allow the plane to be over land for the early and late stages of the flight that will require a deployment of drag balloons to slow the craft down and allow for a descent.The Salina airport, once used for military bomber training, has one of the longest runways in North America — 12,300 feet— and is designated as an alternate landing spot for the Space Shuttle.Fossett's craft consists of a 7-foot-long pressurized, cigar-shaped cabin suspended beneath a single Williams turbofan jet engine. The cabin is bracketed by two large outrigger-like booms farther out on the 114-foot wing holding the landing gear and fuel. At takeoff, the flight group said, fuel would take up 83 percent of the aircraft's weight.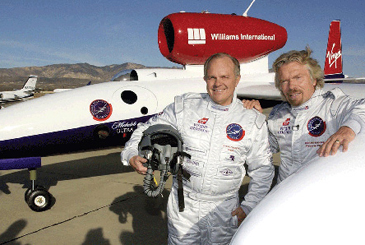 Steve Fossett(left)
The plane, constructed of graphite-epoxy, was built by Scaled Composites, which last year won the $10 million X-Prize for sending a reusable aircraft with a pilot into outer space twice in 10 days.Fossett, 60, earned his fortune as a markets trader and has pursued a number of land, air and sea records. In July 2002, after a number of tries, he became the first person to circle the globe alone in a balloon.
Profile: Steve Fossett
Steve Fossett is, by all accounts, a survivor. His determination to balloon single-handedly non-stop around the world has nearly cost him his life on more than one occasion, but he is a man used to dangerous challenges.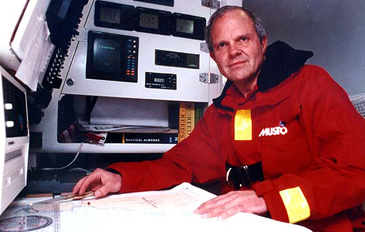 Steve Fossett
In 1985, he swam the English Channel; he competed in the Alaskan Iditarod dog sled race in 1992; and in 1996, he took part in the 24 hours Le Mans Car race. But it was the dream of conquering one of aviation's last unaccomplished feats which has been his driving ambition. His first attempt, in 1997, was cut short when he crash landed in Russia, and in the following year he nearly died when a storm shredded his balloon 29,000 feet above Australia's north-east coast, sending him plummeting into the Coral Sea. "That was the closest I have ever come to losing my life," he said, adding: "I plan to survive."
Beaten by bad weather
In 1999, Mr Fossett set his sights on becoming the first balloonist to fly solo around the world after the circumnavigation title fell to Swiss pilot Bertrand Piccard and Englishman Brian Jones. Mr Fossett's first lone attempt, in August, 2001, ended prematurely when bad weather forced him to land on a cattle ranch in Brazil.
He had in the process, however, set a new world duration record for a solo balloonist, having stayed aloft for 12 days, 12 hours and 57 minutes. With characteristic resilience, the former investment tycoon from Chicago immediately began planning his next attempt and was up in the air again the following June.
Record-breaker
At 58-years-old Mr Fossett has achieved a wealth of world records. He is the first person to cross the continents of Asia, Africa, Europe and South America, and the South Atlantic, South Pacific and Indian Oceans by balloon. Despite his failed attempts to balloon around-the-world, he also set a record for the longest solo flight - 22,904 kilometres (14, 235 miles) - in 1998 - a feat he surpassed last Sunday. In addition, Mr Fossett is the world's most accomplished speed sailor, holding the seven fastest official world records, as well as 13 out of 22 Outright World Records as recognised by the World Sailing Speed Record Council.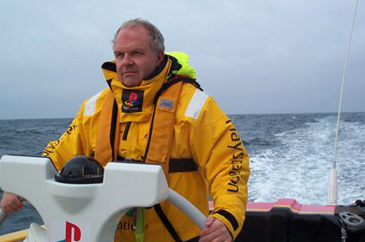 Steve Fossett at the helm
In October, 2001, Mr Fossett knocked nearly two days off the previous trans-Atlantic record, accomplishing the crossing in just four days and 17 hours. He also holds round-the-world records for medium weight airplanes, as well as US trans-continental records for non-military aircraft.
Elusive goal
But conquering the aeronautical milestone remained Mr Fossett's most elusive goal. "This is a very important adventure and a very difficult one," he said, before taking off on his sixth attempt. "When I first started making attempts to fly around the world in a balloon I thought it would just be a matter of get the equipment, get it up in the air and somehow I'd make it. "Then, after about 20 attempts by all the teams combined, we realised it was far more difficult."
The above article is from BBC.