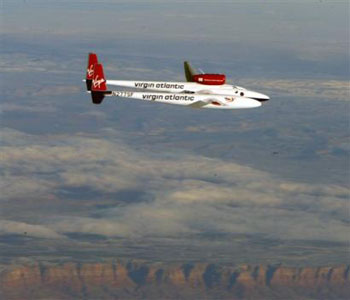 AP Photo
SALINA, Kan. — Millionaire adventurer Steve Fossett on Thursday became the first person to fly around the world solo without stopping or refueling - 67 hours and 23,000 miles after taking off in his spindly-looking, experimental jet. "That was something I wanted to do for a long time, a major ambition," a jubilant Fossett said immediately after emerging from the custom-built GlobalFlyer.
An equally happy Sir Richard Branson, the Virgin Atlantic founder who financed the flight, grabbed a bottle of champagne from Fossett, shook it up, and sprayed down his pilot and longtime friend. Fossett then guzzled from the bottle in celebration.
Fossett, 60, already holds the record for flying solo around the globe in a balloon. He failed five times before successfully completing that flight, but needed just one try to make the trip in a plane. This latest adventure gives Fossett yet another aviation record, adding to the many he holds as a balloonist, pilot and sailor. But there was some doubt if Fossett would make it back to Salina. Fuel sensors in the custom-built plane's 13 tanks differed from readings of how quickly its single jet engine was burning fuel, forcing Fossett's crew to assume that 2,600 of the original 18,100 pounds of fuel "disappeared." It was not clear whether there was an actual leak or just a problem with the sensors, Fossett's team said. Facing a decision near Hawaii about whether to land or press ahead over the vast Pacific Ocean for the U.S. mainland, Fossett told his team, "Let's go for it." Hours later, pushed by strong tail winds that left him with enough in the tanks to finish the global trek, he safely crossed over Los Angeles and turned northeast for Salina and the finish line. He touched down in Salina at 1:48 p.m. Fossett chose Salina because he needed a long runway for the takeoff and landing. The runway in Salina - once used to train WWII bomber crews - is about 12,000 feet long. Fossett's GlobalFlyer was designed by the same engineer who came up with the Voyager aircraft that first completed the around-the-world trip 19 years ago with two pilots aboard.
Fossett, 60, set his ballooning record in 2002, taking off and landing in Australia. The millionaire from Chicago has also swam the English Channel, run the Iditarod dog sled race and driven in the 24 Hours of Le Mans car race. Aviation pioneer Wiley Post made the first solo around-the-world trip in 1933, taking more than seven days and stopping numerous times. Jeana Yeager and Dick Rutan, brother of GlobalFlyer designer Burt Rutan, made their global flight in 1986.