There has been much debate in the United States and around the globe about the true nuclear intentions of Pyongyang. Is North Korea playing a game of military brinksmanship as a way of forcing the United States to the economic bargaining table? Or is Pyongyang serious about pursuing its nuclear ambitions, regardless of world opinion or what happens during talks in Beijing?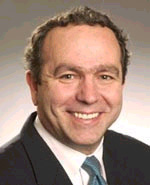 Dr. Kurt Campbell
In order to understand better the current tensions between Pyongyang and Washington, I recently spoke to Dr. Kurt Campbell. Campbell previously served as the U.S. deputy assistant secretary of defense for Asia and the Pacific at the Pentagon, as well as director on the National Security Council staff in the White House. Campbell was also associate professor of public policy and international relations at the John F. Kennedy School of Government at Harvard University and an officer in the U.S. Navy serving on the Joint Chiefs of Staff.He is currently senior vice president and director of the International Security Program at the Center for Strategic and International Studies in Washington, DC, where he also holds the Henry A. Kissinger chair in National Security. He received his bachelor's degree from the University of California at San Diego, a certificate in music and politics from the University of Erevan in the Soviet Union, and a doctorate in international relations from Oxford University.
Paul Nash:
Dr. Campbell, in your view does North Korea have legitimate security concerns to justify the development of nuclear weapons as a deterrent to regional threats?
Kurt Campbell:
Ultimately, yes - but I think there are larger questions that are more troubling and difficult to answer. Recent revelations and other reports suggest that the North Korean regime is even more brutal than we had anticipated, with enormous gulags, vast misery. The harder question is not whether the North Korean regime is threatened, but how threatening is North Korea both to its people and the region? It is at the nub of this conundrum that U.S. policy finds itself. On the one hand, there is a strong desire to prevent North Korea from acquiring and developing nuclear weapons - that is obvious. But at the same time, there is, in some quarters, a reluctance to take the kinds of steps that could both secure and sustain the current leadership in North Korea and, in exchange, remove the potential threat of the spread of nuclear weapons. I think that in the final analysis the U.S. administration will decide that the threat of nuclear weapons is so overriding that it will consider doing business with an odious regime in North Korea. But, as we have seen over the last many months, getting to that point is much more painful than any of us would have anticipated many months ago.
Nash:
There seems to be a widespread feeling that this regime in Pyongyang is so brutal, so repressive because it is so vulnerable. What is your assessment of the current health of Kim Jong-il's regime?
Campbell:
When I was in the Pentagon in the mid-1990s, we were involved in very detailed efforts to try to determine what was transpiring in North Korea. At the time there was a very substantial famine in North Korea and very real concerns about the potential for internal implosion. I think many thought at that time that the North Korean regime might not last very long. Of course, if you look back periodically in history, there have been many who have overestimated the vulnerability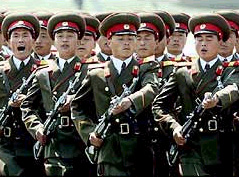 Courtesy AP
of North Korea. Today, in 2003, the regime shows no current signs of faltering. That being said, however, the very nature of the current North Korean regime will probably be that we will not see very many signs even on the eve of its collapse. Ultimately, it is so fundamentally out of tune with others in the region, including its primary patron China, that it is very difficult to imagine it sustaining itself indefinitely. Indeed, I find it hard to believe, as I look from a perspective of 1997/6, that it is stil l around today, six or seven years later. Nevertheless, there we are. I think we have to plan for the prospect of change in North Korea, perhaps even sudden change, and at the same time recognize that fulfilling that promise may be years or even decades away.
Nash:
Do you believe that North Korea possesses the nuclear capabilities that it is apparently claiming?
Campbell:
I think it is likely that North Korea probably has a small arsenal - one or two weapons. I don't think it is unlikely. I can't say much more about that. The reality is that at a fundamental level we know very little about North Korea. I think that its claims for having anything more substantial than that are likely to be exaggerated. The larger question is: under any circumstances is North Korea prepared to relinquish its fledgling nuclear capabilities? The answer I am coming to is, unfortunately, no. North Korea will continue to hold out the internal option of building nuclear weapons even while pursuing international diplomacy, largely because on some level they have determined that nuclear status provides them a sort of regime guarantee - which I do not think is the case - and a belief that the only way to remove themselves from the danger they feel that the United States poses to them is by developing that nuclear capability.
Nash:
Since 1994 we have heard so much talk of a "red line," a trigger-point beyond which the U.S. feels it will have no alternative to exercising some form of military action against North Korea. I first had the impression that North Korea would cross this line if it actually began to harvest weapons-grade plutonium and build nuclear bombs. This now seems to be the case, yet the U.S. response has appeared almost nonchalant. It leaves me wondering where exactly this "red line" lies, if indeed there can be a single, clearly defined line in such complex and delicate circumstances. Indeed, some people have suggested that ultimately the United States will be forced to accept a nuclear North Korea and try to limit what Pyongyang does with its nuclear material. In the end, do you believe that the United States will wage war on North Korea if this issue is not settled?
Campbell:
My goodness, I hope not. The reality, of course, is that extraordinarily skillful and creative people on both sides have spent decades - almost half a century - devising ingenious ways to go to war on the Korean Peninsula. I fear that if there were a conflict, overnight tens of thousands, perhaps hundreds of thousands of innocent civilians would die, and it would devastate the Korean Peninsula. Now, there is a small group in the Pentagon that believes that it is possible to anticipate a more sophisticated military campaign, using some of the things that we have learned in Iraq and Afghanistan,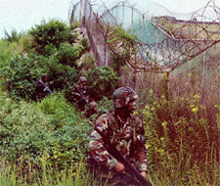 and prosecuting a "cleaner" war. I still think that such an endeavor is deeply unlikely. First of all, it would trigger the very kind of consequences in North Korea that we fear. There is a massive militarization across the DMZ (Demilitarized Zone separating the two Koreas) - huge numbers of men under arms, large amounts of mechanized and long range artillery forces - that are poised basically to destroy Seoul, which is one of the largest cities in the world. War really needs to be avoided at virtually all costs. Unfortunately, the difficulty that we have is deep unpredictability in terms of our interactions with North Korea. On top of that, the only successful diplomacy that the international community has experienced in the past has involved some degree of threatening and brinksmanship with North Korea. It only takes one miscommunication or one missed signal to lead to a real crisis. That is the issue that we worry about now. With the deep lack of trust and heightening anxiety on both sides, as you ramp up tensions and threats, then the real risks of escalation or miscalculation are apparent.
Nash:
I recently spoke to retired U.S. Lt. Col. James Zumwalt, who strongly advocates a regime change in Pyongyang (see Why Kim Jong-il Must Go). In your view, is forcing such a regime change a viable alternative?
Campbell:
I don't think it is viable. The only viable recourse to a new regime in North Korea is for China to take a more dramatic role. China right now really wants to avoid two things. On the one hand it wants to avoid a nuclear North Korea, and on the other hand it also wants to avoid a rupturing regime change in North Korea. Choosing between two things you do not want, if you are forced to choose, is obviously the challenge of national policy-making. It is a Sophie's Choice in a sense for the leadership in Beijing. In the end, the prospect of a regime change that is unplanned and that is messy, involving enormous numbers of refugees and other issues, is something that I think China feels it cannot take right now.
Nash:
Many people feel that Pyongyang has tried to drive a wedge between the U.S. and South Korea on security issues. Do you think that North Korea is also attempting to drive a similar wedge between the U.S. and China?
Campbell:
I think that the United States and South Korea have done very well, thank you very much, in driving our own wedges into our relationship. There is intensity in the dialogue between Beijing and Washington about what is transpiring in the talks, but I think that ultimately it is very healthy. It is very healthy to see China playing such a robust role in these discussions. China is in a sense playing the role that the United States normally plays - it is the convenor, it is the cajoler, both going to North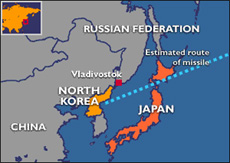 Courtesy BBC
Korea and the United States asking for greater flexibility. It is ironic that the (George W) Bush administration, during the (U.S. presidential election) campaign, talked about the worries or the threats associated with a constructive strategic partnership with China, and thought of China as a strategic competitor. Now, however, we find ourselves in a situation where the Bush administration has actually built a constructive strategic partnership, and U.S.-China relations are probably the best they have been in a generation, perhaps ever. I think China appreciates that and probably the Bush administration does as well. I think it is beyond North Korea to drive too large a wedge into that relationship.
Nash:
September 11, 2001, and this dispute have clearly offered some common ground on which the U.S. and China have been able to come together and cooperate in matters of regional security in Asia. China has good reason to cooperate: North Korea serves as a buffer zone between its borders and U.S. bases in South Korea, and a war on the peninsula would upset regional stability and jeopardize the remarkable economic and social reform efforts that have been taking place in China. But at the same time, there are some sharply differing viewpoints in Beijing with respect to China's strategic regional security, as well as the nature of its relationship with North Korea and the level of support it ought to give. How much cooperation can the United States expect from China, and in your view what are the implications for China domestically?
Campbell:
I think we can expect China to weigh in very, very heavily behind the scenes with North Korea on its nuclear ambitions, and I think that is ongoing now. I would not put it past Pyongyang to extract a quid pro quo in the process, but I would expect China to be involved in that - that might be painful and difficult, but I think it is ongoing. In terms of domestic problems and politics for China, remember they face enormous domestic issues, with unemployment and a leadership transition. This is still an external problem that, even with the potential influx of refugees, is relatively modest. It will be interesting to see, over the next several months, how this process, that has been undertaken between the United States and its regional allies concerning North Korea, plays out.