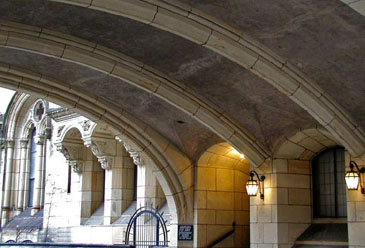 Old Campus, Yale University, New Haven, Connecticut
In an effort to outdo its rivals, Yale University said yesterday that it would no longer require parents earning less than $45,000 a year to pay anything toward their children's educations.Harvard announced a similar program last year, freeing parents who earn $40,000 or less from paying anything, and the change helped raise its applications to record levels. Several of Yale's other competitors, including Princeton, have taken a slightly different approach by no longer requiring loans for low-income students, and they also believe the move helped increase applications. Yale's change comes after its students demanded financial relief, and is arguably more generous than many of the financial aid overhauls at other schools, public and private universities alike. The University of North Carolina, for instance, no longer requires students from families of four earning about $37,000 or less to take out any loans to cover school expenses. Rice did the same but set the income bar at $30,000.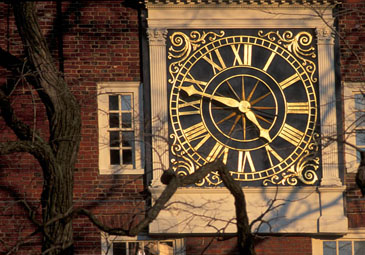 Golden Clock, Harvard Hall, Harvard University
"We wanted to signal that we're serious about access," said Richard C. Levin, Yale's president. He also said Yale would reduce what it expects parents earning between $45,000 and $60,000 to pay.Only about 15 percent of Yale students' families earn little enough to benefit from the changes, but that is precisely the point, Mr. Levin said yesterday. The hope is that once low-income students know that going to Yale will not financially burden their families, more will apply. Longer-range hopes are for a more diverse Ivy League and a more equitable society. "Harvard got great value from what they did," Mr. Levin said of Harvard's gain in applications from low-income students. "We said at the time that we were going to watch and see what happens. Well, we're convinced." Mr. Levin also said yesterday that Yale would greatly expand its overseas programs to encourage all undergraduates to study or work abroad, regardless of their ability to pay. That could mean a semester abroad but could also include summer internships in countries like China or fellowships for overseas research. For those on aid, who often spend their summers making money to pay tuition, Mr. Levin said grants would be made available so that they can go, too.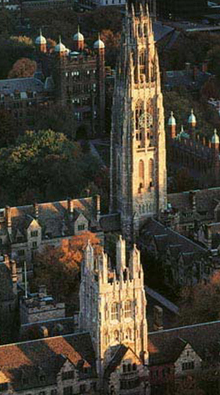 Yale University, New Haven, Connecticut
Taken together, the changes in financial aid and foreign study should cost Yale an extra $3 million in the first year, Mr. Levin said, and probably significantly more in the future if more low-income students enroll and more undergraduates travel abroad. Mr. Levin said the university's endowment - which, at about $12.7 billion, is the nation's second-largest - is probably the biggest single factor in making the changes possible. While welcoming aspects of the new financial aid plan, some students contended that it did not go far enough, since it still requires low-income students to supply as much as $6,350 a year toward their educations through some combination of loans, work-study or summer jobs. The University of Virginia, by contrast, has not only stopped requiring loans for low-income students, but has also gotten rid of work-study, essentially giving them what the university calls "a full ride." "After months of student pressure, it's very heartening to finally see movement," said Joshua R. Eidelson, 20, a Yale junior who joined a sit-in protest at the university's admissions office last week seeking more financial aid. "But we're going to be working to make sure that movement continues." Before the changes, Mr. Levin argued, some students would work long hours or incur extra debt to help pay their parents' portion of the bill. With that burden gone, Mr. Levin said, the average debt upon graduation for those on aid - now at $14,800 - will probably go down. Though some of Yale's earlier adjustments to financial aid cost the university more money, Mr. Levin believes that telling low-income parents that they will not have to pay anything at all has a bigger psychological effect than the earlier changes. "It does simplify the message," Mr. Levin said. "That's the main advantage of it."
The above article is from NYT.